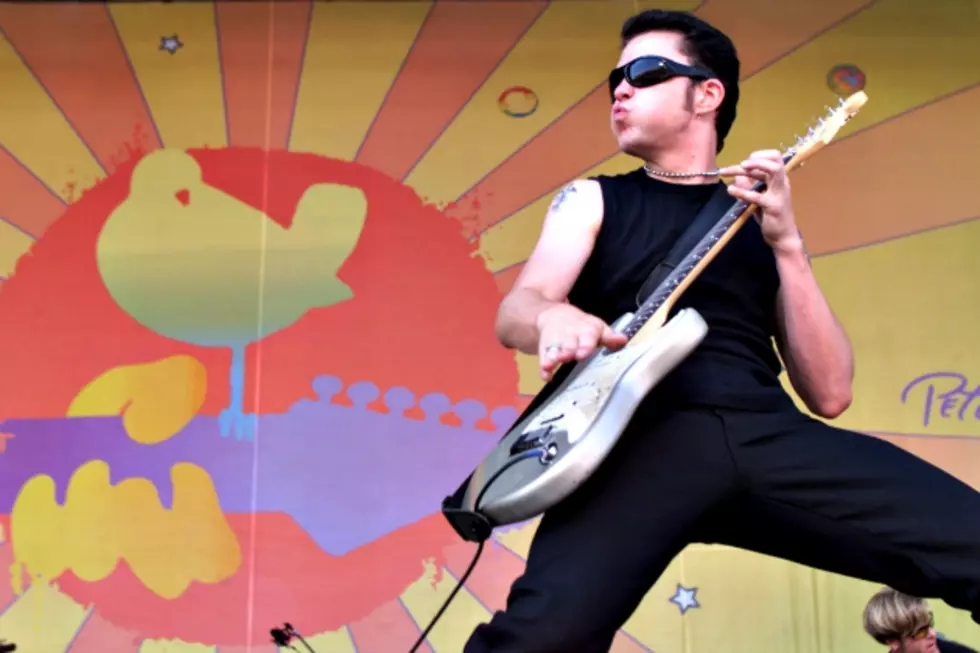 How Woodstock '99 Failed to Live Up to Its Name
Scott Gries, Getty Images
It was supposed to be the 30th anniversary of three days of peace and music, but it was marred by fires, looting and assaults. The only thing Woodstock '99, which began on July 22 of that year, shared with its predecessor was a name.
Well, that's not entirely true. Three of the four promoters of the original Woodstock festival were back on board for both anniversary shows in '94 and '99. Only the blissed-out and bearded Artie Kornfeld abstained, noting in his memoir, The Pied Piper of Woodstock, "I was dosed at Woodstock '69, and the bummer I took then really happened in 1999." Kornfeld quotes newscaster Peter Jennings, claiming he "said on national news that the original Woodstock was a happening, and Woodstock '99 was an enterprise." Here's Artie at the original festival:
Watch Artie Kornfeld at Woodstock
That's the image that we all carry with us of the '69 edition: bucolic setting, stoned hippies talking about peace and community, shirtless guys in vests. The imagery is so strong and so absolute that we conveniently overlook that the original Woodstock was both a happening and a disastrous enterprise.
Woodstock Ventures consisted of four partners. Joel Rosenman and John Roberts sat on one side of the conference table in sensible office chairs, and on the other lounged record label executive Kornfeld and his buddy Michael Lang, whose most recent venture was a head shop in the Miami area. Lang also had some experience with concert promotion: In 1968 he put together the Miami Pop Festival. Rosenman and Robertson had the money; Kornfeld and Lang had the vision, connections and street cred. What could go wrong?
Everything, and right from the start. The first site that Woodstock Ventures paid for, a 600-acre industrial complex in Wallkill, N.Y., vanished a month prior to the festival when local townspeople grew terrified of the invading hippie horde. Lang was never a fan of the site anyway, describing it in his book, The Road to Woodstock:
When I checked out the Mills Industrial Park, my first reaction was horror. The flat, bulldozed property looked as if it had been raped. Buzzards were flying around. It was as far as you could get from the feeling I was looking for. I had pictured walking into an open, pastoral scene of beauty and calm that could make you feel comfortable and at peace. This was ugly, cold, hard, and dirty and felt as if someone had taken what they wanted from the land and left the debris.
Everybody gouged Woodstock Ventures: the landowners, the vendors, the artist managers, the kids who crashed the party without tickets. Even activist Abbie Hoffman got in on the action, extorting a bribe out of the promoters in exchange for not making their lives (and their festival) a living hell. The promoters feared riots and pretty much any other disaster that you can imagine. In other words, greed and the potential for great disaster had been a part of Woodstock since its inception.
What held Woodstock together was the same thing that made it so legendary. Partner John Roberts summed it up well in Young Men With Unlimited Capital: 
Woodstock, the event, was a coincidence. It happened that our concept of peace, music, and rural vistas struck an extremely responsive chord in most American kids. ... For a few dollars admission--if you were among the few who bothered to buy tickets--you got a place to live among your own kind, away from most of life's hassles, especially the folks. You got a Peter Pan fantasy, a never-never land peopled by kid stars, kid storekeepers, and kid police. It was an irresistible lure: a world without adults or authority where one never had to grow up. The crowd wanted it to work. If it worked, it was real.
Toss in a budding sense of community and "the elevation to demigoddom of rock stars," and according to Roberts you have Woodstock's secret recipe for peace and love. But 30 years later, it wasn't 1969 anymore: It was 1999, and rock stars were no longer demigods. They were just like you and me, and their message wasn't "everybody get together" -- it was "Know Your Enemy."
Watch Rage Against the Machine Play "Know Your Enemy" at Woodstock '99
In the aftermath of the original festival, the four Woodstock Ventures partners devolved into a bitter feud. All but Kornfeld reunited for the festival's 25th anniversary in '94. Lang wrote in his memoir about that event: "In true Woodstock style, the communal spirit lived, it rained like hell, Mud People abounded, and Woodstock '94 made money for every one of us."
They must have made a lot of money, because five years later Lang was ready to do it again. He brought on a couple of partners to help with production and licensed the name from Woodstock Ventures, the partnership he was pushed out of in '69. Woodstock Three was set for July 22-25 at Griffiss Air Force Base in Rome, New York. Here's how Lang describes the site in his book:
Griffiss was well suited should it rain, and the logistics there were fantastic: hundreds of buildings to house our crews and staff; hundreds of acres for parking, camping, and performances; and easy access to the site.
Compare that description to his initial reaction to the original Wallkill site. Everything he cited as a liability in '69 somehow became an asset in '99. Sponsorships made their way into the picture, too, beginning with the '94 edition. "The realities of the festival's costs (over thirty million dollars) meant that the ticket prices for the weekend would have been substantially higher without sponsors," he wrote.
Lang may have retained the idealism of the bean bag chair, but he was firmly seated at the conference table now, making practical, profit-based decisions. Even the selection of artists was more commercial than aesthetic:
I again wanted a mix of classic acts, jam bands, and the less extreme side of the hard-edged music happening at the time. Going against my instincts, I went along with the consensus and so the lineup, an amazing amalgam of the biggest acts of the day, was darker and more aggressive than I would have liked. At one point during the planning, I was talking to Prince about a [Jimi] Hendrix tribute, and he asked, "Why are you having all those nasty bands?"
But the music isn't really the story of Woodstock '99, which has less in common with its namesake than the Rolling Stones' disastrous Altamont show, at least in terms of notoriety. In order to prevent the event from turning into a free festival like its predecessor, a 12-foot high wall was built around the site and 500 off-duty state troopers were hired for security. In order to maximize concession sales, food and drink were prohibited, and attendees were searched upon entry.
Inside the gates, the reality of a concert held on a giant slab of shadeless concrete quickly made itself manifest. Temperatures reached 100 degrees, presumably higher in the crowd. Bathroom facilities were in short supply, leaving many available facilities overflowing and unusable.
Vendors charged exorbitant prices for food and beverages, a situation that Lang claims he tried to address but was told by the vendors that it was too late to change the prices. "To balance this, I ordered several trailerloads of water to be distributed around the site," he later wrote.
In short, the producers' '69 decisions -- the pastoral setting, the self-policing vibe, even the emphasis on toilets (a recurring joke in Young Men With Unlimited Capital) -- created an environment where a half-million kids could get along. In '99, the producers' decisions created a tinderbox. It wasn't just the facilities, either. A half-million blissed-out hippies listening to Melanie sing "Beautiful People" probably aren't going to rip the plywood off the walls. A bunch of kids listening to Limp Bizkit tear through "Break Stuff"? Sit back and watch the plywood fly.
Watch Limp Bizkit Play "Break Stuff" at Woodstock '99
During "Break Stuff" one of several sexual assaults occurred in the audience. According to the police report: "Due to the congestion of the crowd, [the victim] felt that if she yelled for help or fought, she feared she was going to be beaten." Her attackers vanished into the crowd. Of the 44 arrests made at Woodstock '99, only one was for sexual assault.
But the image most people carry of Woodstock '99 is the fires. On the last night, during the Red Hot Chili Peppers' show-closing set, a few in the crowd lit bonfires with the vigil candles they were given by an anti-gun group. One of the bonfires was a bit too close to an audio tower, and a "serious problem" ensued.
Watch the Fires During the Red Hot Chili Peppers' Set
Once the firefighters had that blaze under control, the Chilis resumed their set, closing with Hendrix's "Fire." The move was intended as a Hendrix tribute, and the song had long been a staple of the band's live set, but the timing couldn't have been worse. Lang again:
As the festival was ending with the Chili Peppers covering Hendrix's  "Fire" (which had been so powerful in '69), some of the kids in the back of the audience began lighting fires. Soon a group of about 50 goons, bent on provoking the crowd, decided to torch a line of supply trucks; then they went through the concession stands, "liberating" whatever they could. When the melee grew to involve several hundred people, the police came in en masse. Kids were running everywhere, mostly to get out of the way.
Watch the Red Hot Chili Peppers Play "Fire"
If there's a lesson to be learned from Woodstock '99, perhaps it is that some music simply doesn't scale up to Woodstock-sized capacity as well as other music, or more specifically some acts don't scale up to 200,000-plus people. Insane Clown Posse throwing hundred dollar bills into a crowd of a couple thousand is exciting, but in an audience a hundred times that size it's dangerous. Barking "Break Stuff" or shouting "Fire" in front of a quarter-million-strong bonfire may not be the most advisable moves.
Or maybe it's that promoters have to be more in touch with the zeitgeist. Perhaps trying to project 1969 onto a '99 crowd was a doomed proposition from the start. Kids at the end of the 20th century weren't looking for an Aquarian age -- they were looking for a mosh pit.
Or maybe the lesson is as simple as Lang's conclusion: "In retrospect I realized I had failed to heed the lesson I had clearly learned in 1969 and many times since: trust my instincts." I guess we'll see when the time for Woodstock '50 rolls around.
2016 Summer Music Festival Guide