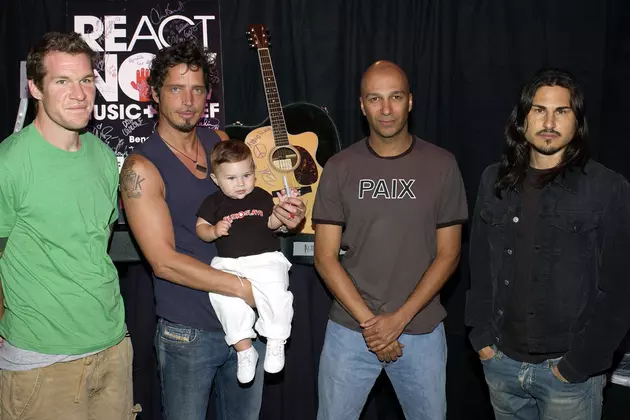 Brad Wilk of Prophets of Rage Thinks Audioslave Will Reunite
Amanda Edwards, Getty Images
Calling him an "amazing musician, and a good person," Wilk told Alternative Nation that "the possibility of us making music together with Chris is always there. I don't think anyone has any bad feelings towards each other in that band. I think that band had a really good run, and I think that it was time for us to move on, and that's exactly what happened."
Audioslave put out three albums between 2002 and 2006, all of which went Top 10, with their self-titled debut going triple-platinum and 2005's Out of Exile reaching No. 1. But Cornell left in 2007, citing "irresolvable personality conflicts as well as musical differences." However, it appears that those differences have been put aside. Last year, Cornell said, "They were great guys, and I really enjoyed the experience that I had with them, so yeah, I would always be open to doing something."
Wilk also talked about replacing one of his drumming heroes, Bill Ward of Black Sabbath, on 2013's 13. "That was an absolute dream come true," he said. "I was a 14-year old kid sitting in his room with a record player trying to learn Bill Ward parts, and Black Sabbath is one of my favorite groups of all time. So to actually be asked to play drums with them was an incredible experience. ... However, even though it was just the most amazing experience for me, I wish that it could have been Bill Ward instead of me, as amazing as it was for me."
Wilk and Prophets of Rage begin a tour Aug. 19 at the EagleBank Arena in Fairfax, Va. You can get complete information at the band's website.
21 Artists Inspired by Rage Against the Machine