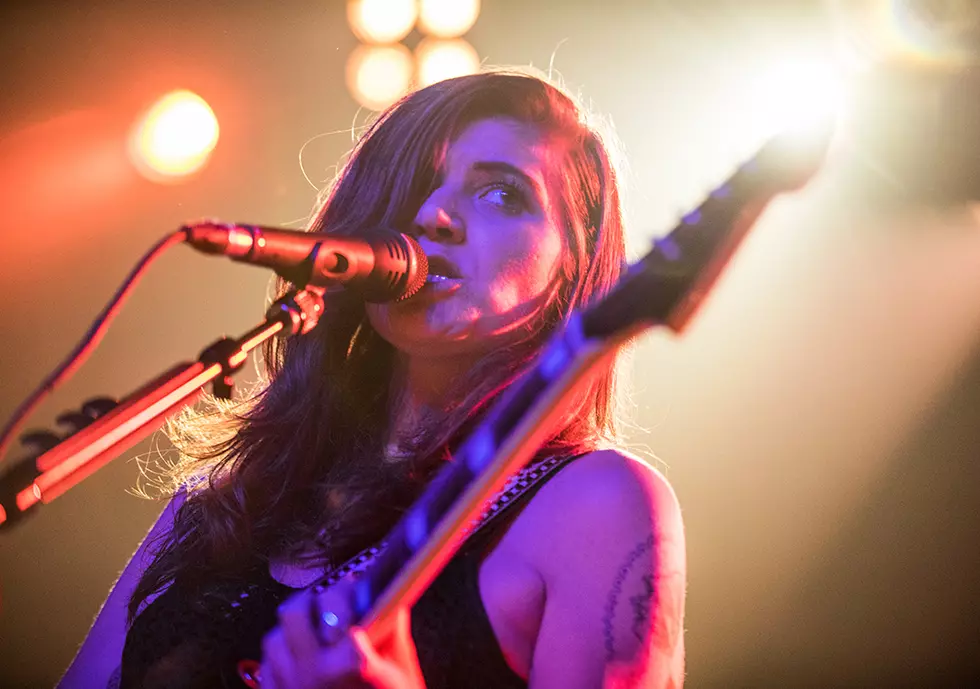 Best Coast and Bully Are a Blast in Austin
David Brendan Hall, Diffuser
"Fading back and forth / I fly through my mind / I take the way I've known / But have I really grown?" That's what Best Coast singer-guitarist Bethany Cosentino asks on the title track of the band's recently released third album, California Nights.
It's the most relevant of questions for a frontwoman with a historically silly, stoner disposition. Coincidentally, she pretty much answered herself publicly via a lengthy blurb addressed to fans titled, "A little note from me to you," posted on Twitter just hours after the band's Tuesday night stop at Emo's in Austin:
I have never done anything like this but I just had a really long conversation with my bandmates that ended in me feeling like doing this was necessary. I've been seeing a lot of comments about our shows this tour where people are asking why I seemed so upset or bummed out or "bitchy," etc. onstage...

I want to address this -- not because I give a shit what people think of my mood or whatever, but because it seems silly to me that people are interpreting my stage presence as being angry or sad or in any way negative.

When I started Best Coast, I was 23 years old. I was awkward, I was confused, I had 0 idea how to carry myself on stage and off. I am now a few months away from turning 29 and I can honestly say that I feel the most confident I have ever felt in my entire life. Sure, I am a human being, I struggle with ups and downs and highs and lows just like everyone does -- but, I carry myself differently now than I did when I was younger. Just because I come out on stage and I don't say as much as I used to or I don't have as much silly banter in between songs does NOT mean I'm in a bad mood. I'm just a bit of a different person now and I would appreciate people to respect that and be happy for me and the fact that I've grown up into the woman I am today. If you yell something at me about cats and I don't respond -- I'm not pissed, I just simply don't feel like talking about cats in that current moment! I dunno, maybe sometimes I do feel like yelling back about cats -- but for the most part, I don't anymore.

The fact I have to even explain this is pretty silly but I also feel it necessary because my whole thing is that I've always been very honest with my fans about who I am and what I stand for.

If I seem a little more 'serious' onstage -- it's because I am a little more 'serious' in life these days, and if you don't like it, you can go on YouTube and find plenty of videos me at age 24 talking about weed and cats. Love you guys and thanks for your continued support no matter how awkward or serious may be acting these days. Still the same Bratty B, just a more grown up version.
We might've witnessed the last straw, so to speak. As the band rounded out a cool cover of Oasis' "The Hindu Times," Cosentino picked up a sign that had been passed over the barricade by a fan and had a brief exchange where she looked visibly unamused by its contents. She belted out the old favorite "Boyfriend" anyway, but stalked off the stage as soon as her lyrics were finished before the rest of the band officially finished the tune.
So, yeah, it's not difficult to understand where some fans' perceptions came from, but both Cosentino and songwriting partner Bobb Bruno have proven that they've grown in the studio and in a live setting. By comparison to 2010's reverb-washed Crazy For You and 2012's cleaner The Only Place, the new record stands out as their most emotionally revealing and sonically stalwart effort to date. And in the time period between South By Southwest in 2014 and this year's appearances, they've clearly transformed into seasoned rockers whose performance ought to be taken seriously. At Emo's, they were in command and their sound was pure powerhouse.
Besides, less talking meant more time for the hits plus nearly every unassailably catchy pop-rock punch off California Nights. After opening with the West Coast tribute, "The Only Place," they gave the audience an early injection of snark-punk sentiment with "Heaven Sent" and "Fine Without You" touched midway on their Smiths and SoCal surf influences ("When I'm With You" and "I Don't Know How," respectively), and ended the main set with a pair of wonderfully jangly new power-pop anthems – "Jealousy" and "When Will I Change." Interestingly, they left off what are arguably the most introspective among the recently released bunch: the album's sorrowful closing hat-trick, "Run Through My Head," "Sleep Won't Ever Come" and "Wasted Time."
Let's play devil's advocate here: maybe Cosentino was consciously acting generously by not hammering home the latter tune's drone-driven lament: "I don't really mind / All of this wasted time / just wish I had something to show for it." That might've been a bummer at any point in the otherwise buoyant set. And perhaps she was actually being uncommonly cool by scaling back her stage presence to let someone else claim the spotlight for a night near the end of a lengthy tour.
Again and again, she congratulated Nashville-based opening act, Bully, on the release of their debut album, Feels Like, earlier that day. Since a standout small-stage set at last year's Austin City Limits Music Festival, their easy swagger has increased tenfold, with frontwoman Alicia Bognanno's Courtney Love-crushing scream leading the garage-rock charge.
After Cosentino's query on "California Nights" (which snuck in mid-set) about personal growth, she admitted, "I never wanna get so high / that I can't come back down to real life / and look you in the eyes and say / Baby, you're mine." As much as we'd like to assume she's talking to a lover, metaphorical or not, let's all take a leap and surmise that – particularly on this apparently pivotal night – the address might apply just as much to the band's legion of loving fans. Either way, it sounds like she's keeping it awfully real. What more could the faithful ask for?
Check out photos from the show in the gallery above.
Set list:
1. The Only Place
2. Heaven Sent
3. Fine Without You
4. The End
5. Do You Love Me Like You Used To
6. Crazy For You
7. No One Like You
8. So Unaware
9. California Nights
10. When I'm With You
11. I Don't Know How
12. Dreaming My Life
13. Fade Away
14. Fading Fast
15. In My Eyes
16. Feeling OK
17. Goodbye
18. Jealousy
19. When Will I Change
Encore:
20. The Hindu Times (Oasis cover)
21. Boyfriend