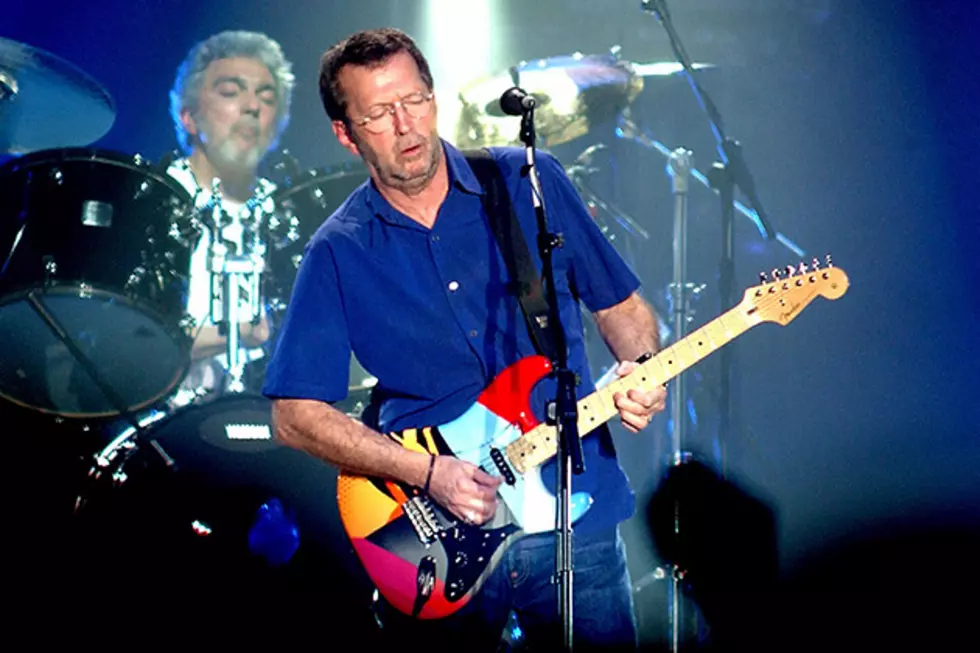 10 Best Eric Clapton Solos
ShowBizIreland, Getty Images
Eric Clapton is a guitar god. There's no argument there. Over the years, as both a solo artist and a member of the Yardbirds, John Mayall & the Bluesbreakers, Derek & the Dominoes and Blind Faith, he's dispensed some of the greatest guitar riffage of all time, seemingly off the top of his head. Fans and critics will rank his performances for the rest of time, but we took special care and poured over his discography to create this list of the 10 Best Eric Clapton Solos. Of course, there are bound to be some controversies. You won't find 'Layla' anywhere below -- as far as we're concerned, Slowhand popped a cap in the song's ass when he recorded his 'MTV Unplugged' version. Also, no 'Badge.' Great song -- by two of the best in the biz -- but a meh solo. Clapton is god, but he's not infallible.
10

'Pretending'

From 'Journeyman'

If you grew up in the '80s, you probably didn't discover dad's Cream records until you rolled up that first funny-looking cigarette in the garage or took a nip off of that bottle in the wooden cabinet in the living room. So the solos that made you want to become a guitarist were likely ones you heard in songs like 'Pretending.' This one comes right before the three-minute mark and has that classic distorto-wah quality to it, even though the accompaniment sounds like it was created in a Peter Gabriel-themed nightmare.

9

'Let It Rain'

From 'Eric Clapton'

Guitar solos come in all shapes and sizes -- sometimes, you get a couple verses, a chorus, and then a guitar solo. Well, this Eric Clapton beauty, which starts at the 2:58 mark on the album version of 'Let It Rain,' is one of Clapton's great taking-you-home solos. It's low in the mix, but it's the perfect icing on the cake. He sort of follows the melody line, weaving his spider web of awesomeness in and out of it. If Clapton were playing this solo in a strip club, we'd make it rain, all right.

8

'White Room'

From Cream's 'Wheels of Fire'

With 'White Room,' you could argue Clapton is pretty much soloing from the second verse onward, but he's really not alone until roughly the four-minute mark, where he just blows your ears and eyes to bits with a little help from his two metal-pedal friends wah-wah and distortion. Mercy.

7

'I Wish It Would Rain Down'

From Phil Collins' '...But Seriously'

Go ahead and laugh: This Phil Collins power ballad conjures all sorts of fond memories of the late '80s and early '90s. First of all, Collins' stuff from around this time is about as good as pop ever got, and second, who writes a bridge like the one in this song? Clapton is the featured guitarist on the track, and while old Slowhand sort of holds back, because it's his buddy's song, Collins lets him go crazy in the outro verse -- and it's literally a religious experience. Collins and his backup singers are the choir, while Clapton sits back and preaches the Good Word.

6

'N.S.U.'

From Cream's 'Fresh Cream'

Practically every Cream song has an Eric Clapton doozy on it, but on 'N.S.U.' -- one of those odd tunes where the singing part and the melody are working almost in counterpoint -- Clapton's solo near the end almost comes as a surprise. It's like a psychedelic salmon swimming upstream.

5

'Bad Love'

From 'Journeyman'

Clapton purists might scoff at the stuff he put out in the '80s, but it's great pop music that landed tremendous guitar work on the radio and MTV. It broke through all the other dreck that out there like a gigantic hammer. 'Bad Love' is one of those songs outfitted with an amazing opening riff and chorus and an off-the-scales outro. But fist, after the theree-minute mark, you get that out-of-nowhere Mexicali riff that gets doubled up. Then Clapton umps all over it with a tricky little solo that reminiscent of Steely Dan.

4

'Crossroads'

From Cream's 'Wheels of Fire'

Clapton's reimagining of blues god Robert Johnson's 'Cross Road Blues' is one of those moments in the history of recorded music where listeners have no choice but to drop what they're doing and starts air-guitaring along. Originally recorded in studio with a Who's Who of musicians -- including Steve Winwood and Jack Bruce, who he'd later share the stage with as part of Cream -- this tune has numerous versions. The most famous is the live one recorded at the Winterland Ballroom in San Francisco in 1968, and the solo section has exactly the right amount of distortion on it. It fits so perfectly in the confines of the song that the word "blues" becomes irrelevant. After Clapton goes off on this tangent, it's all reds and oranges, because he damn near sets the room on fire. Feel the hot tingling your air-guitar arm?

3

'Sunshine of Your Love'

From Cream's 'Disreali Gears'

Hearing Eric Clapton's guitar solo in Cream's 'Sunshine of Your Love' is similar to experiencing the sensation Jim got in 'American Pie' when he, you know, did this. It's warm like apple pie -- or maybe shepherd's pie, as they eat on Clapton's side of the pond. It's almost as if the solo exists in its own space and time, outside of the thundering meat-and-potatoes backing supplied by Jack Bruce's thrumming bass and Ginger Baker's double-bass drum explosion. It's not the creme de la Clapton, but it's close.

2

'Bell Bottom Blues'

From Derek & the Dominos' 'Layla and Other Assorted Love Songs'

Clapton's solo in 'Bell Bottom Blues,' from his days as part of Derek & the Dominoes, is the solo with the tastiest intro. He literally sings along with his guitar when she enters the mix at the 2:19 mark. In the way it has all the right nuances at all the right moments, this sweeter-than-sweet solo reminds us of another great axeman of the time, Robbie Robertson of the Band.

1

'While My Guitar Gently Weeps'

From the Beatles' 'The Beatles' ("White Album")

Uncredited on the original recording, the top pick on our list of the 10 Best Eric Clapton Solos comes from 'While My Guitar Gently Weeps,' one of George Harrison's Beatles masterpieces. Found on the so-called "White Album," this song is one of those instances where things sound as if they can't get much better, and then they do. Clapton makes a great song that much greater, and isn't that the point of a guitar solo?