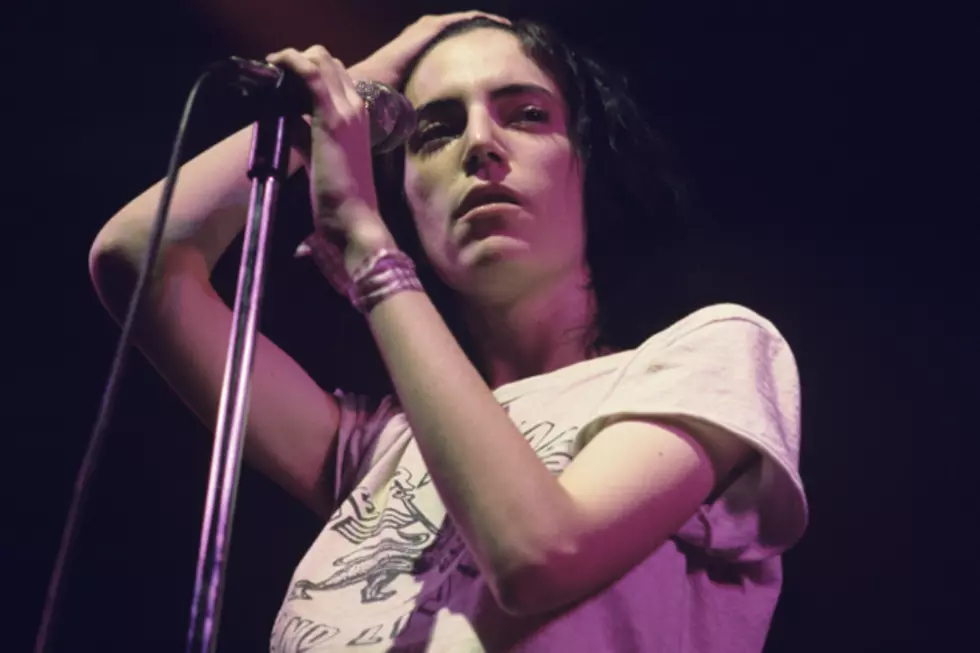 10 Best Patti Smith Group Songs
Tom Hill, Getty Images
Part poet, part rock 'n' roller, Patti Smith burst onto the NYC music scene in the early '70s and turned more than a few heads. Here was a woman who came with many of the rock moves associated with her male counterparts and delivered them in her own distinct style. It certainly didn't hurt that she had one hell of a band behind her. The Patti Smith Group were -- and still are -- much more than the sum of their parts. They are one of rock 'n' roll's most dynamic outfits, and here, we celebrate the 10 Best Patti Smith Group Songs.
10

'Redondo Beach'

From: 'Horses' (1975)

In 1975, the release Patti Smith's debut, 'Horses,' was cause for celebration. The music landscape was littered with leftovers from the previous decade and lesser works from the era's titans. Smith cut her own path into this scene, and 'Horses' both predicted the "punk" movement it prefaced and held tightly to certain aspects of the hippie and Beats dreams. On 'Redondo Beach,' Smith and company employ a slight reggae feel, setting it apart from the rest of the record. The lyrics came from a poem Smith had written in 1972 that first appeared in her book 'kodak.'

9

'Til Victory'

From: 'Easter' (1978)

Another killer from the collaboration of Smith and guitarist (and rock historian) Lenny Kaye, 'Til Victory' is a triumphant and celebratory rocker, and a fitting way to start the band's most celebrated LP, 1978s 'Easter.' You can't help but believe her passion as she sings, "Raise the sky / We got to fly over the land, over the sea / Fate unwinds and if we die, souls arise / God, do not seize me please till victory."

8

'Frederick'

From: 'Wave' (1979)

Written by Smith alone, the song is a tribute of sorts to her soon-to-be husband, Fred "Sonic" Smith. Sonic was one of the guitarists in the groundbreaking and legendary MC5, and he and Patti were married shortly after the release of 'Wave,' the LP this song kicks off. It's a simple pop song that carries a dynamic and very catchy chorus. Though released as a single, it failed to thrive and barely snuck into the Top 100.

7

'Pumping (My Heart)'

From: 'Radio Ethiopia' (1976)

Now we're talking! The surging riff embodies pure raw rock 'n' roll at it's finest. The song bursts out of the band's 'Radio Eithiopia' LP and hits hard. It's a classic garage tune that lands the group in a lineage that includes everyone from the Kinks to Blue Oyster Cult. Smith delivers one of her best vocals and the band never let up.

6

'Free Money'

From: 'Horses' (1975)

The beautiful piano gradually gives way to voice, then drums, then guitars, until finally, No. 6 on our list of the 10 Best Patti Smith Group Songs takes flight. One of the many highlights from 'Horses,' the song was co-written by Smith and guitarist Lenny Kaye. Beautiful yet rocking, it's been covered by such seemingly disparate artists as U.K. punks Penetration and Sammy Hagar.

5

'Dancing Barefoot'

From: 'Wave' (1979)

This haunting rocker oozes out of the band's 1979 album 'Wave,' providing the high point of the LP. Co-written by Smith with guitarist Ivan Kral, the song's vibe is moody and dark, not unlike classic Doors tracks like 'Moonlight Drive' or 'My Eyes Have Seen You.' The song can also be seen as the template for such disciples as Siouxsie & The Banshees and the Cure. Engaging stuff!

4

'Rock And Roll Ni---r'

From: 'Easter' (1978)

Way back before there was such a thing as "politically correct," there was a thing called "freedom of speech." This was something Smith embraced with arms, mind and soul. She isn't kidding in the song's intro, 'Babelogue,' when she says "I don't f--k much with the past, but I f--k plenty with the future." She lays it all out, and her use of the taboo 'N word" is not racist, nor some hipster move trivializing the epithet, but rather a bludgeoning hammer striking down for nonconformists. "Jimi Hendirx was a n---, Jesus Christ and Grandma too" was not meant to be shocking, but more a comment on genuine rebels. The lyric probably sounds more shocking today than in 1978. It's power, both lyrically and musically, has not diminished one iota in the last 35 years.

8

'Ask The Angels'

From: 'Radio Ethiopia' (1976)

This dynamic rocker kicks off the second PSG album, 'Radio Ethiopia,' and proves the band was no one-trick pony. 'Ask The Angles' is a raw and rough rocker that throbs with rebellion. "Armageddon, it's gotten / No savior jailer can take it from me / World ending, it's just beginning / And rock and roll is what I'm born to be." Some great guitar work from Ivan Kral adds the exclamation point to the end of this sentence.

2

'Because The Night'

From: 'Easter' (1978)

The meeting of two of the era's most respected rockers, Smith and Bruce Springsteen, resulted in a genuine rock classic. Co-written by Patti and Springsteen, 'Because The Night,' No. 2 on our list of the 10 Best Patti Smith Group Songs, helped take the accumulating hype on Patti Smith and push it into the mainstream, if only for a moment. The song carries a classic, almost nostalgic air that could have come from 10, 20, even 30 years earlier. The record reached No. 13 on Billboard in the spring of 1978 and remains the band's best-known song.

1

Gloria'

From: 'Horses' (1975)

From the moment the subtle and haunting piano line trickles out of the speakers, the band has caught your ear. Once Patti Smith's voice follows with the immortal line, "Jesus dies form somebody's sins but not mine," you're intrigued. When the band kicks in full throttle, you are forever hooked. In 1975, this was a breath of fresh air that hinted at rock's past and looked its future right in the eyes. With ace production by John Cale, the band use the Van Morrison and Them classic 'Gloria' as a launch pad, but where Patti and band take off from there is purely their own trip. Her poetry washes over the three-chord riff. Nearly 40 years later, it still has the ability to send chills up the spine. It's real, it's genuine and it's shoots from the head and the heart as much as it does from the crotch. In other words, it is rock 'n' roll!