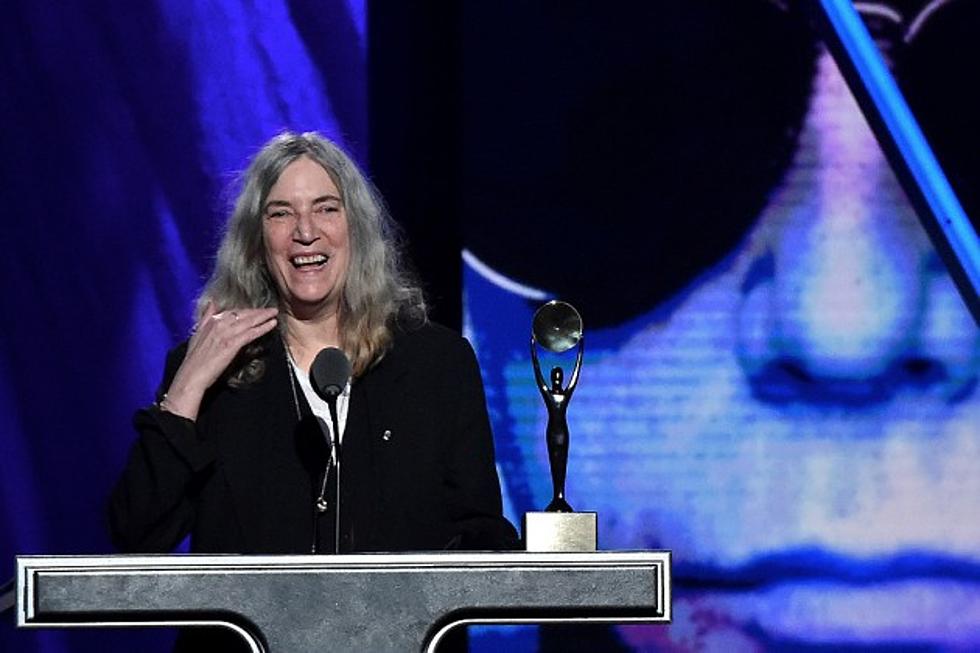 Patti Smith Celebrates the Life of Lou Reed With Rock and Roll Hall of Fame Induction
Mike Coppola, Getty Images
"On Oct. 27, 2013, I was at Rockaway Beach and I got the message that Lou Reed had passed. It was a solitary moment. I was by myself and I thought of him by the ocean and I got on the subway back to New York City."
"It was as if the whole city had transformed," she recalled. "People were crying on the streets. I could hear Lou's voice coming from every cafe. Everyone was walking around dumbfounded."
She went on, "He was not only my friend, he was the friend of New York City. I made my first eye contact with Lou dancing to the Velvet Underground when they were playing upstairs at Max's Kansas City in the summer of 1970. The Velvet Underground were great to dance to because they had this transformative ... like a dissonant surf beat. They were fantastic to dance to.
"Somewhere along the lines, Lou and I became friends. It was a complex friendship ... sometimes antagonistic, sometimes sweet."
As she wrapped up her heartfelt thoughts, Smith told the audience, "True poets must often stand alone. As a poet, he must be counted as a solitary artist. So Lou, thank you for brutally and benevolently injecting your poetry into music. For this, we welcome you, Lou Reed, into the Rock and Roll Hall of Fame."
This induction marks Reed's second time entering the Hall, having previously done so in 1996 as part of the Velvet Underground. Reed, who passed away in 2013 after a long history of liver issues, formed the iconic group that went on to release their seminal album in 1968, The Velvet Underground & Nico, which is a classic in the art rock genre.
Reed's widow, Laurie Anderson, accepted the induction, calling his songs "full of life and complexity."
Ahead of the induction, Reed's sister, Merrill Reed Weiner, wrote a piece on Medium which refutes claims that he was abused as a child. She also wrote about how his withdrawn nature drew him to music, saying in his teens, he became "challenging, unfriendly [and] provocative."
40 Artists Who Should Be in the Rock and Roll Hall of Fame