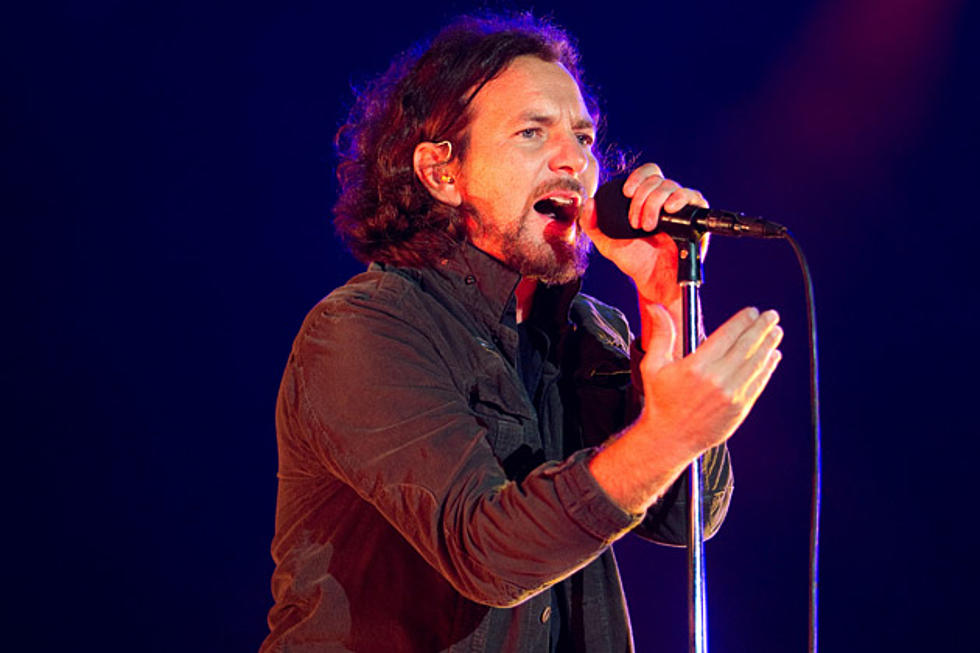 Samir Hussein, Getty Images
Ever since their 1991 debut album, 'Ten,' Pearl Jam's songs have served as a sort of cathartic outlet for fans. Their music -- a hard-rock pulse steered by punk instincts at first, more introspective in the later years -- certainly encourages fist-pumping, singalong action. But their lyrics, most penned by singer Eddie Vedder, have also connected deeply with fans -- probably more so than with any other band of their generation. You'll find a little bit of everything in our list of the 10 Best Pearl Jam Lyrics -- from mumbled lines we quite possibly misheard to major life lessons wrapped in Vedder's rock-star growl.
10

"I don't know whether I was in the box or in the bag."

Frankly, we really can't make out too much of what the mumbling Vedder sings on this 'Ten' outtake and popular B side to 'Jeremy' (which eventually ended up on the rarities compilation 'Lost Dogs'). But it seems to be an antiwar song, and that box-or-bag line is probably about a dead soldier. Either way, it sets a plaintive mood to one of Pearl Jam's best songs, which borrows its opening guitar lick from Jimi Hendrix.

9

"He got up out of there, ran for hundreds of miles / He made it to the ocean, had a smoke in a tree / The wind rose up, set him down on his knee."

Vedder has referred to the first single from 1998's 'Yield' as a fable. With a melody pillaged from Led Zeppelin's 'Going to California,' 'Given to Fly' takes flight in this short, sweet tale about getting away from it all. In the end, it's hopeful -- a peaceful, and probably temporary, break from reality.

8

"Little secrets, tremors turned to quake / The smallest oceans still get big, big waves."

'Tremor Christ' is more riff-driven than most of the songs found on our list of the 10 Best Pearl Jam lyrics, but Vedder's clipped cadences step across the song's marching rhythm like they're leading the charge. Like many songs on 'Vitalogy,' 'Tremor Christ' addresses the band's growing fame and responsibility. Plus, we just really like that line about big waves in small oceans.

7

"Truants move on, cannot stay long / Some die just to live."

Is 'Immortality' about Kurt Cobain? Vedder says no, but the words sure point in that direction: "Vacate is the word," "Cannot find the comfort in this world." 'Immortality' debuted on 1994's 'Vitalogy,' which came out seven months after Cobain's death. No matter who it's about, 'Immortality' certainly struggles with the concept of a life gone too soon.

6

"I'll ride the wave where it takes me / I'll hold the pain / Release me."

'Ten''s closing track, and one of Vedder's all-time greatest performances, follows a theme. A sizable part of Pearl Jam's debut album deals with Vedder's complex relationship with his mom and his late father, whom he never knew (see 'Alive,' No. 2 on our list of the 10 Best Pearl Jam Lyrics, for more info). 'Release,' like many of 'Ten''s songs, reaches for closure.

5

"I wish I was a sailor with someone who waited for me / I wish I was as fortunate, as fortunate as me / I wish I was a messenger, and all the news was good / I wish I was the full moon shining off a Camaro's hood."

Vedder basically runs down a bucket list of his life's wishes -- from the personal and the introspective to the worldly and the romantic. After four albums of teeth-clenched angst and intensity, 'Wishlist' turns pensive.

4

"I'm a lucky man to count on both hands the one I love."

Like a few other songs on our list of the 10 Best Pearl Jam Lyrics, 'Just Breathe' strikes a meditative pose. The lovely acoustic ballad, from 2009's 'Backspacer,' is a step-back-and-be-thankful-for-what-you-got look at love, life and death. In the end, it's pretty much a love song, one of the very few Vedder has written over the past couple of decades.

3

"I will scream my lungs out till it fills this room / How much difference does it make?"

By the time Pearl Jam's second album, 'Vs.,' came out in 1993, the band was wrestling with its sudden fame. It was a popular thing back then, with many indie rockers (including, most famously, Kurt Cobain) rejecting the notion that they were rock stars. Many songs on 'Vs.' reflect this detachment. 'Indifference' shrugs it off best.

2

"While you were sitting home alone at age 13, your real daddy was dying / Sorry you didn't see him, but I'm glad we talked."

Several cuts on Pearl Jam's debut album reveal Vedder's childhood scars. He even wrote three songs (which he called a mini opera) that look back on the time his mom told him that his stepfather wasn't his real dad and his biological father was dead. 'Alive,' the band's first single, is the centerpiece of that trilogy.

1

"I know some day you'll have a beautiful life / I know you'll be a star in somebody else's sky / But why can't it be mine?"

Taking a break from all of the childhood trauma he recalls on 'Ten' (see Nos. 2 and 6 on our list of the 10 Best Pearl Jam Lyrics), Vedder slips into a more universal role in one of the band's best and most popular songs: that of a heartbroken soul who's having a tough time moving on. Vedder's climatic vocal seals it.