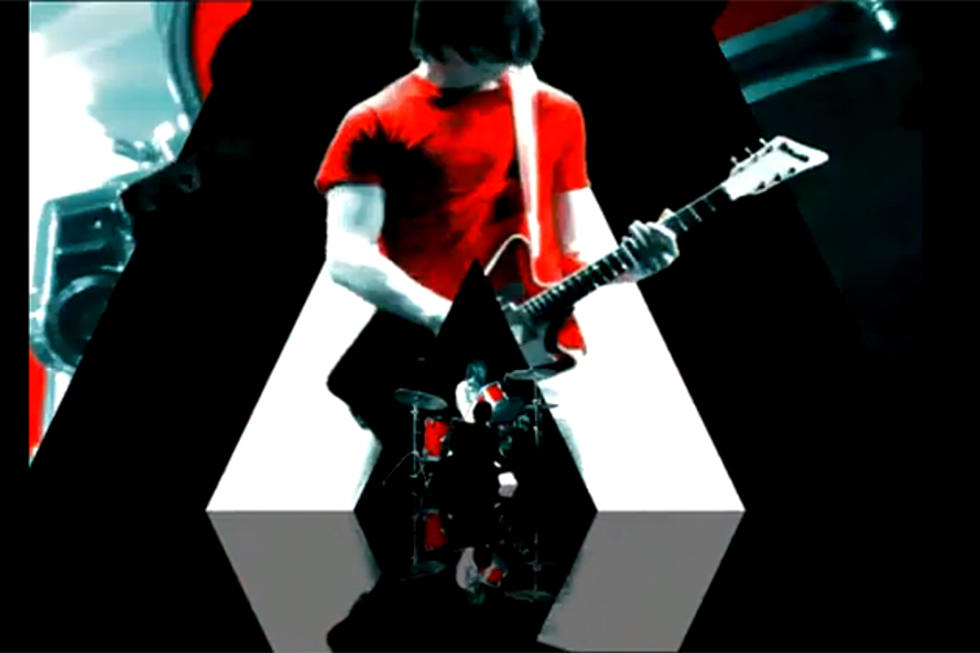 7 Best Sports Chants of the White Stripes' 'Seven Nation Army'
YouTube
The White Stripes' signature hit, 'Seven Nation Army' -- an immediately infectious, loose-limbed blues groove marked by Meg White's simple, solid beat; Jack White's scorching slide-guitar lead; and a bouncing, fuzzed-out bass line that obviously lends itself to vocal imitation -- seemed to peak in popularity in 2003, when it landed at No. 1 on the Billboard Modern Rock chart and helped the band snag a Best Alternative Album Grammy for 'Elephant.'
But a decade later, the song lives on as an unlikely anthem at sporting events the world over, where it blares from speakers after 'Welcome to the Jungle' and gets brassy tributes from halftime marching bands. But it's the song's resurgence as a popular sports chant that is really surprising. These days, 'Army' call-outs are everywhere, from Big Ten college football games to World Cup football (or, as we call them, soccer) matches and, as you may have noticed during last weekend's Super Bowl, rising up from the gathered throngs of boosters supporting the Baltimore Ravens. In fact, the tune became the unofficial anthem behind the team's march to the 2013 NFL championship. With that in mind, tag along as we count down the 7 Best Sports Chants of the White Stripes' 'Seven Nation Army':
7

Michigan Wolverines Football

A sea of college football fans wearing blue and gold chant 'Seven Nation Army' in Michigan Stadium -- which holds upwards of 100,000 people -- as the home Wolverines beat up on Notre Dame in 2011.

6

The White Stripes are obviously an American band, but many European football (soccer) fans have claimed the song as their own. Here, a stadium full of Germans sing along to 'Seven Nation Army' during the 2008 Euro Cup.

5

Baltimore Orioles MLB Baseball

Football lovers aren't the only ones to get in on the action in Baltimore. Here, Orioles fans chant 'Army' during the 2012 American League Division Series baseball playoffs as the Orioles beat the New York Yankees in Camden Yards.

4

Baltimore Ravens Football 2011

The Baltimore Ravens fans' takeover of 'Seven Nation Army' become a bona fide phenomenon during the 2012 season, but it goes back at least to 2011. Here, 70,000-plus Ravens fans chant away during the team's 35-7 trouncing of the Pittsburgh Steelers during their 2011 home opener.

3

Ohio State Buckeyes Football

Michigan football fans going crazy over 'Army' makes sense -- the team's stadium is about a 30-minute drive from the White Stripes' hometown of Detroit -- but Ohio State Buckeyes fans?! You would think backers of Michigan's bitter rivals would sing along to tunes by the Midwest's other Grammy-winning garage-rock duo, the Black Keys, whose Akron birthplace is a quick drive north from Columbus, Ohio, up I-71.

2

'Seven Nation Army' became so big during Italy's 2008 World Cup championship run that someone made a Euro-techno dance remix (!) of the song to celebrate the country's eventual Cup victory.

1

Baltimore Ravens Super Bowl XLVII

You can't beat this sloppy, drunken, disorganized and extremely obnoxious chant following this year's big game. What's that awful sound? The sweet, sweet sound of Super Bowl success.