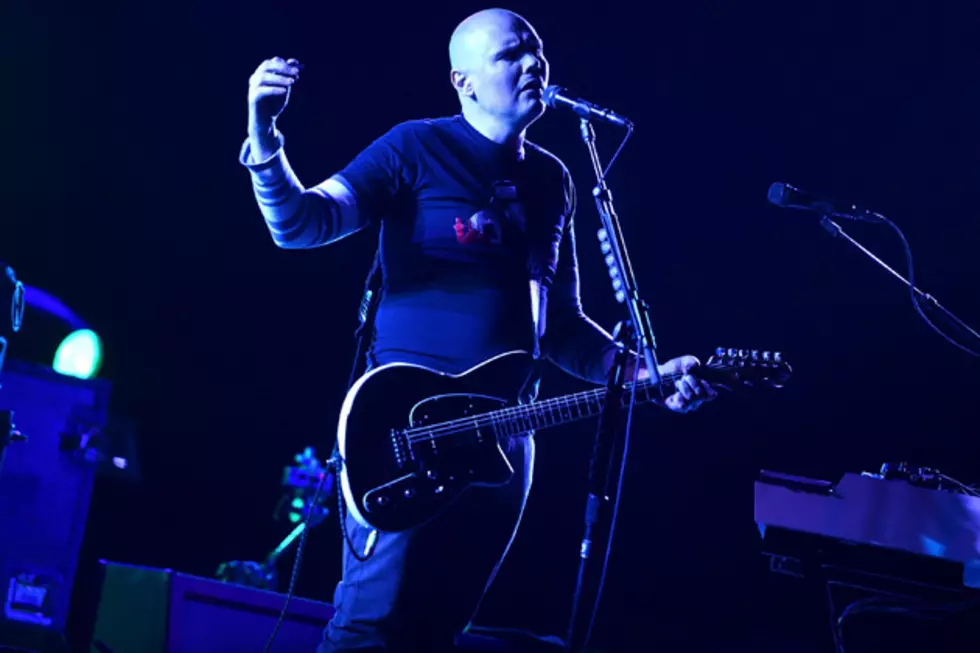 10 Best Smashing Pumpkins Lyrics
Jason Kempin, Getty Images
When the Smashing Pumpkins released their debut album in 1991, nobody was paying much attention to what Billy Corgan was singing. 'Gish' was all about the guitar noise the band unleashed. The follow-up, 'Siamese Dream,' was pretty much the same thing, with a few exceptions. By the time the Pumpkins got around to their fourth record, the chaos gave way to stripped-down introspection as Corgan corralled all his pretensions, melodrama and sentimentality into sweetly moving songs. Our list of the 10 Best Smashing Pumpkins Lyrics focuses on the later years, but you'll find a handful of early cuts in there too.
10

'The Crying Tree of Mercury'

"These are the tears I've been crying my whole life / Like an ocean of desire / I'm reaching through the noise across the dusk of time / Within the lilting lies, I am singing out to you."

Billy Corgan loves melodrama. And he was at his most melodramatic during the final years of the Pumpkins' first last stand. This song comes from their last album before their extended breakup/hiatus, 'Machina / The Machines of God.' Corgan piles it on here.

9

"If you have to go, don't say goodbye / If you have to go, don't you cry / If you have to go, I will get by / I will follow you and see you on the other side."

In spite of all his rage, Corgan could turn sentimental with just as much commitment. After the epic push and pull of 1995's double-disc 'Mellon Collie and the Infinite Sadness,' he scaled back the Pumpkins on 1998's 'Adore.' 'For Martha' is a loving tribute to his mother.

8

"I can't go on digging roses from your grave / To linger on beyond the beyond / Where the willows weep and the whirlpools sleep, you'll find me / The coarse tide reflects sky."

Lyrically, 'Adore' may be the Smashing Pumpkins' strongest album. That's why so many of its songs made our list of the 10 Best Smashing Pumpkins Lyrics, even though musically the record is kind of a snoozer. Corgan dug deeper on 'Adore,' pulling songs about life, death and man's place in between.

7

"Lately, I just can't seem to believe / Discard my friends to change the scenery / It meant the world to hold a bruising faith, but now it's just a matter of grace / A summer storm graces all of me / Highway warm sing silent poetry / And I could bring you the light and take you home into the night."

'Adore''s opening track sets the tone for the Pumpkins' fourth album. Lyrical and coming closer to classical poetry than rock music than anything else he's done, 'To Sheila,' like most of 'Adore''s songs, reads like a peek into Corgan's journal.

6

"I steal a kiss from her sleeping shadow moves, because I'll always miss her wherever she goes / And I'll always need her more than she could ever need me / I need someone to ease my mind, but sometimes a someone is so hard to find."

Corgan exhibited some of the lyrical maturity he'd grow into on a few 'Mellon Collie and the Infinite Sadness' tracks, like 'In the Arms of Sleep,' one of the album's less-bombastic songs. He reveals his sensitive side on this acoustic ballad.

5

"I catch the rainfall through the leaking roof that you had left behind / You remind me of that leak in my soul."

Early on, Corgan led the Pumpkins through guitar workouts that drained most of the songs' lyrical significance ... if there was any even there to begin with. On 'Adore,' he stripped down the music and focused on his words. 'Blank Page' sort of stands as his statement of purpose, complete with imagery that leans a bit on the heavy-handed side.

4

"Lovely girl, you're the murder in my world / Dressing coffins for the souls I've left to die / Drinking mercury to the mystery of all / That you should ever leave behind in time."

Part rambling poetry, part melodramatic confessional and part words strung together over electronic loops. 'Ava Adore' pretty much sums up Corgan's songwriting aesthetic in four-plus minutes. It's also the one song from the personally focused 'Adore' that most people heard when the album came out in 1998.

3

"Mother weep the years I'm missing / All our time can't be given back / Shut my mouth and strike the demons that cursed you and your reasons / Out of hand and out of season / Out of love and out of feeling so bad."

In the early days, Corgan was more focused on supplying the Pumpkins with musical heft, which is why so many of the band's early epics contained about six lines of lyrics buried in nine minutes of music. The distorted ballad 'Mayonaise' is one of his earliest cuts to strike a balance of words and music.

2

"And for a moment I lose myself / Wrapped up in the pleasures of the world / I've journeyed here and there and back again / But in the same old haunts, I still find my friends / Mysteries not ready to reveal, sympathies I'm ready to return."

Corgan was in his late twenties heading into into his thirties when he wrote 'Thirty-Three' for the Pumpkins' third album. It's all about memories, growing old and holding on to things that matter. It's a sign of things to come in the band's next album, the career-shattering 'Adore.'

1

"I used to be a little boy, so old in my shoes / And what I choose is my choice / What's a boy supposed to do? / A killer in me is a killer in you, my love / I send this smile over to you."

'Disarm' is the song on the band's second album that proved that the Pumpkins could do more than just turn up the guitars and play loud. It's also one of the most personal songs on 'Siamese Dream,' Corgan's look back on his tumultuous relationship with his parents growing up. A major moment in his and the band's growth.