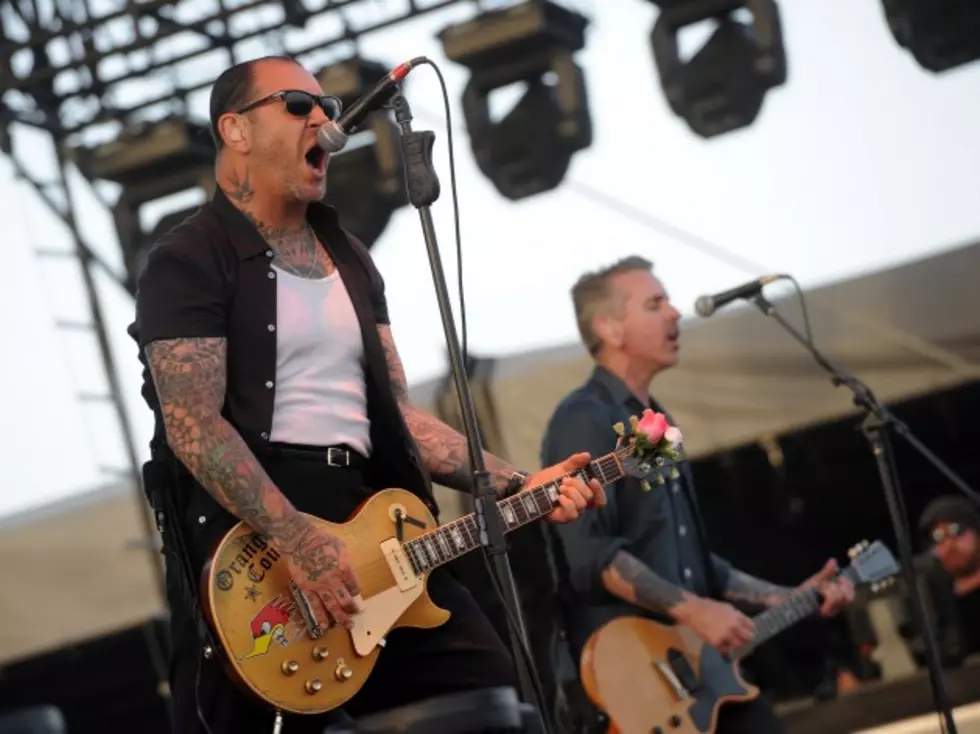 10 Best Social Distortion Songs
Kevin Winter, Getty Images
When Mike Ness formed Social Distortion out in the sketchy suburbs of Fullerton, Calif., in 1978, his game plan likely involved writing a few tunes, playing a few backyard gigs and maybe slamming back some beers. But 35 years later, having blazed a trail out of the punk underground and onto MTV in the early '90s, Social D is still going strong. They're godfathers of the "cowpunk" sound, and they've retained their outlaw image all these years later. In honor of the band's tenacity and spirit, we present this list of the 10 Best Social Distortion Songs.
10

'Sick Boy'

From 'Social Distortion' (1990)

The first tune on our list comes from the bands' major-label debut, and it's textbook Social Distortion in terms of both words and music. Atop a chugging countrified rhythm and riff, Mike Ness croons out the story of a boy who can't get enough of the outlaw lifestyle. Perfect.

9

'I Want What I Want'

From 'Prison Bound' (1988)

When Social D came back after a five-year silence with 'Prison Bound' in 1988, many punk fans were taken aback by the record. Although they certainly retained their punk edge, they infused elements of country into the mix, and that threw some purists for a loop. Nonetheless, 'I Want What I Want' seamlessly straddles genres. It pairs the classic Social D sound with lyrics straight out of a Townes Van Zandt tune.

8

'Live Before You Die'

From 'Sex, Love and Rock 'N' Roll' (2004)

If there's a certified anthem in Ness' cannon, it's No. 8 on our list of the 10 Best Social Distortion songs, a gem from Social Distortion's 2004 full-length 'Sex Love and Rock 'n' Roll.' Within this hook-laden tune, Ness examines the hardships he's had in his life and finds a way to make every day worth living. It's like a punk rock version of a Tony Robbins seminar.

7

'It Wasn't A Pretty Picture'

From 'Mommy's Little Monster' (1983)

The optimism of 'Live Before You Die' is nowhere to be found on this grim little ditty from the bands' 1983 debut LP. The track opens with an ominous bass line from Bent Liles (RIP) and then kicks into a looping guitar lead that runs throughout the song. Ness, meanwhile, lists off the atrocities of everyday L.A. in the 80's, describing a world of drug overdoses, murdered hookers suicide and child abuse.

6

'Story Of My Life'

From 'Social Distortion' (1990)

'Story of my Life' -- No. 6 on our list of the 10 Best Social Distortion Songs -- was the breakout track from the group's big-league debut. Although the song received no chart action, the video played regularly on MTV and launched Social D into the mainstream. It also solidified Mike Ness' image as a punk not afraid to don a cowboy hat or cover a Johnny Cash song or two.

5

'1945'

From 'Mainliner (Wreckage From The Past)' (1982/1995)

This A-side from the band's second 7-inch EP is an urgent yet tuneful blast whose chorus is so infectious you almost forget it's a song about the bombing of Hiroshima.

4

'Far Side of Nowhere'

From 'Hard Times and Nursery Rhymes' (2011)

Next up is a tune from Social D's most recent album, 'Hard Times and Nursery Rhymes' (2011). Where most of the country-leaning songs in the band's repertoire derive from the outlaw side of the genre, 'Far Side of Nowhere' sounds more like a lost Byrds track with its chiming guitars and laid-back delivery. It's nice to know Ness and the boys can kick back every once in a while.

3

'Mommy's Little Monster'

From 'Mommy's Little Monster' (1983)

Coming in at No. 3 on the list of the 10 Best Social Distortion Songs is the title track from the band's debut LP. With its warm yet brash chords and lyrical homage to the beer-drinking black sheep of the family, it's a quintessential early-'80s Southern California punk song in both sound and spirit.

2

'Bad Luck'

From 'Somewhere Between Heaven and Hell' (1992)

'Bad Luck' reached No. 2 on the Billboard Modern Rock charts in the winter of 1993, and for good reason. Terse in delivery and reflective in its rebelliousness, it's simply a perfect rock song.

1

'Another State of Mind'

From 'Mommy's Little Monster' (1983)

Topping the list is Mike Ness' ode to the road. Once that ambulance siren of guitar starts up and Ness starts snarling about the desperation and solitude of the road, you know you're in for a nail-biter of a ride just as scary and electrifying as the lifestyle it reflects.