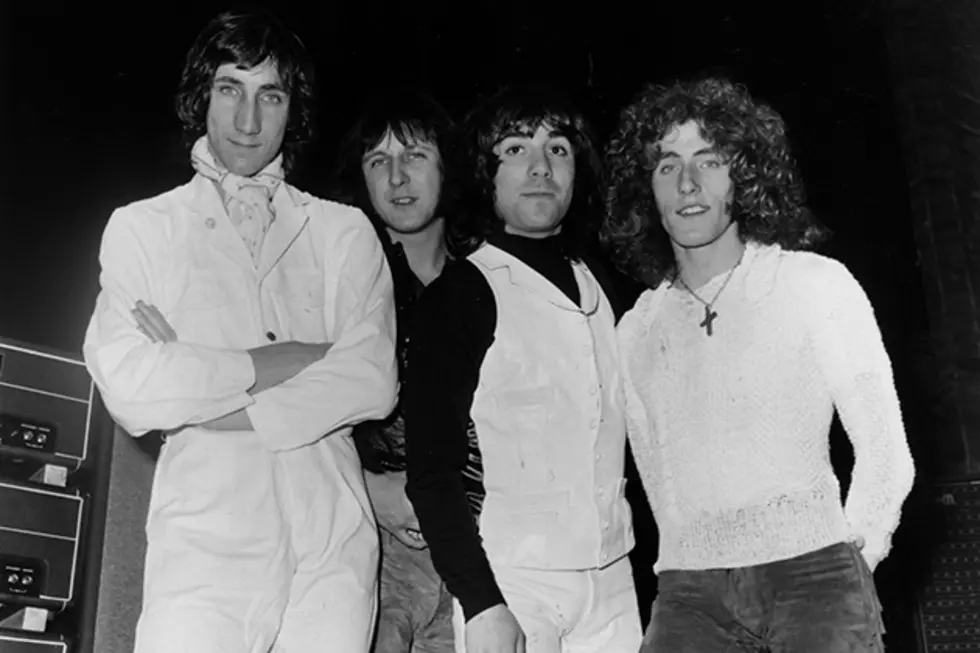 Steve Wood, Hulton Archive
The Who, like British Invasion contemporaries the Rolling Stones, had no problem writing songs that referred explicitly to sex, booze and drugs, much to the dismay of square parents. In their '60s heyday, they were seen as bad boys compared to the well-manicured Beatles, and as with the Kinks, they dared to make distinctly British-sounding rock 'n' roll. Only they went over better in America -- maybe because of their legendary Woodstock performance. Or maybe it was the music. Primary songwriter Pete Townshend is the master of the introspective lyric, and he was one of the progenitors of the "concept album," which he perfected with 1969's so-called rock opera 'Tommy.' Townshend also took the windmill arm-swinging guitar style to new heights and made his percussive, super-fast guitar lines the band's sonic signature. Of course, there was also the mastery of bassist John Entwistle, crazed drum god Keith Moon and mic-twirling lead singer Roger Daltrey. These four unique personalities left us with some amazing material, and what follows are the 10 Best Who Songs.
10

'Who Are You'

From 'Who Are You'

It's almost impossible not to think of 'CSI' when this song comes on, given that it lived a comfortable second life as the CBS show's theme song. But it's always been a classic Who song, one that poses the oft-posed question, "Why, lover, are you so amazing, given that I'm a total drunk-as-a-skunk loser?" It's also one of those rare tunes that has pretty much avoided FCC censors, and its two F-bombs are regularly heard on classic rock radio. (We can also imagine the Bronx Zoo apes singing this one after hours, too -- "who-who who-who!")

9

'Squeeze Box'

From 'The Who By the Numbers'

One of the greatest accordion-used-as-a-sexual-innuendo songs of all time ("she goes in and out and in and out"), 'Squeeze Box' originally appeared on one of the Who's darkest records, 1975's 'The Who By Numbers.' Though 'Numbers' got all the way up to No. 8 in the U.S., the majority of the songs are extremely depressing, referring to Pete Townshend's out-of-control drinking problem, lack of friends and confused sexuality. But the countrified 'Squeeze Box' is sort of the light at the end of the tunnel -- the happiest moment on the record -- and might be one of the most lighthearted in the band's history.

8

'I Can See for Miles'

From 'The Who Sell Out'

No. 8 on our list of the 10 Best Who Songs comes from the classic 1967 concept album 'The Who Sell Out,' an ode to society's advertisement overload -- something the Who was ironically taking part in (and still is, as is noted above in the 'Who Are You' entry). The album is filled to the brim with fake ads for everything from deodorant to Heinz Baked Beans. But 'I Can See for Miles' doesn't fit the phony-commercial theme. It has a much weightier tone and message. Pete Townshend's lyrics are a warning to some unnamed aggressor, though he never really says what he's going to do to this person. What will haunt anyone who listens to this song is Townshend's crazy '60 Day-Glo-colored eyes.

7

'Substitute'

From 1966 Single

'Substitute' is another song on which Pete Townshend clearly has a bone to pick with someone or something. Like 'I Can See for Miles,' the target of his animosity has misinterpreted him: "I'm a substitute for another guy." We know that his "dad was black," he was born much poorer than expected ("with a plastic spoon in my mouth"), he's shorter than you think and he's older than he looks. It could be read as a kiss-off to higher-class fans, who helped shoot the band to its successful heights. (The Who had come from humbler beginnings than their subsequent would lead one to believe.) Then again, it's just a catchy, mod-era pop song that has a fantastically chunky bass line and some of the band's best vocal harmonies.

6

'The Kids Are Alright'

From 'The Who Sings My Generation'

One the earliest Who singles from 1965's 'My Generation,' 'The Kids Are Alright' stands out for its straightforward, chiming guitar part -- they were among the many bands using 12-string Rickenbacker guitars at the time -- full-band harmony singing and catchy-as-hell melody. It's not super surprising modern bands like Green Day, Pearl Jam and the Dropkick Murphys have covered it.

5

'Won't Get Fooled Again'

From 'Who's Next'

'Who's Next' (1971) could've been another concept album -- it was originally titled 'Lifehouse' -- but Pete Townshend lost direction and nearly lost his mind. 'Won't Get Fooled Again,' like 'Baba O'Riley,' is a completely epic song from start to finish. It shadows 'O'Riley' in its spacey synth intro, but unlike the slow build of 'Baba,' it explodes after just 30 seconds and continues for a whopping eight more minutes on the original recording! We'd gladly devote 8:32 any day to basking in this song's greatness.

4

'Pinball Wizard'

From 'Tommy'

Probably the best known tune from 1969's 'Tommy,' 'Pinball Wizard,' fourth on our list of the 10 Best Who Songs, is one of the few selections from the rock opera capable of standing alone as its own great rock song. Most of the other tracks, meanwhile, serve the overarching mellifluous song cycle. It always just stood out, from that machine-gun-strummed guitar intro to the hokey lyrics about a "blind, deaf, and dumb" boy kicking your ass at the penny arcade.

3

'Behind Blue Eyes'

From 'Who's Next'

One of Pete Townshend's most personal songs, 'Behind Blue Eyes' is also one of his greatest. Starting off as a solo acoustic number, it tells the tale of a man who's messed up in life. In a sense, the narrative perspective is within the man's mind, which is pretty damned trippy, if you think about it. When it explodes into a driving rock song at the 2:19 mark, it's almost as if you're ready to rock. You can feel the build-up in your bones.

2

'My Generation'

From 'The Who Sings My Generation'

Now, some might argue this belongs at the top of the 10 Best Who Songs list, But hold it up to our pick for No. 1, and it's just half the song. Sure, you've got lead singer Roger Daltrey's amazingly creative stuttered vocals and that rolling proto-punk lead riff, but all of the elements are just not there. It's a damn good song, chock-full of historical significance and that great forward-looking spirit Townshend was so good at picking up on. And yet...

1

'Baba O'Riley'

From 'Who's Next'

'Baba O'Riley' takes top honors on our 10 Best Who Songs list because it has everything a rock fan could want in a song. There's a coming-apart-at-the-hinges bonkers synth intro and an iconic, highly playable three-chord guitar melody. (The intro lick is actually played on the piano/bass, and the guitar doesn't enter until the 1:38 mark.) Then there are those anthemic lyrics, just right for singing along with at the top of your (drunken?) lungs. Also, there's that great little section Pete Townshend sings ("don't cry …") and a fiddle-solo outro, which reminds us of Nero play-play-playing whilst Rome burns in the background (i.e. the "Teenage Wasteland"). Plus, it's got one of the most WTF song titles of all time, which combines the names of Indian spiritual adviser Meher Baba and American electronic composer Terry Riley (see 'Rainbow in the Curved Air' for the keyboard influence).