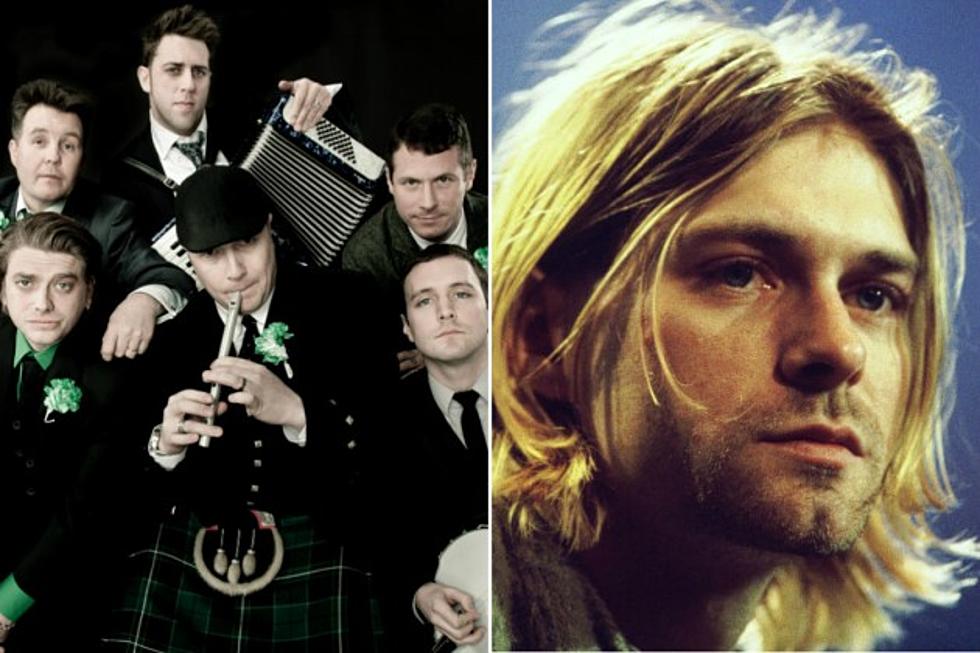 Boston vs. Seattle: Which Super Bowl City's Music Scene Would Win?
Kerry Brett/Frank Micelotta, Getty Images
On Sunday (Feb. 1), the New England Patriots, the Seattle Seahawks and what's sure to be a carefully scrutinized batch of the most precisely inflated footballs ever will determine whether Boston or Seattle can call itself home to the NFL champions for the next dozen months. While we're not trying to diminish the significance of an achievement, the title really is relatively temporary. (Ask Eli Manning or any of the New York Giants who won the Super Bowl three years ago if they still feel like winners today.)
But this week, as much of the world's sports media descends upon Arizona on an eternal quest to find molehills to make quotable mountains out of, we decided to take an approach that has as little to do with the NFL, the commissioner or sports as possible. It'll just be cleaner.
So, instead of relying on five hours of commercials and 60 minutes of football to determine which city is the big winner, what if we looked at each town's musical legacy?
Seattle and Boston are actually pretty decently matched when you think about it. One represents much of the Pacific Northwest, is synonymous with grunge (and, really, most of the '90s) and is still home to a thriving, diverse musical scene. The other represents much of New England and is famous for churning out some of the most influential '80s and '90s college indie artists.
While our methodology for making this determination won't have anywhere near the reliability of sabermetrics, we will piece together a veritable fantasy team of bands from each city.
Let's break down the lineups by skill level (or, at least, popularity):
HALL OF FAMERS
Although we could argue for weeks on the topic of which bands are absolute best to hail from each city, there's already a whole triangular building in Cleveland dedicated to the topic. While inductees into the Rock and Roll Hall of Fame don't have to be enshrined wearing one specific city's ball cap on their plaque, the bands from both Boston and Seattle who are in the hall are pretty much quintessential representatives of their towns. The 'Bad Boys From Boston' themselves – Aerosmith – would definitely captain the Bean Town squad. Inducted in 2001, they might not have the most indie cred, but their blue-collar appeal led to staggering lifetime statistics (18 platinum albums, 12 multi-platinum and 25 gold albums).
Seattle, however, has a trio of hall of famers on its roster: Jimi Hendrix (1992), classic rock sister act Heart (2013) and Nirvana (2014). Although Hendrix -- arguably the best guitarist ever -- was largely out of town after enlisting in the Army as a teenager (he's been buried in nearby Renton since 1970), Heart and Nirvana are interwoven into Seattle's flannel fabric. Heart rose to fame in the '70s with their melodic, folk-informed hard rock and the younger sister, Nancy Wilson, was also married to Cameron Crowe when he wrote and directed the genre-defining 'Singles' in 1992 (both Heart and Hendrix are on the soundtrack). Meanwhile, Nirvana largely served as the world's introduction to grunge and, thanks largely to the disenfranchised charisma of Kurt Cobain, changed the entire culture of music.
---
LEGENDS
We'll define a 'legendary' band as one that either evolved into genuine icons or broke up and achieved a kind of mythical musical status. In Boston, a lot of that is centered around the Pixies – a band whose 'loud-quiet-loud' dynamics were hugely influential on an entire generation of musicians (including Cobain). While the legacy of Boston's alternative scene around that time was a little more subtle than Seattle's eventual grunge pop-culture takeover, it produced an impressive list of artists like Morphine, Galaxie 500, Dinosaur Jr., Sebadoh, Juliana Hatfield, the Lemonheads and (Pixies offshoot) the Breeders. The Cars and Mission of Burma also came from Boston and became power-pop stars and post-punk pioneers, respectively.
In Seattle during the mid-'80s, bands like Green River, Melvins and the U-Men ripped up the pavement for the road that would become grunge, opening the door of commercial viability for the likes of Pearl Jam, Soundgarden and Alice in Chains. Although Pearl Jam have morphed into a kind of new-school Grateful Dead, Soundgarden and Alice in Chains are still capable of filling arenas on their own. There are also the less marketable outfits like Mudhoney and Bikini Kill that have been longtime cult favorites, and you could also include Pedro the Lion and Sunny Day Real Estate. Oh, and Foo Fighters, considering they're potentially the biggest band in the world. It's up to you whether or not you want to include Sir Mix-a-Lot.
ADVANTAGE: Seattle, but it's closer than you might think.
---
VETERANS
This category includes long-time, active bands who provide the backdrop for each city's current musical identity – and that's exactly what the Dropkick Murphys have been doing for Boston since 1996. Their modern celtic punk lends itself perfectly to the city's raucous, Irish aesthetic, and they've become one of the most influential (and outspoken) bands in their genre. There's also ska purveyors the Mighty Mighty Bosstones, jam band favorites Dispatch along with Buffalo Tom, the Magnetic Fields, Guster, Amanda Palmer and Dresden Dolls (when they're together). Western Massachusetts is also a hotbed for hardcore derivations and home to metalcore giants Killswitch Engage and Shadows Fall.
ADVANTAGE: One Dropkick Murphy on a good day is likely more dangerous than all of Death Cab combined, so let's give this category to Boston.
---
ROOKIES
Consider 'rookies' to be bands formed around 2007 and later. In Boston, you've got a vast array of bands breaking across genres. There's the indie electronica of Passion Pit, the melodic hardcore of Four Year Strong and funk-rock amalgam of Bad Rabbits.
---
WEAKNESSES
If you were wondering how this list could exist without including '70s monster-rockers Boston, there's a reason for that. Nobody's saying 'More Than a Feeling' probably wasn't awesome in 1976, but when you look at the city's musical legacy from an even mildly alternative standpoint, it's difficult to see them as much more than cred-killing detriments. The same goes for Alice in Chains ripoffs Godsmack, and New Kids on the Block.
Seattle's musical history is also far from immaculate. On some level, you could say the city was responsible for the decade-long parade of trite and reactionary, second-rate grunge bands that emerged in the wake of the real thing. But you could also legitimately just point to Candlebox (who actually were from Seattle). There is also theatrical prog-rockers Queensryche and, of course, Kenny G.
---
VENUES
As the music center of everything northeast of New York, Boston's got a long line of legendary venues like the Middle East (an entire entertainment complex), the mid-sized Brighton Music Hall (formerly Harpers Ferry), the Paradise Rock Club and the intimate Great Scott. The very first House of Blues was opened in a converted Boston art house and, although it closed in 2009, there's now a state-of-the-art 2,500-capacity room next to Fenway Park. Boston also hosts the annual Boston Calling Music Festival (this year featuring Beck, the Pixies and St. Vincent).
Seattle has its own longstanding history in the Paramount Theatre (opened in 1928) and the Showbox (opened in 1939), the Moore Theatre (where Pearl Jam's 'Even Flow' video was filmed) the Crocodile (which hosted Nirvana and Death Cab before they were huge),  the volunteer-run Vera Project and the punk and hardcore-focused El Corazon. The Bumbershoot Music & Arts Festival has also been steadily growing since its first incarnation in 1971 and last year's lineup included Elvis Costello, Wu-Tang Clan and Foster the People.
---
FINAL DECISION
The Patriots are currently favorites to win Super Bowl XLIX and hopefully that'll take away some of the sting of losing this competition. Seattle is just too strong. When you look at the entire picture -- the mythology and the SoundScan numbers alike -- the home of the Seahawks comes out on top. Although, we can't be held responsible if we eventually learn performance enhancing drugs were involved.
The 19 Most Influential Grunge Musicians