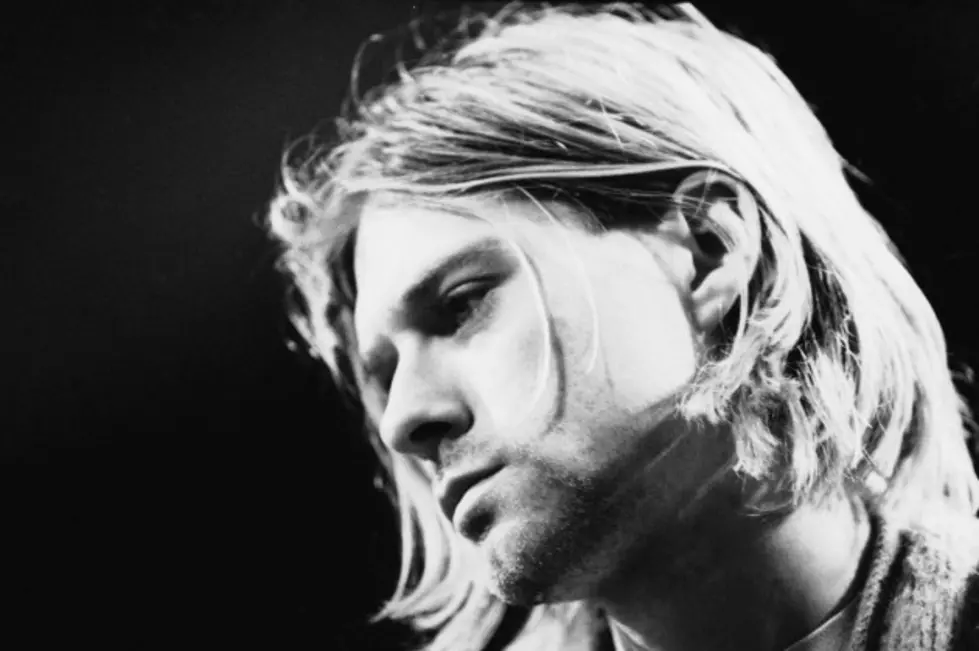 Brett Morgen Shares His Experience Making 'Kurt Cobain: Montage of Heck'
Frank Micelotta, Getty Images
This past weekend saw the premiere of Brett Morgen's documentary, 'Kurt Cobain: Montage of Heck,' at Sundance. In a new interview with Rolling Stone magazine, the director has now opened up about the highly emotional experience of making the film, sharing footage with Cobain's family and more.
While making the film, Morgen was granted access to the late Nirvana frontman's vast archives, which ultimately makes for an intimate look into Cobain's life. So close, Morgen even said, "I don't think there has ever been, or will ever be, another movie about an icon that's this raw or intimate."
The nature of the film -- it consists of animation, home videos, interviews and more -- allows for Cobain's story to be conveyed in his own voice. "I find that you almost feel closer to Kurt when he's not on camera, through the journals, and the audio, where you feel like you're getting a portal into his psyche," Morgan said.
The movie also includes previously unreleased music from Cobain, including the mixtape the film is named after.
"The score is all unreleased Cobain music. They don't have titles," he explained. "Nobody in Kurt's life — not his management, wife, bandmates — had ever heard his Beatles thing [a snippet of 'And I Love Her']. I found it on a random tape. It's a Paul song. How's that for shattering the myth?"
When asked his favorite scene from the documentary, Morgen cited one of Cobain and his then-wife Courtney Love captured together in the bathroom.
"I love the scene of Kurt and Courtney in the bathroom. That's an image of Kurt that no one has ever seen," Morgan said. "The back and forth between them — it's like Lucy and Ricky. I could watch that scene all day long. I'm so thankful that exists, because it gives us such a great window into what they were like when the camera isn't around — because that's not a camera from MTV that's shooting them. They're f--king naked. You're like, wait, there's a camera here?"
Another scene from the film captures Cobain -- seemingly under the influence, while claiming he's not on drugs -- giving his daughter, Frances Bean, a haircut. That, along with other footage, led Cobain's sister, Kim, to ask whether or not it should be included in Morgen's documentary.
"Kim said to me, 'My brother was very embarrassed about his heroin use. Do you think he would want this in the film?' And I said, 'You know, one thing you've always told me is that your brother's worst fear was that he would influence people to do heroin.' And for the last 22 years, Kurt's been associated with heroin, but nobody's seen the ill effects of it," Morgen explained. "I'm not a social documentarian, I'm not trying to make a message film — but I'd like to think that scene could serve as a deterrent."
In all, Morgen says he strived to create a raw, intimate portrayal fitting of an incredibly honest artist.
"Someone involved with the estate's management saw the film and said to me, 'You can't put this out in the world. This is not what people want to see.' I was like, no, man. It's Kurt Cobain. It needs to be honest," Morgen said.
'Kurt Cobain: Montage of Heck' will premiere on HBO on May 4.
The 19 Most Influential Grunge Musicians