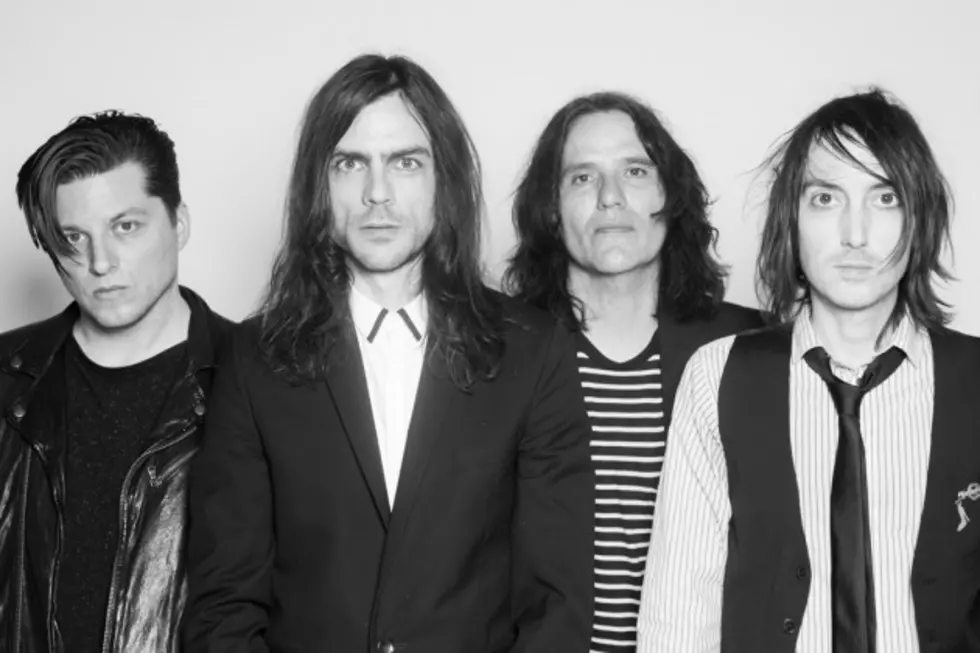 Brian Bell + Jon LaRue Discuss the Relationship, Vinyl + Supergroups
Press Here
On the Relationship's latest track, "Oh Allen," the group -- featuring Weezer's Brian Bell, U.S. Bomb's Nate Shaw, Jon LaRue (Albert Hammond Jr.'s songwriting partner) and Anthony Burulcich, who has drummed for Morrissey and the Bravery -- creates indie rock gold in the matter of just a few minutes. With powerful guitars and an unquestionably memorable melody, "Oh Allen" lives up to the talents and resume of each band member.
Earlier this month, Burger Records released a 7" with "Oh Allen" b/w "Young Temptations," and now, the Relationship are currently on the road for an extensive U.S. tour. In the midst of their busy schedules, Bell and LaRue took some time to chat with us about their personal appreciation for vinyl, what fans can expect from their live shows and more -- check out our exclusive interview below:
How do you feel about the term "supergroup"?
Brian Bell: I never liked the term "supergroup." I feel that term has more to do with resting on one's laurels than a group who is making music for the love of it. We are more like a scrappy young band who has something to prove and can't wait to get out on the road and prove it. That's why Burger Records is the perfect label for us right now.
Jon LaRue: I wouldn't personally use the term. I just see it like we are a bunch of friends who are lucky enough to play music together. Brian is one of my closest friends, and has been for years. We all started playing together and things just clicked, and outside of the room we just all had such fun together. It was never a thought about who had accomplished what previously. I think it's just one of those things that we all happened to run in the same circles from the work we had done.
Why did you decide to release a 7" this year?
LaRue: We wanted to put something out because the band had been on hiatus for a while. And it is a throwback to the '50s. The internet and digital downloads has kind of paved the way for the return of the single.
Bell: We have a self-released full length record we put out in 2011 entitled The Relationship. We are in the process of finishing our second record and we had "Oh Allen" completed and "Young Temptations" in demo form which the guys at Burger heard and they offered to put out the two songs. And judging how long it took me to complete our debut record, two songs completed to my satisfaction didn't seem as daunting as 10.
What was the writing process like for "Oh Allen" -- was it a collaborative environment?
Bell: "Oh Allen" and practically all Relationship songs are created in a collaborative environment. It's the reason to have a band in the first place. But "Oh Allen" was written on a table at a dinner in Costa Mesa, California. Nate [Shaw] had a few song titles in a notebook, I saw it and asked him to explain it. We wrote the story line then and there and when I picked up a guitar later at his apartment I was immediately drawn to D-flat major ... and the progression wrote itself within seconds. Of course it took months of editing and refining but the essence of the song was captured within the first few minutes.
LaRue: The song was pretty much written, and you don't want to mess with things if they're already good. There was room to change the original bass line, and make a few adjustments with how that worked up to the Moog part. I know Anthony [Burulcich] made some suggestions on the tempo. It really was about making observations on a song that was already really good. The B-side was a bit more collaborative from the start.
How important is vinyl to you personally?
Bell: What's not to like about vinyl? It's nice to listen to, it's nice to display, it's nice to smell even. It hits all the major senses. There is nothing tactile about an MP3.
LaRue: I have three record players and most of my favorite records [are on vinyl]. I have a lot of original prints. My favorite record is my original copy of The Velvet Underground & Nico.
Why do you think there has been a resurgence in vinyl in the last few years?
Bell: I think this resurgence has been going on for some time. I hope that people like the sound of it better, because I know I do.
LaRue: I don't think you can deny it when you look at the statistics. The digital compression of MP3s has made people want to hear the sound quality of vinyl. I knew a recording engineer that would talk about the effects of PCM [Pulse Code Modulation] on the brain. There have been some really interesting studies about it.
You played Burgerama and now you're hitting the road for a full-blown tour; what can fans expect from the Relationship's live show?
Bell: I think of live performance like an art opening. The music has been created and you get to watch us paint it. We may use different brush strokes each night depending on our moods and the vibe of the audience and the sound of the rooms we are playing in.
LaRue: It'll be a good time, hopefully. I think our live show has really clicked. We hope everyone has as good of a time as we have playing the show ... and the songs. You can expect that we will be playing the songs.
Do you view this as a side-project or are you fully invested in making an impact with the Relationship?
Bell: I will always correct someone when they say side-project and tell them I think of it as a band. I hope to make enough of an impact with the Relationship where I no longer have to correct them.
LaRue: I don't think of it as a side project. Just a project that we can all have fun with.
With the 7" out, what are the plans for the full-length?
Bell: We are nearly done with it. Nine of the 10 songs have been recorded and the 10th and most epic of the bunch, "The Garden Song", will be flushed out during sound checks on this tour and immediately put to tape on our return.
LaRue: For the tour, Brian worked really hard to get all the songs we have recorded mixed so we can hear them and see how we can push them farther and make them even better. When we get back home in mid-May, we will pick up recording in between some one off shows. It will be a busy time for the Relationship, but busy is a good thing.
You can pick up the Relationship's latest 7" with Burger Records, "Oh Allen" b/w "Young Temptations," here. And make sure to stay up-to-date with everything happening in their world at their official website.
Listen to the Relationship's "Oh Allen"