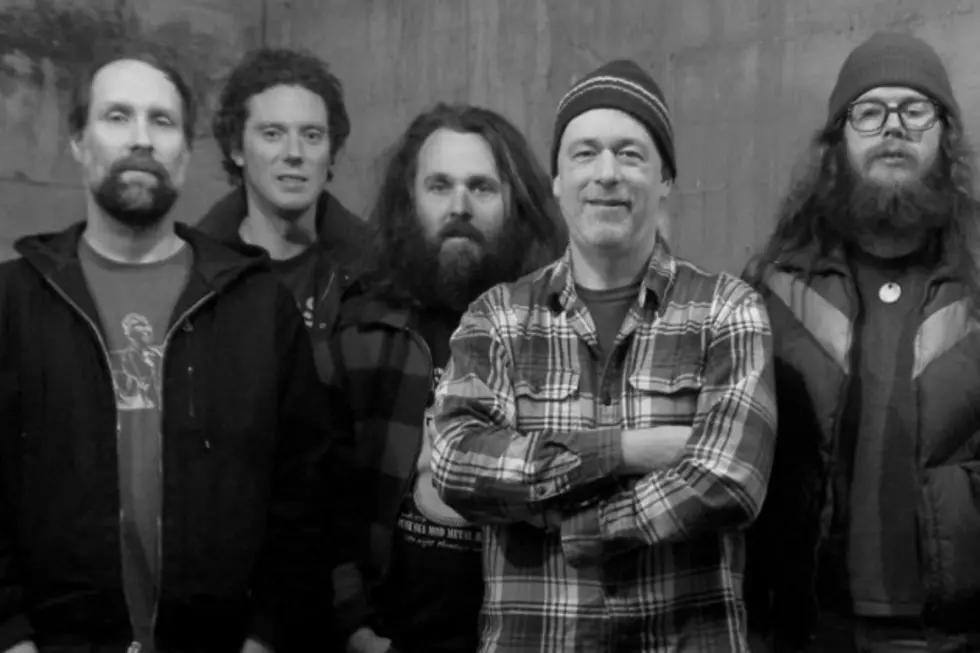 Built to Spill Will Release New Album, 'Untethered Moon,' in April
Facebook
Built to Spill have announced they will release their first album in the six years since 2009's There Is No Enemy.
The Boise, Idaho indie rockers will drop their eighth album, Untethered Moon, on April 21 via Warner Bros. A vinyl edition of the LP will be available for Record Store Day this year on April 18. Check out the album art and complete 10-song track list below.
The band also unveiled the forthcoming album's lead single and second track, "Living Zoo." Take a listen below:
Untethered Moon marks Built to Spill's first album with drummer Steve Gere and bassist Jason Albertini. They join founding members frontman Doug Martsch and guitarist Brett Netson, along with guitarist Jim Roth, who's been playing with the band since their 2006 LP, You in Reverse.
In support of the upcoming record, Built to Spill will embark on a tour that kicks off in their hometown on March 27. They're also slated to appear at this year's Coachella in Indio, Calif., and Shaky Knees in Atlanta. Three of their upcoming dates will be opening spots for Death Cab for Cutie. Check out the full itinerary below:
'Untethered Moon' Track List
1. "All Our Songs"
2. "Living Zoo"
3. "On The Way"
4. "Some Other Song"
5. "Never Be The Same"
6. "C.R.E.B."
7. "Another Day"
8. "Horizon To Cliff"
9. "So"
10. "When I'm Blind"
Built to Spill 2015 Tour
March 27: Boise, Idaho - Treefort Music Fest
April 10: Visalia, Calif. - Cellar Door
April 11: San Luis Obispo, Calif. - SLO Brew
April 12: Indio, Calif. - Coachella Festival
April 13: Santa Barbara, Calif. - SOhO
April 14: San Diego, Calif. - Irenic
April 15: Los Angeles, Calif. - Shrine Expo Hall *
April 16: Tucson, Az. - Rialto Theatre
April 17: Phoenix, Az. - Crescent Ballroom
April 18: Flagstaff, Az. - Orpheum Theater
April 19: Indio, Calif. - Coachella Festival
April 20: Las Vegas, Nev. - The Bunkhouse
May 9: Atlanta, Ga. - Shaky Knees Music Fest
July 8: Troutdale, Ore. - Edgefield Amphitheater **
July 9: Bend, Ore. - Les Schwab Amphitheatre **
July 11: Berkeley, Calif. - Greek Theatre Berkeley **
* Supporting Brand New
** Supporting Death Cab for Cutie
The 100 Most Anticipated Albums of 2015