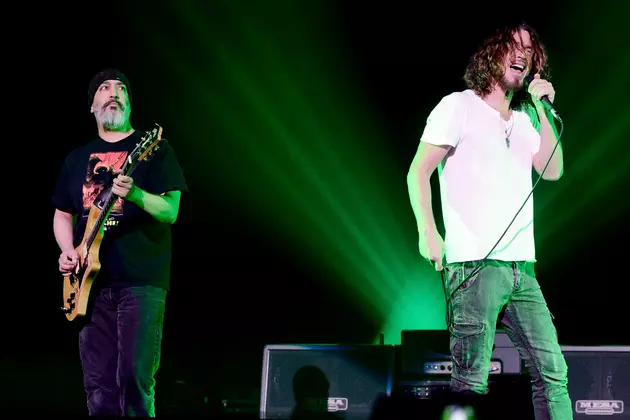 Chris Cornell Death Left Bandmate Kim Thayil in 'Fetal Position'
Kevin Winter, Getty Images
Soundgarden guitarist Kim Thayil said the death of bandmate Chris Cornell last year had left him in the "fetal position," to the extent that he hesitated to accept an invitation to join his "favorite band" on tour.
He just kicked off the North American leg of a road trip with Wayne Kramer's MC50, a lineup formed to mark the 50th anniversary of MC5's debut album Kick Out the Jams, which runs until the end of October.
"My jaw dropped," Thayil told Billboard of Kramer's invitation. "I thought two things: 'Am I ready to come out of the fetal position?' And then, 'How could I be any more ready than this opportunity to play with what I consider to be my favorite band?' So I made myself ready. It was like, 'Fix your head. This is the one!'"
He added that everyone he consulted about the move offered a positive response. "They didn't hesitate," he recalled. "They said, 'Oh my God, jeez, this is your dream. You should do this!' The timing was pretty good, I think. I was allowing myself to be ready."
Thayil said he'd been "up and down, in and out" in the months following Cornell's May 2017 death. "Everything has improved day by day," he said. "Obviously there's still emotional shadows and ghosts. Like anything else, it's something that improves with time."
Cornell took his own life in his Detroit hotel room hours after a Soundgarden show, but Thayil rejected the suggestion there had been anything suspicious about the singer's state of mind during the performance.
"I remember Chris had just gotten in [to town] and was a little tired and his voice was a little rough, but by about the fourth or fifth song, it kicked in and then it was just, like, super amazing," he noted. "People speculate, and they get causality in reverse. I guess it's natural to try to fill in the blanks to explain a particular mystery. I think it's natural to say that 'We know something terrible happened, so we know there must have been some sort of problem. Let's see what that problem might be.'"
Thayil also said he remained in contact with Soundgarden colleagues Matt Cameron and Ben Shepherd, and that he was "sure" he'd work with both of them again in the future, including Cameron's recurring guest spots with MC50.