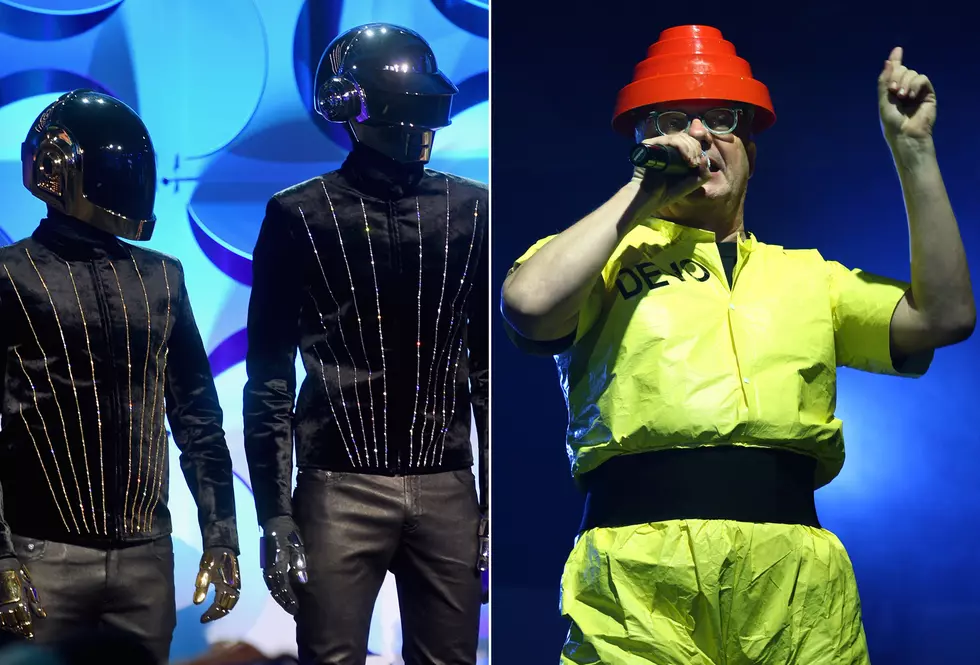 Jaime McCarthy / Jonathan Wood, Getty Images
Alternative and indie rock artists aren't usually known for dressing up onstage -- for all the high-art ambition such bands bring to their music, it rarely translates into wild onstage personas or crazy costumes. With earnestness and authenticity valued so highly in the scene, it's the rare band that is willing to put that on the line for the sake of a cool outfit.
Of course, that all changes on Halloween, and even outside of that night there are several bands that have been known to play dress up over the years. And some outfits based much of their career around it -- where would Devo be without their flower pot hats or Daft Punk without their robotic helmets? With that in mind, we bring you our list of the Coolest Costumes In Rock.
When U2 hit the road on their Zoo TV world tour in support of 1991's Achtung Baby, part of the over-the-top production featured singer Bono dressing up as a devil creature named MacPhisto decked out in a gold suit with platform shoes, pale face paint, lipstick and devil's horns atop his head. Even better than the real thing?
French house duo Daft Punk help start a trend in electronic musicians wearing futuristic headgear that continues to this day with the likes of Deadmau5 and his digital mouse head. But when it comes to DJs dressing up, Daft Punk's Tron-like helmets are still the coolest getups in town.
Trailblazing New Wave act Devo weren't just revolutionaries with their music -- their iconic flower-pot hats, which they called "energy domes," may have also helped start a trend towards eccentric dressing in the so-called alternative community. Devo were not afraid to dress up and look a little silly doing it. And by silly, we mean we pretty damn badass.
My Morning Jacket showed a nostalgic streak for classic '80s Hollywood blockbuster cinema with their spot-on Ghostbusters outfits, which they busted out for an especially inspired Halloween celebration in 2009.
Stage outfits often don't get much more out there than those worn by the Knife, the Swedish electronica duo known for such eccentric wear as their bird-like masks inspired by the traditional Venetian Medico Della Peste (plague doctor) masks worn during the annual Carnival of Venice festival in Italy. Either it was inspired by that, or the Stanley Kubrick flick Eyes Wide Shut.
Green Day have worn a ton of different looks over the years -- from slacker punk to emo goth and beyond -- but here, Billie Joe Armstrong and his bandmates dressed up as horror punk legends the Misfits for a 2011 Halloween concert in New York City.
British post-punkers Clinic live up to their name by always wearing surgical masks when they play live, often accompanied by scrubs to complete the medical look. When not donning scrubs, they always have some sort of costume on -- whether it be matching Hawaiian shirts or, pictured here, matching straight jackets. Depends on their mood, we guess.
To be honest, the Dresden Dolls' stage costumes could just as easily be called uniforms -- when the type of music you play is called "dark cabaret," wearing dramatic face paint and stylishly dour clothing like dark suits and Victorian-era dresses kind of comes with the territory. Regardless, they still play dress-up and dress to kill. It doesn't get much cooler than that.
Every day is Halloween when you are in the Flaming Lips, who turn their live concerts into carnival-like festivals with lasers, balloons, confetti, glitter canons, gallons of fake blood -- and of course crazy, crazy costumes. Frontman Wayne Coyne rarely dresses down from his trademark three-piece suit, but is often joined by a menagerie of bandmates and backing dancers dressed as furry cartoon animals, skeletons, space aliens, Santa Clauses, construction workers and pretty much anything else that can have fun jumping around the stage.
Ween's history is full of memorable performances from the eccentric rockers. Few gigs are as memorable as the band's Halloween 2010 showing in Denver during which Gene and Dean Ween and their backing band donned fuzzy white full-body bunny suits. After the concert, the suits were sold on eBay.
50 Most Influential Alternative Artists of the 21st Century