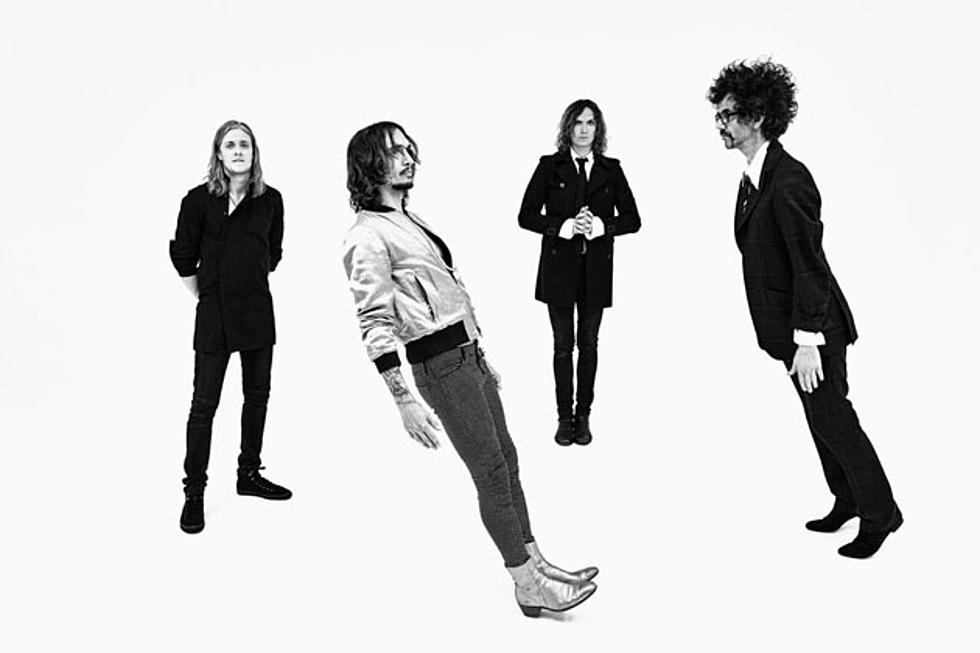 The Darkness' Frankie Poullain Hopes 'Pinewood Smile' Teaches the World to Love Again
Simon Emmett
With their rollicking new album, Pinewood Smile, the Darkness deliver the kind of no-apologies rock and roll that first made heads turn back in 2004 with their classic debut, Permission to Land, and the hit single, "I Believe in a Thing Called Love." Though they sold truckloads of albums right off, fame and fortune were fleeting. It didn't help that, for some reason, they left some listeners confused by their absurdist sense of humor.
The merry-go-round of break-ups, make-ups, substance issues and drummers lost and gained all figure into the Darkness' story. After re-grouping in 2012, they have been working their way back into the hearts of the record buying public. With a sparkling new album, and some fancy new threads to match, the kings of subtlety are back with a vengeance and ready to rock your world. We spoke with bassist Frankie Poullain about it all.
Congratulations on the new album. I think it has a few of your best songs to date on there. "All the Pretty Girls" and "Solid Gold" are instant classics!
Thanks. Really? Not like instant meals, I hope.
The album is a meal in itself! With this new album, the third since reforming, do you feel the band is fully back on track now?
Who knows? It feels like it, but musicians are notoriously delusional. Certainly there's no one like us. Whether or not that's a good thing is down to your predilections.
Has having Rufus [Taylor] as a permanent member on drums helped focus the band?
He's unfocused us as much as he has focused us, but that's a good thing. He's disturbed us, you could say. Made us have a good look at ourselves. In some ways he's the wisest. He's like a stoned childish owl, if that makes sense.
He really seems to fit in not just with his playing but his personality as well.
Yeah, but in a way we don't fit in with each other, having differing temperaments and tastes. Thereby we embark on our adventures through rock history, with no real plan, just a nose, an instinct if you like, for doing what's wrong and making it somehow seem right.
From the moment the band first started, right up to today, the Darkness have always been walking your own walk. Do you think that has made the band stronger?
It started off as a weak limp before gradually learning to walk that walk and developing a certain swagger until somehow that walk became an unbearable strut. One day it got a richly deserved kicking, was on crutches for a while and then disappeared licking its many wounds. Now we're back and running for our lives.
When did you first discover rock and roll?
About the time I realized grown-ups were bulls---ters making it up as they went along.
Who were some of your early favorites and influences?
Adam and the Ants, the Jackson 5, Tears for Fears and the edgy chaotic live music TV shows of the late '80s and early '90s like The Tube, The Word, The White Room and Snub TV. But just as much, BBC TV dramas like Dennis Potter's The Singing Detective and early Mike Leigh plays Nuts in May and Abigail's Party — stuff that really messed with your head and made you question everything.
As a fan, one frustrating thing has always been that a lot of people seem confused by the Darkness. There are still people who think you are some sort of "joke band," unable to understand the difference between parody and a band actually having a sense of humor and not talking themselves too seriously. Has this been frustrating for you and the band? Do you feel misunderstood as a band at times?
Yes, but we've learned to embrace that and cherish it, sometimes we don't even know ourselves. It's fun to walk the line. Would you rather be understood or misunderstood?
I think being understood might just be a misunderstanding, but I see your point. From the first album onward you have always had a very powerful production to the records. I know Dan [Hawkins, guitarist] produced the last one. How was it having Adrian Bushby [producer for U2, the Foo Fighters, Muse and more] behind the board on the new album?
It was exciting and exacting. He's so energetic and switched on but is always tuned in to the musicians. I don't know how he does it. It was important that we tried something different and that Dan got to enjoy making the album as a guitarist and arranger without putting himself under a crazy amount of pressure.
Were you surprised that the band fell apart around the time of the second album and were you surprised you were all able to come together again after the smoke had cleared?
Was I surprised? Regarding my sacking, no. I always expect bad stuff to happen and it almost never does — I guess I'm a lucky pessimist. But that time in 2005 it did happen and Justin [Hawkins, singer and guitarist] and Sue [Whitehouse, manager] were sick of me. I can't blame them really, I'd become very moody and detached. Regarding the reunion, I almost never expect good things to happen, maybe I think I don't deserve it, so no, I didn't expect it to happen.
Is there one song on the new album that stands out the most to you?
"Why Don't the Beautiful Cry?" We've done nothing like it before. Rufus really shines.
You have been playing the new songs before the album's release. How has the reception been to the new material in concert?
Truly unbelievable. I'll never forget it: Fans weeping with joy, eyes bulging with shock and awe, blisters popping, blood pouring from ulcerated mouths with the unbearable "Will I or won't I like it?" tension of new material being aired live before the album's release.
That's the kind of reaction one would expect. How did the shows you did with Guns 'N Roses go?
We were honored to be asked and felt duty-bound to deliver. 130,000 at Imola Racetrack in Italy and we played "Solid Gold" there, our new single which no one had heard then. A sea of arms pumping the baking hot air. True to form that song is now a hit in Italy. So thank you, Guns 'N' Roses.
Are you seeing the old fans still coming out to shows as well as new, younger fans coming along?
I don't like to differentiate people according to their age, before you know it you are second-guessing and encouraging prejudices. Everyone has a story to tell and real stories are timeless. In answer to your question though, yes.
Is there anyone you or the band in general would like to work with, or tour with, at some point?
I know a couple years ago Dan or Justin had mentioned that, though it seemed like the Darkness was destined for global arena rock success, you have now resigned yourselves to the idea that you are more of a "cult" band and that seems to work to your benefit to some degree. What is your take on where you guys fit in?
No point thinking about it. Everyone has a different perception and the game is changing so fast. And anyway, as the filmmaker [Alejandro] Jodorowsky said, "All art is a sacrifice to the Gods."
Does it seem possible that it's almost 15 years since Permission to Land was released?
Time is a human mind construct. Music transcends time. Therefore the question is irrelevant.
That's a heavy scene you're laying down, Frankie, but I will gladly state that Permission to Land is one of the finest debut albums of all time. It was like you came out of the gate fully developed, fully realized. While it seems an impossible task to ever topple that album, you have kept moving forward and in the process proving you are not a one-trick pony. Are there any musical styles or sounds you would like to see the band tackle in the future?
We like to tackle discredited genres, it's more of a challenge. Hipsters and try-hards will choose musical styles that are feted and very much in vogue. On our new album we chose to resurrect the god-awful crime to music that is "white soul" ("Why Don't the Beautiful Cry?"), a twee country duet ("Stampede of Love") and "punk protest" ("Stampede of Love").
Could you ever see yourselves doing an acoustic-based album, or something with full orchestration?
Yes and yes. The second option preferably, there's way too much acoustic music going around these days and not nearly enough poetry to accompany it. Just lazy platitudes.
What is up next for the band once the album is released?
Teaching the Western world to love again. Or what's otherwise known as touring.
What was the last record you heard that blew you away?
Been listening to Robert Wyatt. he doesn't hold anything back and always challenges himself and the listener. He really explores the mysteries and oddities of love. But if you mean an album it might have to be Here My Dear by Marvin Gaye.
I am a huge fan of Robert Wyatt, one of the all time greats in my book. Do you have one concert, band or album that really changed your life?
Dirty Mind by Prince. An achingly shy, lonely, funky freak letting it all hang out.
Best of luck with the new album! I hope you guys make it back to the U.S.! 
The Darkness Albums Ranked in Order of Awesomeness