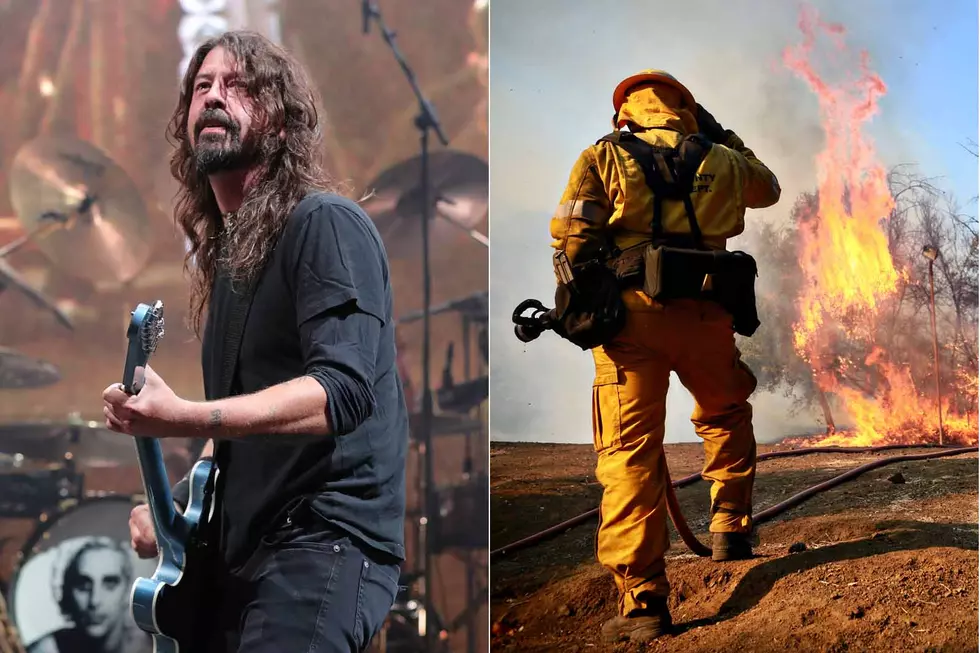 Dave Grohl Cooked Barbecue for California Firefighters
Neilson Barnard / Sandy Huffaker, Getty Images
As wildfires continue to devastate Southern California, firefighters in one town received a bit of assistance from Dave Grohl when the Foo Fighters frontman stopped by a station yesterday to cook barbecue for them.
Fire Station 68 in Calabasas, Calif., posted a photo last night featuring Grohl with members of the crew, along with the caption, "It was awesome to get a visit tonight from Dave Grohl of the @foofighters. He also treated us to some of his own @backbeatbbq. Thanks, Dave! It was excellent!"
Grohl talked about how he loved cooking barbecue during the run-up to last year's Concrete and Gold album. It became a way for him to fill the time when the band went on a yearlong hiatus following its lengthy tour in support of 2014's Sonic Highways.
"We've never taken that much time off," he said. "I barbecued for months, man. I was doing eight briskets a week. It got a little dark."
According to Blabbermouth, Grohl has taken his skill to the Beached Pig in Studio City, Calif., a restaurant that's part of the Valley Urban Market, which was co-founded by Grohl's wife Jordyn. He's also created an Instagram account for Backbeat BBQ, though his specific plans -- which could include a line of meats, ribs and sauces, as well as a restaurant -- haven't been revealed.
The Woolsey Fire began in Ventura County, Calif., late last week and has since claimed 44 lives. More than 93,000 acres and 435 structures have been destroyed. As of last night, only 30 percent of the fire has been contained. President Trump has threatened to end federal aid for California due to what he called "gross mismanagement" of the forests, a decision that has angered several rockers who've been affected by the fire.