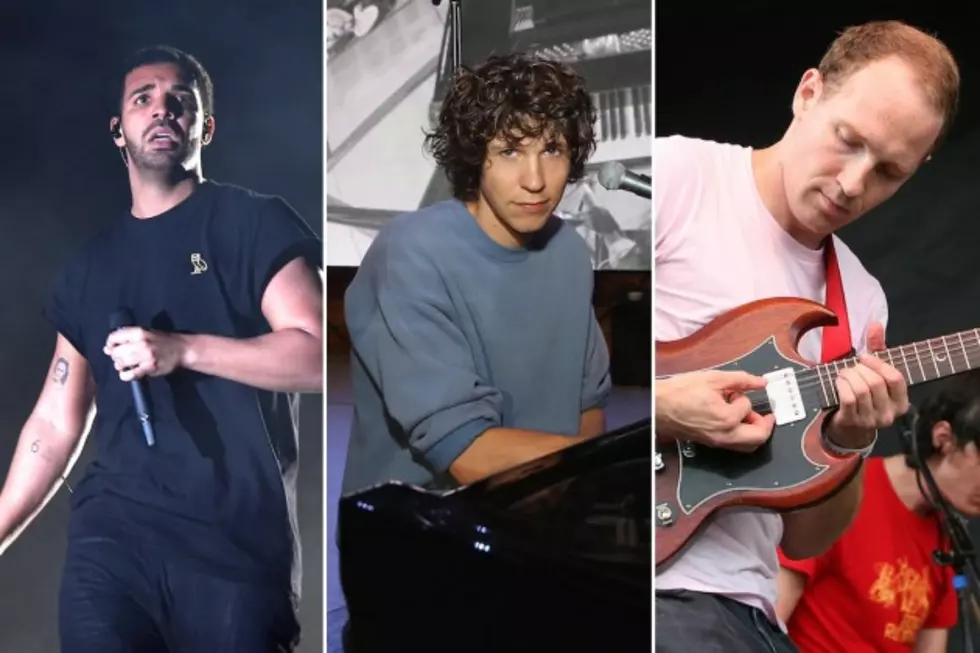 Drake, Tobias Jesso Jr., Caribou + More Make Polaris Prize Long List
Kevin Winter / Robin Marchant / Roger Kisby, Getty Images
The award is given annually to the best album of the year by a Canadian artist, and the long list is the preliminary offering of what records were considered for the award. The narrowed down short list (which consists of 10 albums as opposed to the 40 included on the long list), will be revealed on July 16 at an event at The Carlu in Toronto. The Polaris Gala, where the winner of the award will be announced, is scheduled for Sept. 21 also at the Carlu.
Caribou won the award back in 2008 for his album Andorra, while a bunch of this year's nominees, including Metz, Drake and Braids, have been shortlisted for the award over the past few years. Last year's victorious album was Tanya Tagaq's Animism, which beat out releases by Arcade Fire, Drake and Mac DeMarco.
Check out the complete long list below, as well as a Spotify playlist featuring songs from the nominated albums, via Polaris Music Prize.
2015 Polaris Music Prize Long List:
Absolutely Free – Absolutely Free
The Acorn – Vieux Loup
Lydia Ainsworth – Right from Real
Alvvays – Alvvays
Arkells – High Noon
Rich Aucoin – Ephemeral
BADBADNOTGOOD & Ghostface Killah – Sour Soul
Bahamas – Bahamas Is Afie
The Barr Brothers – Sleeping Operator
Braids – Deep In The Iris
Steph Cameron – Sad-Eyed Lonesome Lady
Caribou – Our Love
Jazz Cartier – Marauding In Paradise
Jennifer Castle – Pink City
Cold Specks – Neuroplasticity
Louis-Jean Cormier – Les grandes artères
Death From Above 1979 – The Physical World
Drake – If You're Reading This It's Too Late
Frazey Ford – Indian Ocean
Tobias Jesso Jr. – Goon
BA Johnston – Shit Sucks
Pierre Kwenders – Le dernier empereur Bantou
Lee Harvey Osmond – Beautiful Scars
Jean Leloup – À Paradis City
METZ – II
Milk & Bone – Little Mourning
Tre Mission – Stigmata
The New Pornographers – Brill Bruisers
Joel Plaskett – The Park Avenue Sobriety Test
Buffy Sainte-Marie – Power in The Blood
Elizabeth Shepherd – The Signal
Siskiyou – Nervous
Colin Stetson and Sarah Neufeld – Never were the way she was
Various Artists – Native North America (Vol. 1): Aboriginal Folk, Rock, And Country 1966–1985
Viet Cong – Viet Cong
Patrick Watson – Love Songs For Robots
The Weather Station – Loyalty
White Lung – Deep Fantasy
Whitehorse – Leave No Bridge Unburned
Young Guv – Ripe 4 Luv