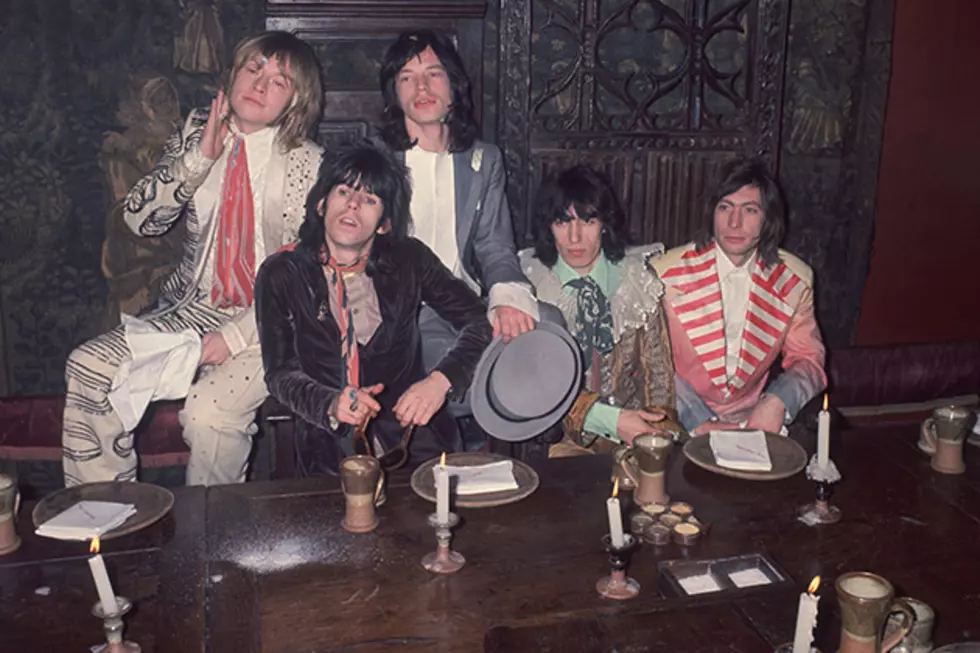 10 Druggiest Rolling Stones Songs
Keystone, Hulton Archive
The Rolling Stones know their drugs. Whether we're talking pills, powders or plants, it's safe to say the Stones have tried it all -- and that's especially true for the songwriting team of Mick Jagger and Keith Richards. In honor of their fondness for substances -- a key influence on some of their strongest (and strangest) material -- we've put together this list of the 10 druggiest Rolling Stones songs. We probably could have just listed all 10 tracks on 'Sticky Fingers,' but hey, we thought we'd make it more interesting for you.
10

'Let It Bleed'

From 'Let It Bleed'

The title track on 1969's 'Let It Bleed' is down-tempo Stones at their absolute finest, with Mick Jagger's vocals drenched in sleazy desire. One of the most obviously druggy lines in the song is "And there will always be a space in my parking lot / when you need a little coke and sympathy." Something tells us Jagger's not talking about Coke Classic.

9

'Can't You Hear Me Knocking'

From 'Sticky Fingers'

'Can't You Hear Me Knocking' is one of the longer, sleazier songs in the Rolling Stones catalog. It starts off as a regular sort of bluesy rock number and then diverts into this Curtis Mayfield-playing-the-Playboy Mansion-type jam, with a hot sax and outro guitar solo. It's definitely a druggy number in that the first verse includes "ya'll got cocaine eyes" and "you got speed-freak jive." Also, the narrator says, "I've been kickin', help me please," which sounds like a junkie trying to quit heroin cold turkey.

8

'2000 Light Years From Home'

From 'Their Satanic Majesties Request'

In 1967, Jagger and Richards found themselves in the slammer after their homes were raided and drugs were found. According to BBC.com, Jagger's turned up "four tablets containing amphetamine sulphate and methylamphetamine hydrochloride," while Richards was charged with "allowing his house to be used for the purpose of smoking cannabis." The bust inspired Jagger to write this song. Apparently, there's nothing like a little jail time to get your creative juices flowing.

7

'Jumpin' Jack Flash'

From the 1968 Single

It might surprise you that 'Jumpin' Jack Flash,' a major hit featuring one of Keith Richards' most memorable guitar riffs, is about taking drugs. We like to imagine some British guy named Jack jumpin' around, high as a kite, sneaking up on unsuspecting old people and shouting, "Gas, Gas, GAS!" in their ear.

6

'Brown Sugar'

From 1971 Single

'Brown Sugar' appears on our list of the Stones "most sexist" tunes, thanks to its allusions to the African-American female sexual prowess, but the song can also be read as an ode to brown-sugar-like heroin, which makes one "feel so good" until it makes all your teeth fall out, leaves track marks up and down your arms and eventually, kills you.

5

'Stoned'

From 'Singles Collection: The London Years'

The only real lyrics on this early blues number -- rife with piano, harmonica, bass and guitars -- are the spoken-word "stoned … out of my mind." If this isn't a druggy song, we don't know what is.

4

'Mother's Little Helper'

From 1966 Single

"What a drag it is getting old," sneers young buck Jagger in this classic Stones tune. The "helper" in the song's title is not of the hamburger or tuna sort, though. It refers to Valium, which had become a pretty popular drug among the family set in the '60s. It seems like a sort of a soulless song, considering Jagger is neither a mother nor an expert in child-rearing,

3

'Rocks Off'

From 'Exile On Main St.'

This album-opening classic from the Stones' 1972 masterpiece 'Exile on Main St.' features a heroin-addicted Keith Richards on guitar. At times, Richards and Jagger get very explicit about the drug taking that was occurring at the villa in France where they were recording -- "kick me like you've kicked before / I can't even feel the pain no more" -- and all you have to do is look at pictures of Richards during this era to realize that the drugs were literally killing him from the inside out.

2

'Sister Morphine'

From 'Sticky Fingers'

'Sister Morphine' was penned by Mick Jagger's girlfriend Marianne Faithfull, who would later take the band to court for co-songwriting credit (she won). It tells the tale of someone laying in a hospital bed, waiting to get hooked up with some morphine -- a highly addictive pain-killing drug. The less-than-happy feel of the song should tell you that the narrator has got a pretty bad problem, too.

1

'Dead Flowers'

From 'Sticky Fingers'

"I'll be in my basement room / with a needle and a spoon." This song is neither about sewing, nor soup utensils -- it's about heroin, a favorite drug of the Rolling Stones in the 1970s, when the song surfaced on the 'Sticky Fingers' album. This may have been right around the time Richards was hanging around with the Flying Burrito Brothers' Gram Parsons, who would later succumb to an addiction to drugs and alcohol.