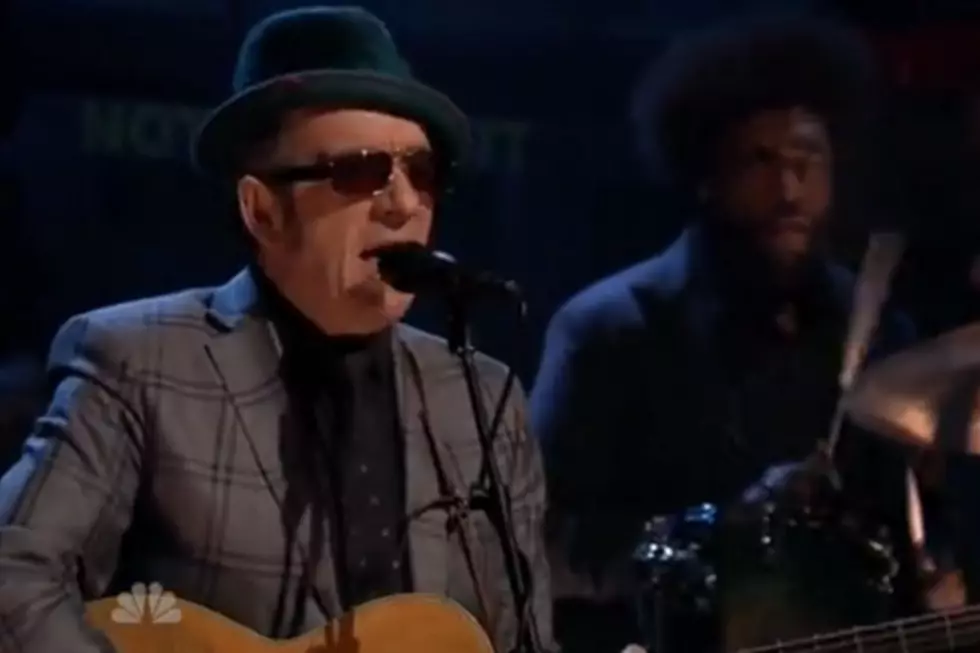 The Roots + Elvis Costello to Release New Album, 'Wise Up Ghost,' in September
NBC
The Roots are always looking for fresh new ways to showcase their music. They've collaborated with a number of different artists over the years, and now, they're adding another impressive one to the list: Elvis Costello. Yes, that's right — the group of hip-hop heroes have teamed up with the famed British rocker for a forthcoming album titled 'Wise Up Ghost.'
We first learned about this exciting collaboration back in January, when Roots drummer Ahmir "Questlove" Thompson mentioned the project in an interview with Billboard. A small number of test copies were distributed on Record Store Day last month, but the record is officially set to drop on Sept. 17 via Blue Note Records.
In a press release, Costello describes the disc as "the shortest distance between here and there" and says it contains "both rhythm and what is read." Questlove adds, "It's a moody, brooding affair, cathartic rhythms and dissonant lullabies. I went stark and dark on the music, Elvis went HAM on some ole Ezra Pound s---."
Their recording sessions were apparently held mostly in secret at Feliz Habitat Studios in the middle of the night, but some took place "in plain sight" at Costello's Hookery Crookery Studios.