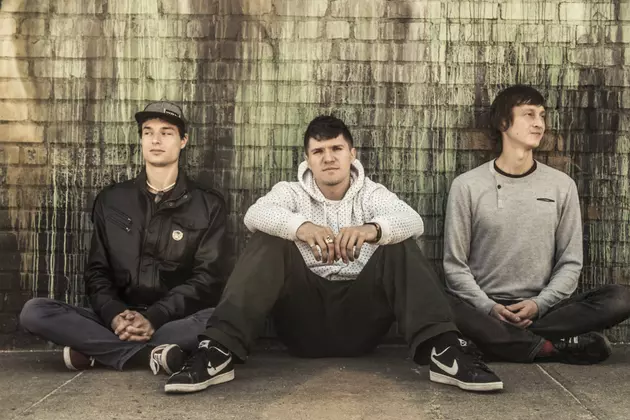 Exclusive: Brooklyn Trio Moon Hooch Premiere the Gritty and Glitchy New Track 'Sunken Ship'
Calabro Music Media
You can learn a lot about the world while standing on a subway platform in New York City, and in the case of experimental horn-and-percussion trio Moon Hooch, you can learn a lot about yourself, too.
Mike Wilbur (vocals, saxophone), Wenzl McGowen (saxophone) and James Muschler (drums) met while attending the New School for Jazz and Contemporary Music and, in 2010, they played together for the first time in front of the Metropolitan Museum of Art. With just two saxophones and a drum kit, they were Initially focused on jazz, but the trio began to infuse more dance influence into their genre-bending sound and took to busking in the city's myriad subway stations.
That's when Moon Hooch literally became underground sensations. New York commuters quickly became familiar with their infectious, unclassifiable blend of jazz and indie rock and listeners would react with so much fervor that the NYPD eventually banned Moon Hooch from performing in spots that couldn't handle the crowds. In 2012, Soul Coughing frontman Mike Doughty stumbled upon them and invited them to open for him on tour.
"What we discovered playing in the subway is that the more focus and the more energy you put into the music, and the more you listen to everything around you and integrate everything around you into your expression, the more the music becomes this captivating force for people," McGowen said.
When Moon Hooch shifted their focus to studio albums, they used what they learned in the tunnels beneath New York to evolve an eclectic and electronic approach to their aleady complex song craft. They released their self-titled debut in 2013 and earned widespread critical acclaim for 2014's This Is Cave Music.
Now the trio are set to release their third album, Red Sky, on June 10 and it's a return to their more organic sound, but with no less ambition. Diffuser is proud to premiere the haunting new song "Sunken Ship," which McGowan told us was recorded using an unconventional array of recorded noises. "This song is full of strange sounds that we gathered in the garage of James' uncle," McGowan said. "We used a hammer, garden scissors, aluminum plates and other random stuff. The bass is played with a contra bass clarinet and the drums contain distorted tabla samples."
Moon Hooch are currently on tour in Europe and will stay on the road through the end of the year. Check out the dates below. Pre-order Red Sky here.
Moon Hooch Tour Dates
May 31 - Kent, UK - Later With Jools Holland
June 1 - Glasgow, Scotland - O2 ABC
June 2 - Bergen, Norway - Nattjazz Festival
June 12 - Newport, UK - Isle of Wight Festival
June 16 - Hammonton, NJ - Bearfest
June 18 - Wurtsboro, NY - Destination Moon
June 24 - Londonderry, VT - Frendly Gathering
June 25 - Stratford, CT - Two Roads Brewing Company
June 27 - Edmonton, Canada - TD Edmonton International Jazz Festival
June 28 - Vancouver, Canada - TD Vancouver International Jazz Festival
June 29 - Victoria, Canada - TD Victoria International Jazz Festival
June 30 - Montreal, Canada - Montreal Jazz Festival
July 2 - Lewes, UK - Love Supreme Festival
July 12 - Manchester, UK - Band on the Wall
August 11 - Darrington, WA - Summer Meltdown Festival
August 13 - Tamarack, ID - Huckleberry Jam
September 17 - Liverpool, UK - Arts Club Loft