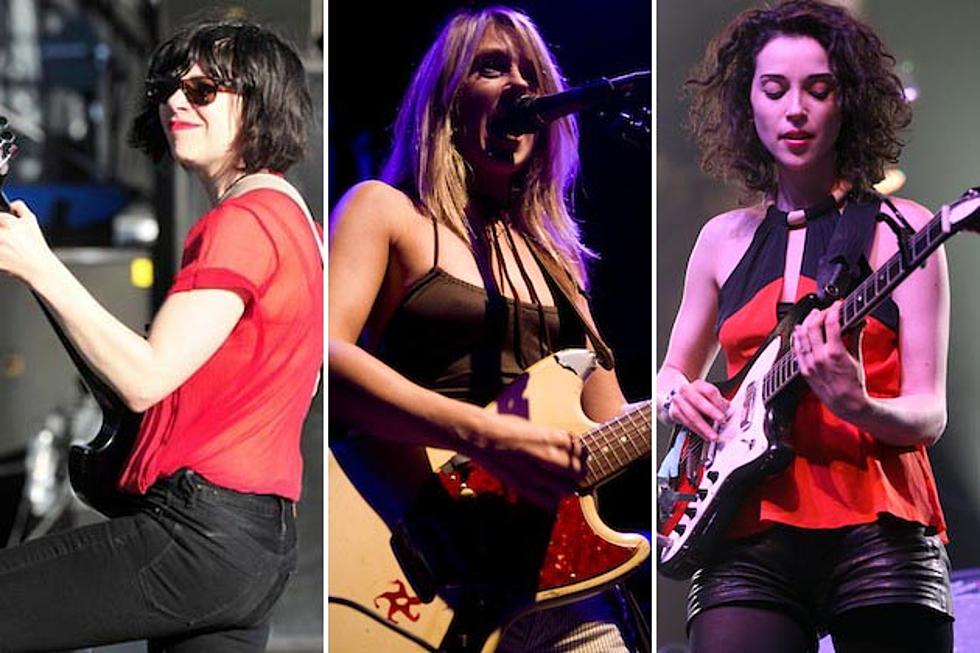 10 Extraordinary Female Guitarists
Frazer Harrison / Brendan Hoffman / Karl Walter, Getty Images
Rock 'n' roll has no shortage of male guitar virtuosos, as well as extremely talented singer-songwriters who can pluck a mean six- or 12-string, but for this piece, we're focusing on the ladies. The notion that girls can't rock is absolutely preposterous -- particularly when you consider the history of indie rock -- and with this list of 10 Extraordinary Female Guitarists, we're honoring the coolest rocker chicks ever to pick up Fenders or Martins (or whatever brand of axe they happen to prefer) and blow our minds. While some of these nimble-fingered ladies can carry a tune as well, it's their riveting guitar chops that have caught our attention and set them apart from their fellow strummers, male and female.
Carrie Brownstein is a woman with many talents. Not only does she play a wicked guitar, but she acts ('Portlandia'), sings and writes. What more can you ask from a multifaceted artist? Carrie sang and played guitar for Sleater-Kinney, as well as Wild Flag, and her skills are so killer that Rolling Stone named her one of the "Most Underrated Guitarists of All-Time." If you dig good old-fashioned indie rock, you can't go wrong with Brownstein's choice licks.

If you thought Eddie Van Halen was the be-all and end-all of rock guitar geniuses, you haven't listened to Kaki King. This pint-sized guitarist can tap on, tap off, strum, fingerpick, slide and do a hell of a lot of other nifty tricks on her standard and alternatively tuned guitars. While she might not kick it in the hard-rock and distortion departments (like Eddie), that doesn't mean her playing won't blow you away. King prefers acoustic, melodic and rhythmic sounds -- and she'll amaze you with her wild, genre-bending songwriting.

Sarah Lipstate is an experimental guitarist who isn't afraid to push the auditory bounds of what a human being (man or woman) can do with a guitar. Hailing from Brooklyn and often performing under the moniker Noveller, Lipstate pairs songwriting and guitar playing with filmmaking, creating sonic and visual worlds that meld into one. Whether she's playing solo, collaborating with other musicians or making movies, she delves into each project with a whole lot of passion and skill.

Donita Sparks, one of the founders of L7, has never shied away from controversy. Her most famous stunt came when she pulled out her tampon on stage and tossed it out into an angry crowd as "punishment" for their rowdy behavior. Flying feminine products aside, Donita Sparks really knows how to pound on her guitar. This grunge goddess enjoys thrashing just as hard as the boys, rocking the Earth and the heavens at the same time. When she's not jumping around on a stage, she finds time to score films, and she's contributed songs for flicks like 'Natural Born Killers' and 'Serial Mom.'

Kelley Deal -- twin sister of Pixies bassist Kim Deal -- has wowed admirers with her guitar chops as a member of the Breeders, as well as with her numerous solo efforts and short-lived stint with the hard rock supergroup the Last Hard Men, which featured Sebastian Bach (Skid Row), Jimmy Chamberlin (Smashing Pumpkins) and Jimmy Flemion (the Frogs). There's no denying that Kelley has paid her musical dues and established herself as one of the most creative indie rock guitarists to ever pluck a string.

Not only can Liz Phair write and sing a solid tune -- she knows how to bring her music to life on her guitar. Phair got her start in the late '80s but really came into the spotlight in 1993, with the release of her critically acclaimed album 'Exile in Guyville.' Since then, Phair has become an enduring force in the musical world and a source of inspiration for a generation of indie girls interested in guitar. While Phair's career has had its ups and downs, she isn't afraid to drift into experimental styles of music, and she's even ventured into the dreaded realm of pop.

The vocal prowess and raw guitar playing of PJ Harvey have excited music lovers for several decades now. This English songwriter and multi-instrumentalist came to fame in the late '80s and early '90s, and she's been going strong ever since. Not afraid to tackle different styles of music, Polly Jean Harvey has dabbled in electronica, folk and pop -- and of course plenty of indie rock. While she primarily sees herself as a songwriter and not an instrumentalist (respectfully, we disagree), she's called the guitar her weapon of choice. "I grab an instrument to make my body a song, but I'm not a player as such, maybe a little more on guitar, but certainly not piano," she once said.

Annie Erin Clark, better known as St. Vincent, also plays a lot of musical instruments, but the electric guitar is where she really shines. Born in Oklahoma, based in New York, she's just as likely to kick in the distortion on her pedal board as she is to take listeners to emotional peaks and valleys with melody and harmony. Along the way, St. Vincent has earned the respect of her peers and worked with the likes of Bon Iver and ex-Talking Head David Byrne, her partner on the brassy side-project album 'Love This Giant.' Needless to say, we love it -- gigantically.

Marissa Paternoster's shredding prowess is one of the main reasons Screaming Females have such impeccable punk and indie cred. (Her singing and songwriting ain't bad, either.) Her amazing playing recently earned her a highly sought-after spot on Spin magazine's list of the top 100 guitarist of all time. Not bad for a young rocker who probably hasn't even showed us all she has to offer.

Chrissie Hynde, of Pretenders fame, has been taking folks to school with her guitar playing for years, first as an upstart U.K.-based punk disciple, now as a mainstream-approved staple of classic-rock radio. While she's arguably better known for her singing and skillful songwriting, you'd be hard pressed to find an image of her onstage without her guitar, which happens to be her favorite instrument.