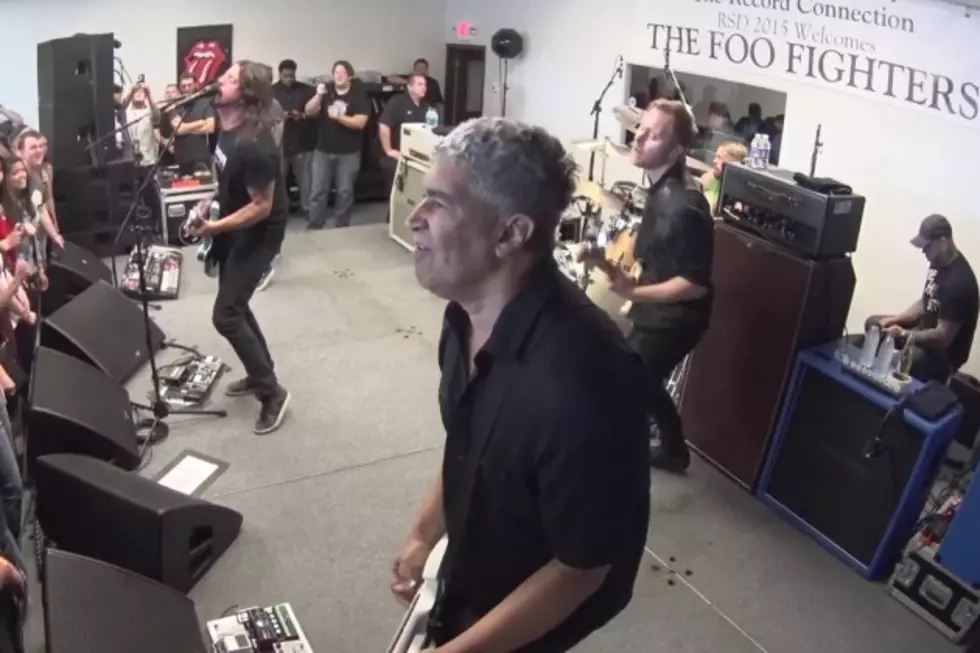 Foo Fighters Share Video Documenting Record Store Day Performance in Ohio
YouTube
Dave Grohl was the Record Store Day Ambassador for 2015, and his schedule was packed, but his reign culminated in an intimate Foo Fighters performance in front of 100 people at Record Connection in Niles, Ohio. Fan-shot clips of the gig were available on YouTube the next day, but yesterday (May 18), the band shared a professionally produced mini-documentary about the performance. Take a look below:
In the video, Niles is described as "a community of about 20,000 people" by Record Connection owner Jeff Burke, who tells the story of how his father took out a second mortgage on his home so he could give Burke the funds necessary to open an ice cream store. Instead, Burke, who was born and raised in Niles, opened Record Connection.
After a performance clip, Burke talks to store patrons about how meaningful the Foo Fighters appearance was to him and his store, saying, "What a statement that really makes, by the Foo Fighters coming here and wanting to play for you guys. It's mind-blowing. I don't know if it sinks in to you guys as much as it does to me, but ... unbelievable. Really unbelievable."
Maybe the concert will get an exclusive release next Record Store Day? Either way, relive a bit of the concert through a brief fan-shot clip and the show's setlist below:
Foo Fighters — Setlist, April 18, 2015
"White Limo"
"Arlandria"
"Congregation"
"The Pretender"
"Big Me"
"Outside"
"My Hero"
"Alone + Easy Target"
"Kids of America" (Kim Wilde cover)
"Everlong"