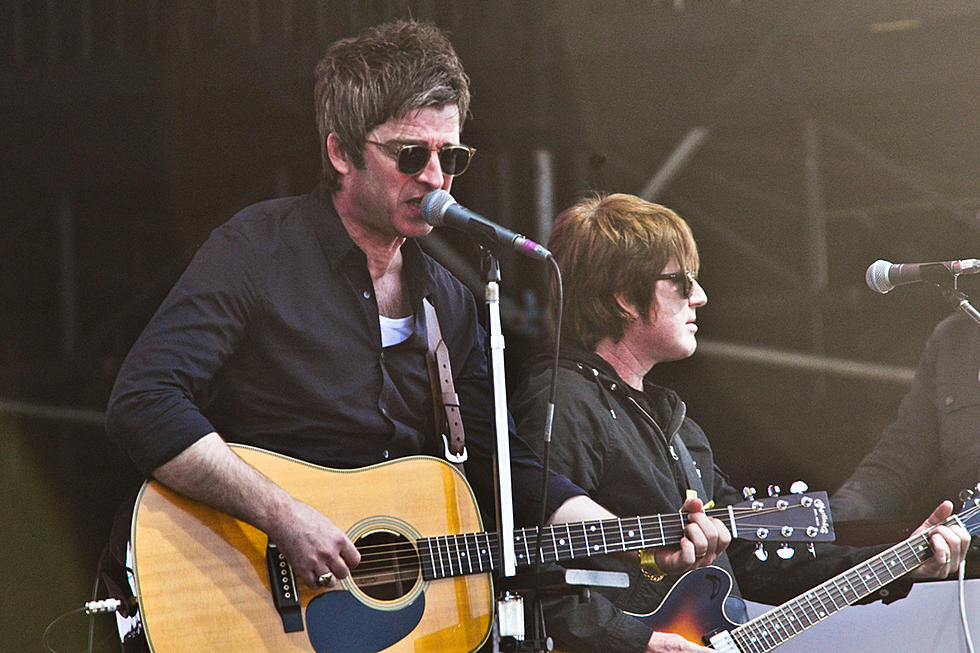 Governors Ball NYC Photo Gallery: Day Three
Emily Tan, Diffuser
Thousands filled Randall's Island in New York City on Sunday (June 7) and were ready to end their big festival weekend with the last day of Governors Ball 2015.
Echosmith were one of the day's early acts and looked like pros on the fest's main stage. Not only did they draw many of the day's early attendees, Sydney Sierota showed her power as a frontwoman, especially when they closed their set with "Cool Kids." When they sold out Webster Hall last year, the band talked about getting their upgraded status at the venue – but yesterday's performance proved just how far they've come.
Another artist who didn't let the size of the main stage get the better of him was Sturgill Simpson. While some might think country music doesn't fit in at Governors Ball, Simpson proved them wrong: He played selections from Metamodern Sounds in Country Music but also surprising the crowd with a mash-up cover of the Osborne Brothers' "Listening To The Rain" mixed with "The Motivator" by T. Rex. Royal Blood brought a huge crowd over to their stage in the afternoon. Touring like crazy for the past year, the rock duo didn't look worn out. With Ben Thatcher attacking the drums with gusto yet still being skillfully accurate and Mike Kerr handling the guitar like a pro while belting out some heavy vocals, it's impossible not to be drawn to them. Performing "Come On Over" and "Figure It Out," they were instant fan favorites.
Tame Impala were also another crowd pleaser. They performed tracks from Lonerism and inspired the crowd in front of the stage to join them on a sing-along of "Feels Like We Only Go Backwards" – not a bad way to spend a sunny Sunday. While Tame Impala had a packed audience, unfortunately Noel Gallagher's High Flying Birds' set was a bit sparsely attended. Despite this, he made sure to give the fans the best show he could. Performing songs like "Everybody's on the Run," "You Know We Can't Go Back" and "The Dying of the Light" from the band's catalog, he also treated everyone to a selection of Oasis songs. "This is for the moms and dads in the back rooting for us," he said before getting into "Champagne Supernova." He also performed "The Masterplan," "Whatever" and ended on "Don't Look Back at Anger." And with all the enthusiasm from everyone who did show up to see High Flying Birds, his set felt more like an intimate show than major festival gig – and there's nothing wrong with that.
Mayer Hawthorne brought his edgy soul music to the Gotham Tent, causing people to turn it into a big dance party. The gig blew up the moment Hawthorne invited Kendrick Lamar as a surprise guest to perform their collaboration, "Crime." Hot Chip also had their own disco at the Big Apple Stage where the bright lights and laser sounds made everyone want to move. Aside from performing their hits like "Ready for the Floor," they also did a funky cover of Bruce Springsteen's "Dancing in the Dark," which was so fitting as the nightfall came.
Lana Del Rey may have brought all her devoted fans to the Honda Stage. But that didn't mean the Black Keys failed to do it on their side of Randall Island. Like they've done in the past, Dan Auerbach and Patrick Carney proved that duos can make big sounds with their performances of "Dead and Song," "Howlin' for You" and "Money Maker." And despite Carney's dislocated shoulder injury, he didn't fail to bang at the drums as hard as he could. They were the festival closer after all.