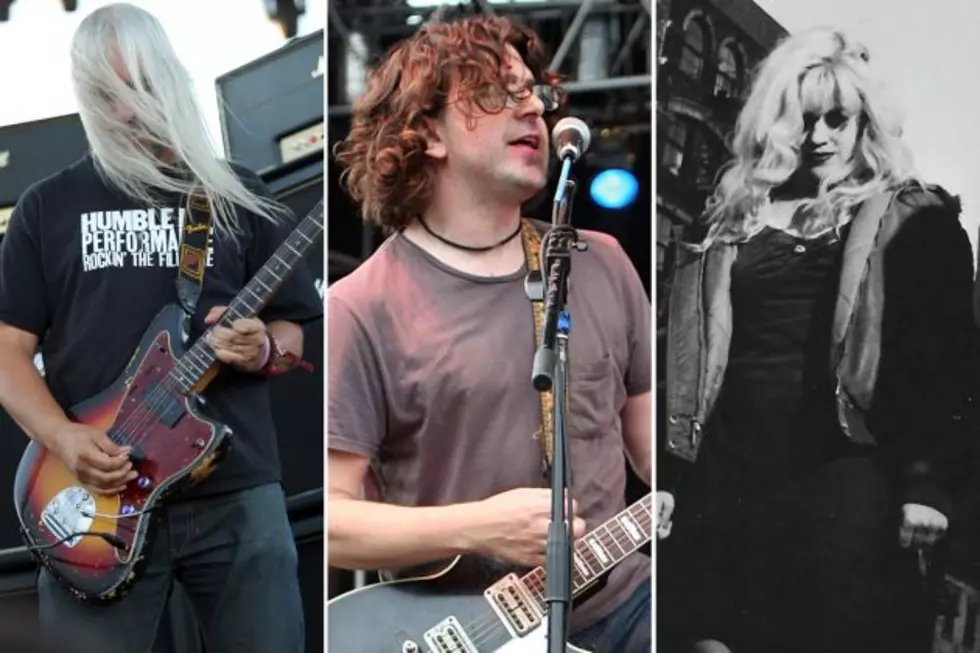 12 of the Greatest Alternative Power Trios of All Time
Karl Walter / Roger Kisby, Getty Images; Michael Lavine
Rock bands come in all shapes and sizes, but there's something undeniably awesome about one guitar, one bass and a set of drums rocking out at maximum volume. Maybe it's how a power trio doesn't allow for superfluous fluff; each person has a lot of sonic landscape to cover and only one instrument with which to accomplish this. It's rock at its most efficient.
The power trio hit its peak during the 1970s -- bands like the James Gang, Rush and the Police really showed how much is possible with a limited setup. Since then, trios may have lost some ground in mainstream popularity, but plenty of people have kept the ghost alive.
And before you get ticked off because "I can't believe you didn't include [insert your favorite under-appreciated band here]," understand that culling this list down to a manageable size was a difficult task. Check it out below:
Muse are one of the biggest power trios in the world right now and have been for a long time. Their live shows are the stuff of legend. But they might not have made as big a splash as they did if they'd gone with one of their other band name ideas; the trio started out as Gothic Plague. From there, they changed their name to Fixed Penalty, then Rocket Baby Dolls. Muse was probably the right call.

Love 'em, hate 'em or meh 'em, you can't deny Green Day's impact on modern rock and pop music. They surfaced in the 1990s, igniting a nation's love affair with pop punk. Since they hit the big time with Dookie, Green Day have continued to pump out hit after hit.

Steve Albini has developed, if not cultivated, a reputation among music fans and musicians as a curmudgeon who doesn't like change. While we can't judge him one way or another, we do know Albini knows how to play some guitar like nobody's beeswax. In addition to producing some of the most iconic albums of our time, Albini has been making whatever music he feels likes. Not surprisingly, his band, Shellac, really emphasizes the "power" element of the power trio.

You could be forgiven for not knowing who the Wipers were. They never really broke into the mainstream-- not directly, anyway. However, without them, the Seattle music explosion, along with the grunge movement as a whole, probably wouldn't have happened. Fronted by Greg Sage, the Wipers influenced almost everyone who came out of the Pacific Northwest after them. At least two of the other bands on this list, Nirvana and the Melvins, covered the Wipers on a regular basis. If you're unfamiliar, do yourself a favor and get educated.

Yo La Tengo have been together longer than you probably realize. Husband/wife duo Ira Kaplan and Georgia Hubley started playing under that name waaaaaaay back in 1984. James McNew rounded out the group in 1992. While their often soft sound may make them seem like they don't warrant the label of power trio, their album, I Am Not Afraid of You and I Will Beat Your Ass, begs to differ.

If you want to talk punk trios, a few of the bands on this list could come up. However, if you're talking about speed, only one will do. Hüsker Dü made playing as fast as you can really cool. Coming out of the oft-frozen land of Minneapolis, they moved through the ranks of the punk world and stood, poised to conquer the world, just as they fell apart. Since then, guitarist and co-vocalist Bob Mould has formed a couple of other power trios, like Sugar and his current solo band, which is still as powerful as one would expect.

Sebadoh might be the perfect embodiment of the spirit of indie rock. Back in the 1980s, a young Lou Barlow was playing bass in up-and-coming band Dinosaur Jr. Feeling under-appreciated as a songwriter, Barlow, along with his friend, Eric Gaffney, started making home recordings under the name Sebadoh. Later, Jason Loewenstein rounded out the group and they began making some amazing rock albums.

Dinosaur Jr. have been and still are one of the loudest bands on the planet. Bandleader J. Mascis started out playing drums, but moved to guitar out of necessity. Mascis was dissatisfied with the move, preferring the drums for the loudness he could produce with them. So to make up for that, he started playing through giant amplifier stacks -- a painfully awesome tradition that continues to this day.

Somebody must have put something in the Minneapolis water supply sometime in the 1980s, because bands seemed to multiply like rabbits then. Babes in Toyland came together in the Twin Cities in 1987, and proceeded to produce some of the heaviest music of the 1990s. Now that they're touring again, we're anxious about the possibility of a new album. Stranger things have happened, right?

Sebadoh might embody the spirit of indie music, but the Minutemen invented it. Three kids -- D. Boone, Mike Watt and George Hurley -- started playing music together for the sheer joy of it, and kept that going until Boone's untimely death in 1985. In their short time together, the Minutemen cultivated a new philosophical approach to playing music and living a life dedicated to art. If you're not familiar with the Minutemen, or if you are but somehow missed this, check out the documentary We Jam Econo.

Although the Melvins' lineup has expanded by one in recent years, their catalog as a three-piece is as impressive as it is large. The Melvins have remained ubiquitous throughout much of modern American music -- always there, straddling the line between mainstream and underground. They might be the most consistently amazing three-piece ever.