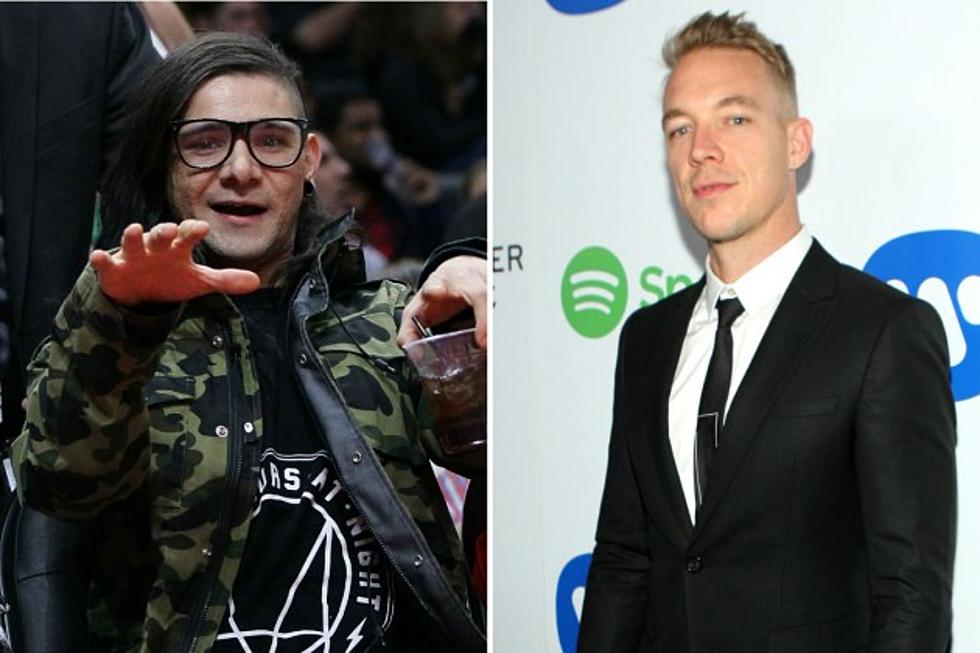 Skrillex + Diplo Release Surprise Jack U Album
Victoria Decolongon : Mike Windle, Getty Images
Partway through a 24-hour DJ set (which was eventually cut short by police) Skrillex and Diplo surprised fans by premiering their debut album as Jack Ü. Skrillex and Diplo Present Jack Ü is also now available on iTunes.
The two EDM artists brought their new project to fans during a planned 24-hour set that was streamed to their website. The performance featured a revolving door of special guest musicians and zero breaks – that is until police broke it up right around 18 hours in:
However, there was still enough time for the duo to join the ranks of Beyonce and Drake by surprising fans and dropping their new album without warning. The 10-song track list features collaborations with rappers 2 Chainz, Missy Elliot and more – along with no shortage of umlauts. Check out the complete track list and album art below, and then take a listen to Elliot's remix of "Take Ü There" in the vide up above.
Back in December, Skrillex and Diplo teamed up as Jack Ü to remix Beyonce's song, "7/11." Listen to that here.
Skrillex and Diplo Present Jack Ü Track List
1. "Don't Do Drugs Just Take Some Jack Ü"
2. "Beats Knockin" [ft. Fly Boi Keno]
3. "Take Ü There" [ft. Kiesza]
4. "Febreze" [ft. 2 Chainz]
5. "To Ü" [ft. AlunaGeorge]
6. "Jungle Bae" [ft. Bunji Garlin]
7. "Mind" [ft. Kai]
8. "Holla Out" [ft. Snails & Taranchyla]
9. "Where Are Ü Now" [ft. Justin Bieber]
10. "Take Ü There" [Missy Elliot Remix] [ft. Kiesza]