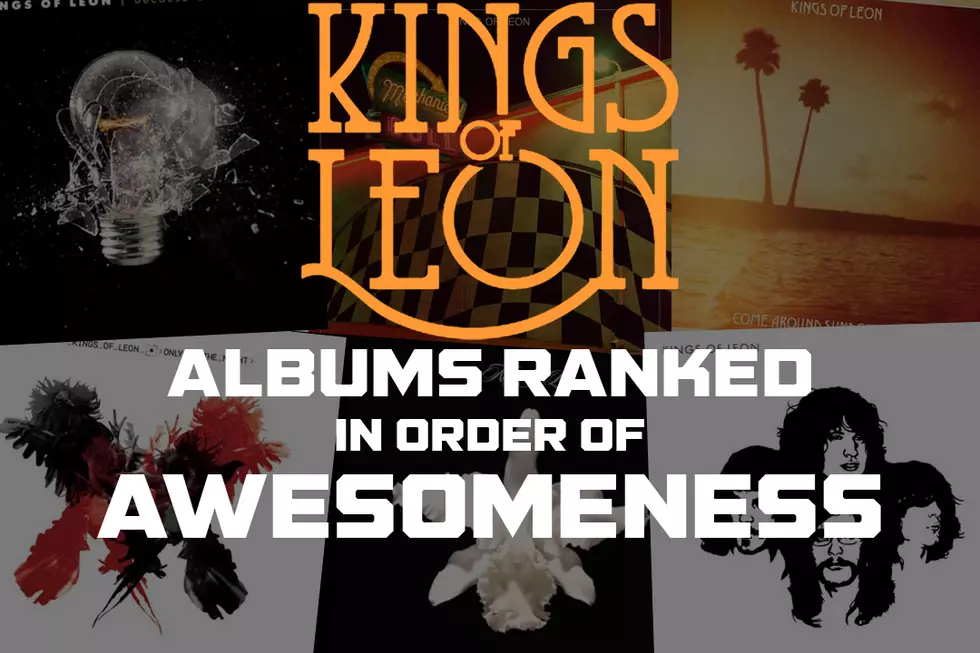 Kings of Leon Albums Ranked in Order of Awesomeness
Ultimate Classic Rock
While ranking Kings of Leon's six studio albums, it's impossible not to notice just how steadily they transformed from scruffy rockers to crafters of highly polished anthems.
Each of their first four albums – which were all released in just a hair over five years, in between near-constant touring – show clear advances and expansions in the band's sound and songwriting skills. Their original "Lynyrd Skynyrd meets the Strokes" approach was soon supplemented with increasing doses of U2-sized ambition and bombast.
This evolution was quite rewarding for the Tennessee-based group, who became superstars very quickly in England, and conquered the rest of the world with two gigantic hit singles ("Sex on Fire" and "Use Somebody") from their 2008 album Only by the Night.
Of course, at each step up to bigger venues and more expensive clothes the band was criticized by some early-adapter fans unhappy about the increasing levels of polish and professionalism in the band's music. Judging from interviews granted around the time of their commercially and critically underwhelming 2010 follow-up Come Around Sundown, even the band members themselves were conflicted as to how to proceed. "I would say, 'We need to try and write some hit songs so we're not one-hit wonders,'" guitarist Matthew Followill told Rolling Stone. "Matthew would say the word 'radio,' and [singer and cousin] Caleb [Followill] would get so pissed off," added Jared [Followill. They're all Followill, OK?].
So how do the later efforts, like 2013's Mechanical Bull and 2016's Walls stack up against the others? Read below to find out.