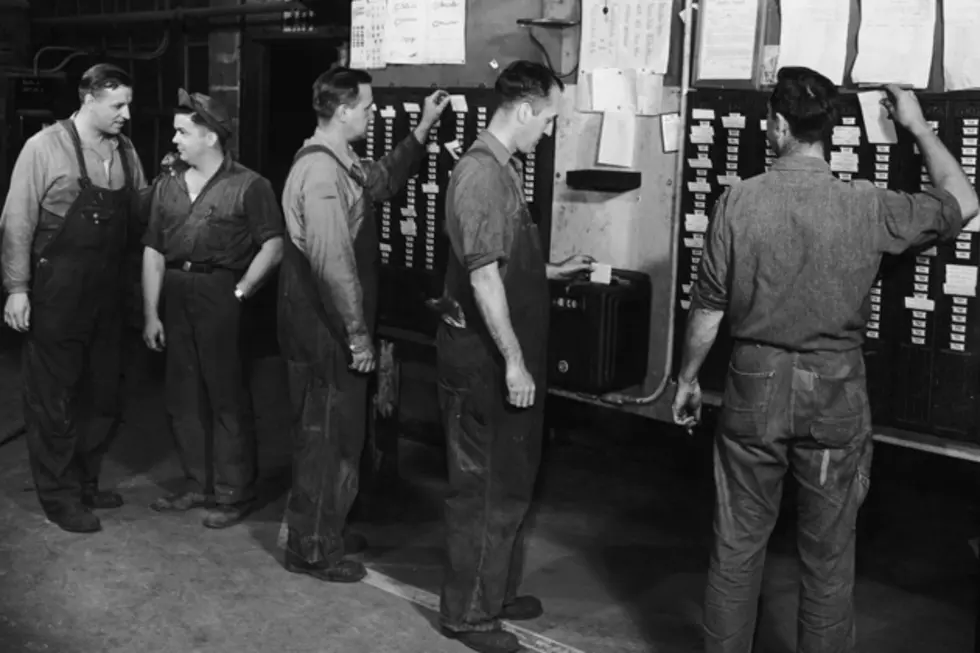 10 Labor Day Songs About Working for the Man
Welgos, Hulton Archive
A little gift to Joe and Jane Six-Pack, Labor Day is a moment of respite. It's a time for taking five and celebrating the workers of the world -- the well-intentioned men and women who drag themselves out of bed each day, mainline sludgy coffee, take deep breaths and trudge off to someplace they'd rather not be. Some folks are lucky enough to have jobs they actually enjoy, but no one starts off in this cushy position, and everyone knows what it's like to work for a crummy boss and constantly count the minutes until quitting time. In honor of the holiday weekend, here are 10 Labor Day Songs About Working for the Man. Rock 'em on your lunch break. You deserve it.
'Welcome to the Working Week'

Elvis Costello

An obvious yet necessary choice, the first song on Elvis Costello's debut album set the tone for his his amazing run of early LPs. Spiteful and sprightly, 'Working Week' finds Costello pretending to sympathize with someone -- a former lover, most likely -- forced to join the workaday masses. "I know it don't thrill you / I hope it don't kill you," he sings, sneering all the while.

'Jump Through the Hoops'

The Mighty Mighty Bosstones

Before the Bosstones nudged their way onto the charts and took punky ska about as far into the mainstream as it's liable to go, they did their share of wage slaving. "My job, well it's a nine-to-five nightmare," Dicky Barrett growls, dreading another night of slinging drinks at some Boston dive bar. "I'm serving whiskey, stale wit and beer." He's sharing a drink called career dissatisfaction, but it's better than drinking alone.

'The Working Hour'

Tears for Fears

In perhaps the most astute pop commentary on capitalism ever written, TFF singer Roland Orzabal declares, "This is the working hour / We get paid by those who learn by our mistakes." Whether you're a canary in a coalmine or a mid-level manager, in other words, you're toiling for the benefit of others.

'Working Weak'

Speech Debelle

Labor Day is an American holiday, but make no mistake: The Brits get it. Here, U.K. rapper Speech Debelle spits about her horror-show commute, disses Jackie in H.R. and wastes time staring at the water cooler, daring her "a-hole" of a boss to start with her. "But today is my bestest day of the week so far," she assures us, the reason being sweet, sweet liquor. "Tonight, we laugh, we joke and play hard."

'Bossman'

Voodoo Glow Skulls

Models of efficiency, the Glow Skulls do here in 1:35 what it took Mike Judge two hours to pull off with 'Office Space.' "When the smell of stale coffee fills the air, then you know the bossman is on the prowl," Frank Casillas sings, anticipating the order to stay late or come in over the weekend. Luckily, he's got his response all planned out: "F--- you, Mr. Bossman! I quit!"

Paul Westerberg is a realist. He'd like to get himself a girl, and to do that, he'll need money. In 1982, the idea of getting paid for playing rock 'n' roll probably seemed pretty farfetched, so on this blast of angsty teen punk, he steels himself for the inevitable name badge and hairnet. "I need a god damn job," he sings over and over, giving a fine lesson in how not to open a cover letter.

'This F---ing Job'

The Drive-By Truckers

Patterson Hood specializes in nuanced tales of luckless Southerners, and the next entry on our Labor Day Songs list is a prime example. At face value, it's 'Take This Job and Shove It,' but read closer, and it's a tune about outsourcing and the decline of industry. The only thing worse than working in the same factory where your daddy worked? Arriving one morning to find the doors padlocked. That goes double if you have a family to feed and don't feel like flipping burgers.

'Young Jobless'

Cleaners From Venus

Before you can hate your job, you've got to find a job, and that's what's got Martin Newell down in this obscure U.K. pop gem. "I wanna get a job, but the man says, 'No,'" he sings. "And my dad just says, 'I told you so.'" All he wants to do is buy some records and "rock 'n' roll shoes," but he's got the economy and his old man conspiring against him. It's Eddie Cochran's 'Summertime Blues' for Thatcher's England, with a great melody to boot.

'Minimum Wage'

They Might Be Giants

Supposedly based on Frank Sinatra's cover of Petula Clark's 'Downtown,' this 44-second gem is a whimsical fantasia of retro orchestration. It's the sonic equivalent of that angry, disbelieving smile a young person gets when he or she opens his first paycheck and sees all the taxes that have been taken out. The song only has two words, "Minimum wage," which are followed by the crack of a whip. The Johns need not say more.

'Petty Wage'

The Swingin' Utters

The only way to punch out of this Labor Day Songs list is with a jab of blue-collar punk, and Swingin' Utters are just the blokes to deliver the blow. 'Petty Wage' is a reminder that we control our own destinies, and that if we're not happy about working "12 hours straight," there's an alternative to bending over and taking what the company's giving. "Time to hit the road when the road you're on has run out of tricks," Johnny Bonnel tells us, just before capping his rock 'n' roll resignation letter with this postscript: "Ah, f---!"