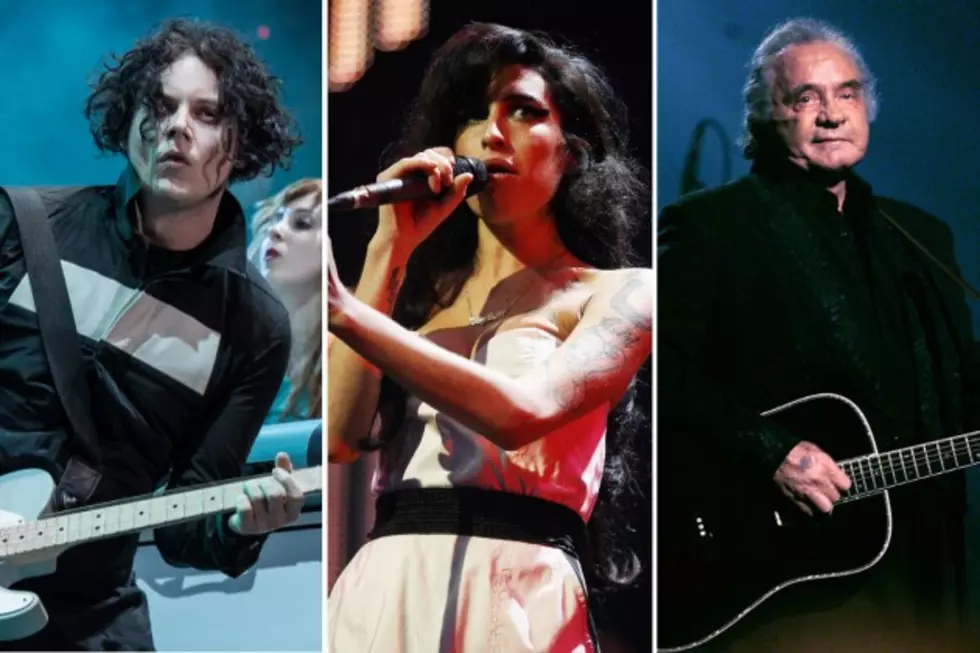 10 Memorable Performances From the History of SXSW
David Wolff : Jo Hale : Scott Gries, Getty Images
We're less than a month away from this year's SXSW Music Festival, where acts like the Zombies, Surfer Blood, Twin Shadow and many, many more will take the stage at one of the five-day fest's more than 100 venues in Austin.
This will be the event's 29th year bringing together the best in music, movies and technology, and while the festival has become a major production associated with cowboy boots, discarded wristbands and a variety of Instagrammed tacos, it's worth recalling SXSW's 1987 beginnings and continued growth ever since.
The festival has helped launch the careers of countless musicians, inspire epic collaborations and helped pay tribute to music's most iconic artists. Below, we recount just 10 of the many memorable moments SXSW has created over its nearly 30-year history, brought to you by Mazda.
Johnny Cash Keynote and Showcase, 1994

Not quite a decade after its inaugural year, SXSW invited Johnny Cash to give the 1994 keynote address. Preceding the release of his first collaboration with producer Rick Rubin on American Recordings, Cash discussed the value in continuing to learn and grow as an artist, even 40 years into his career. Later, the legendary country singer-songwriter gave a stellar showcase performance at Emo's, where a little-known musician named Beck – who was supporting his unexpected hit, "Loser," at the time – was his opening act. The combination perfectly embodied SXSW's ability to bring together both veteran and emerging artists under the same roof.

The Flaming Lips' Parking Lot Experiment, 1997

In 1997, the Flaming Lips frontman Wayne Coyne orchestrated his fourth "Parking Lot Experiment" at that year's SXSW, wherein he arranged for 30 cars to play 30 separate cassette tapes recorded by the band in an Austin parking garage for more than 1,000 onlookers. That kind of offbeat spectacle of a performance -- which helped set the band up for their eighth album, Zaireeka -- has long since become their signature. The Lips out-did themselves in 2006 with a surprise SXSW appearance, where they performed a short set that included Queen's "Bohemian Rhapsody." Two fans even got engaged amidst all those darn, brightly colored balloons.

Months before the release of their breakout third album, White Blood Cells, the White Stripes played an outdoor concert at SXSW in 2001, decked out in their signature red, white and black attire. Jack and Meg cut through a set that would go on to help launch their career as one of rock's greats.

Still receiving much buzz from her sophomore breakthrough album, Back to Black – which would become her final album following her sudden death in 2011 – Amy Winehouse performed a brief set at 2007's SXSW. The English artist gave a stripped-down acoustic performance of album singles "Back to Black," "Rehab" and others, cutting through critics' focus on her image and lifestyle and demonstrating she had the pipes to back up all the hype.

Alex Chilton Tribute, 2010

In 2010, Big Star frontman Alex Chilton was scheduled to perform at SXSW with the influential power-pop outfit's most recent iteration, which featured the band's original drummer Jody Stephens and the Posies' Jon Auer and Ken Stringfellow. However, in a tragic turn of events, Chilton died of a heart attack earlier that week. Instead of canceling the show, the remaining trio transformed the performance into an emotional tribute to Chilton's memory. Stephens, Auer and Stringfellow played a set of Big Star songs and were joined onstage by a long list of guest musicians, including Big Star's own Andy Hummel, R.E.M.'s Mike Mills, M. Ward, the Lemonheads' Evan Dando, Sondre Lerche, John Doe, the Watson Twins, the Meat Puppets' Curt Kirkwood and many more.

Death From Above 1979 Reunion Incites Riot, 2011

Five years following their debut effort, You're a Woman, I'm a Machine, Death From Above 1979 surprised fans with a reunion show – also their first live gig in five years – at that year's SXSW. Spectators were so overwhelmed by the duo's comeback that it incited a riot – fans outside of the fenced-in venue started pushing at the barriers, which led to a clash between police and concertgoers. Death From Above 1979 had to stop mid-show to get fans to settle down, eventually resuming and finishing out the set.

Ten years after SXSW helped launch his career as one half of the White Stripes, Jack White returned to make his debut as a solo artist. For an audience that included Bill Murray, White divided the set in two, first with his all-female and then his all-male backing bands. He went on to play cuts from his then-upcoming solo debut, Blunderbuss, alongside White Stripes, Raconteurs and Dead Weather tracks.

Ahead of the release of their 2012 LP, Ready to Die, Iggy Pop and the Stooges took the stage at SXSW to debut the new songs alongside classic Stooges cuts. The album marked the band's first with guitarist James Williamson since 1973's Raw Power, and they tore through the set as if no time had passed at all.

At 2013's SXSW, Prince gave fans fair warning: "Don't make me hurt you. You know how many hits I got?" He proceeded to close out that year's festival with a nearly three-hour set that included several encores that spanned until almost 3AM. Fans did know and happily hung in there with Prince as he performed hits like "1999" and "Purple Rain."

Months after Lou Reed's death, Richard Barone and Alejandro Escovedo helped curate a tribute to the Velvet Underground frontman, featuring appearances by the Black Lips, Suzanne Vega, Garland Jeffreys, Sharon Needles, Lucinda Williams, Sean Lennon and more. The all-star lineup performed a set that spanned Reed's career, including renditions of "Sister Ray," "I'll Be Your Mirror," "O Sweet Nuthin," "Pale Blue Eyes," "Run, Run, Run" and more.