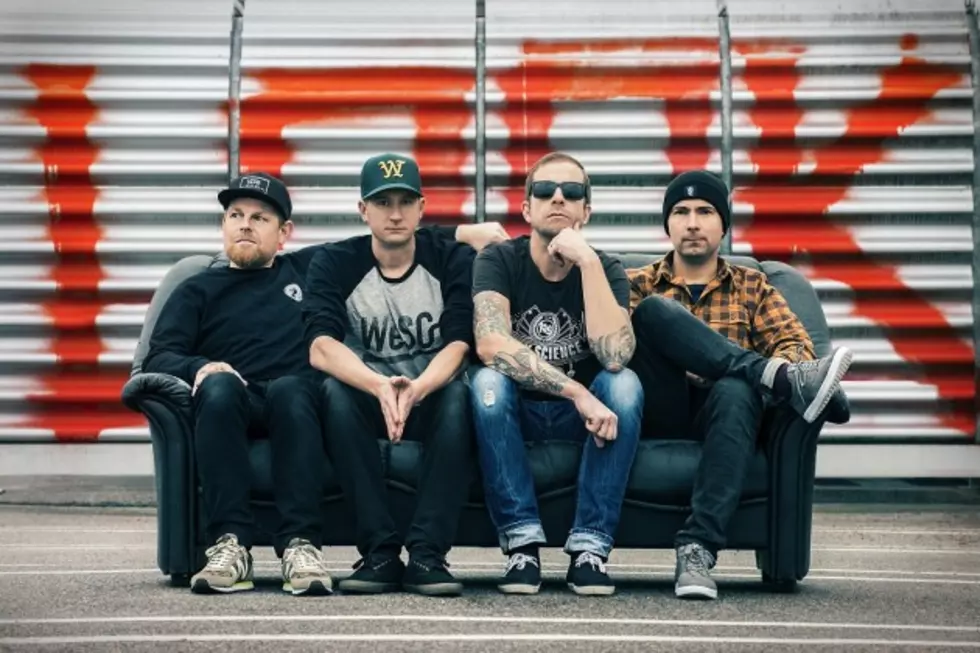 Millencolin's Fredrik Larzon Talks New Album, 'True Brew' + How Punk Rock Has Evolved
Epitaph
True Brew, Millencolin's first album in eight years, will drop on April 28 via Epitaph Records, and if their first single, "Sense & Sensibility," is any indication, it will be worth the wait.
You may remember the Swedish skate-punk rockers from 2000's Pennybridge Pioneers, which remains famous for the album's first two tracks and singles, "Fox" and "No Cigar." The new, self-produced record will serve as the follow-up to 2008's Machine 15, which was the band's last album before they were derailed with "lawsuits and various skeletons in their respective closets" (according to a statement from the band).
"We're a band truly formed from respect and understanding for each other and our passion for rock music," frontman Nikola Sarcevic said. "If you ask us, this is the best job in the world!"
They're clearly back with a vengeance, and drummer Fredrik Larzon spoke with us about the strength of their new album and how the punk rock genre has evolved, particularly in Sweden. Read our exclusive interview with Larzon below:
With Millencolin, do you feel like you're of a pop-punk outfit, rather than straight punk rock?
Sure. Melodic-punk [actually] sounds fine to me. I guess there are so many sub-genres these days and it's up to the listeners to define what we sound like. Some say skate punk -- that's fine by me too.
What makes True Brew a return to the band's roots? 
I reckon Machine 15 was a "bigger" album regarding production and songs, too, and we didn't really know how and where to take that sound much further. This new one, True Brew, sounds to me more like how we are live -- mixing punk with the more rock songs. We wanted to write some punkier, short, straight-on melodic punk songs. We recorded all the instruments for this album at our own studio with Mathias [Färm, guitarist] and then vocals and mixing at Fascination Street with Jens Bogren. It was a pretty nice laid back vibe to do it ourselves. We're really happy with how it turned out!
It's been seven years since your last album. What did you guys find yourself doing during that "break"?
We've been playing live all the time so there was really no time off. [Laughs] We toured Machine 15 for a couple of years then we did a special show in our hometown, playing Pennybridge Pioneers from start to finish and that actually evolved into a world tour. Then we had a two-day, 20 year anniversary festival where we played two completely different sets with 25 songs each. The last year and a half, we've been working on True Brew.
Is the punk rock scene the same as it was when you first started as a band?
A lot has changed, and I guess when we started, the scene was quite different to the early punk scene as well. When we started Millencolin in 1992, we came from three other punk bands but pretty much just all focused on Millencolin and the SoCal inspired punk rock. Previous bands were more Swedish-type punk with Swedish lyrics, inspired by Asta Kask, Anti Cimex and those type of bands. We were all raised on the DIY style; if you want shows, put 'em up yourselves, record demos and send out to fanzines and other bands around the world. Today, with the internet and all that, it's easier to get your stuff out but there are also many more bands struggling to get people's attention. I still believe you can do most stuff yourself as a band if you want to. I thought there were so many good bands out there that I wanted people to hear so I started my own label, De:Nihil Rec, so I could release some of it.
How important is Erik's [Ohlsson, guitarist] artwork and photos when it comes to your band's image? 
Of course it's important -- he's done all our artwork since day one. Albums, shirts ... you name it. He does his thing but he always asks for feedback from us. He's a great guy and very talented.
What are some of the challenges of being a punk band from Sweden?
I guess the challenges are bigger if you sing in Swedish when most people outside of Sweden won't understand; we still sing in English so that probably makes it a little easier. I guess Nikola might have a little bit of a different time writing in English with what's on his mind being a Swede. The way he writes feel different to me -- unique would be the word. I love his lyrics.
Your song "Fox" is probably your biggest career hit. Are you a personal fan of the song?
I like the song and have played it a whole bunch of times live, but every time you see how the crowd likes it you get stoked. "No Cigar," "Mr. Clean" and "Farewell My Hell" are some other tunes that are just as popular.
Your new album is self-produced. Have you done this for previous albums? What's the key to self-producing a good punk record?
Not like we did on this one. We worked with producers like Lou Giordano, Dan Swanö, Chips Kiesbye and Brett Gurewitz before, and all of them are extremely good. We recorded M15 in our own studio, and Mathias is a very talented studio tech and has recorded, mixed and produced tons of bands, so he took on the job which felt very good. What's the key? I don't know, it's different for every band and how they wanna do it I guess. Have a goal set and stay focused. If you have unlimited time, sometimes that makes you polish too much and lose focus.
Your single "Sense & Sensibility" was written about the growing problem of nationalist and racist political parties in Sweden. How interchangeable are politics and punk rock?
I think when it feels right and you know what you write about, it's great and really important. With "Sense & Sensibility," it's a very dark and sad matter -- we've talked a lot about this and it feels natural and very important to write about.
Millencolin's True Brew hits the streets on April 28 via Epitaph Records. You can pre-order the disc here.