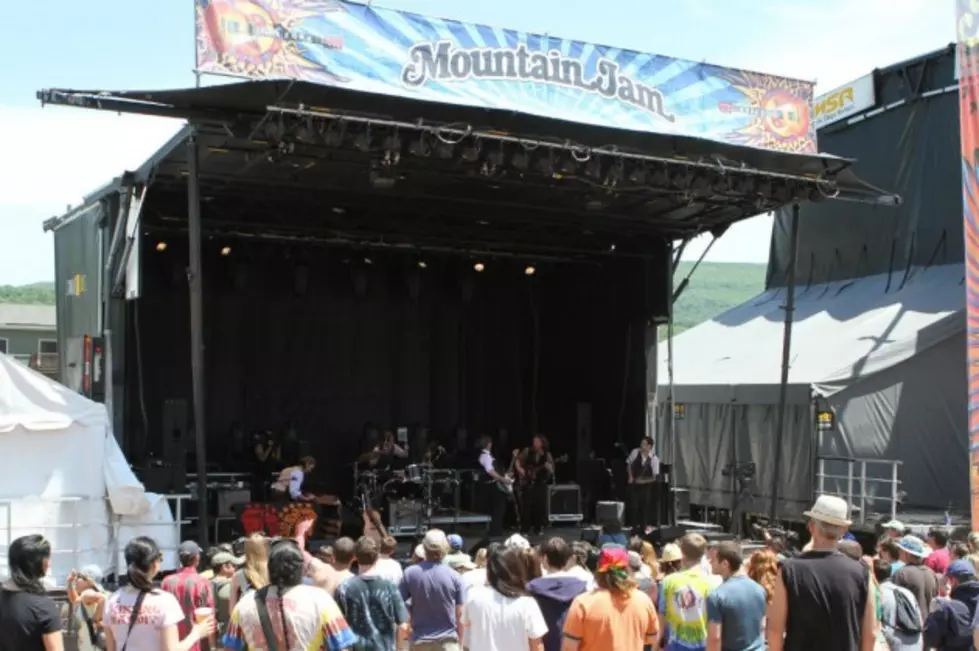 Mountain Jam 101: Iconic Music Festival Heads Full-Force Into Its 11th Year
Cory Schwartz, Getty Images
We're only a week out from this year's Mountain Jam. As always, the annual music festival will take place at the Hunter Mountain ski resort in Hunter, N.Y., with this year's four-day installment kicking off on June 4 and running through June 7. This will mark Mountain Jam's 11th anniversary and this year's top-notch lineup promises to be every bit as unforgettable as past editions.
Mountain Jam was originally founded back in 2005 -- in part by Warren Haynes of the Allman Brothers and Gov't Mule -- to celebrate the 25th anniversary of Woodstock, N.Y.-based radio station, Radio Woodstock. While the inaugural edition spanned only one day, featured four bands (Gov't Mule; Medeski Martin and Wood; Robert Randolph and the Family Band; and Xavier Rudd) and drew more than 3,000 concertgoers, it's continually expanded ever since. The festival grew to two days for its second year, three days in 2007 and finally to its current four-day run in 2011. In conjunction with its growth over the years, Mountain Jam has expanded in scale as well, now featuring three stages, onsite camping and countless amenities for concertgoers -- all engulfed by its scenic Catskill Mountain surroundings.
The 2015 Mountain Jam roster boasts headliners like Grammy-winning Akron, Ohio duo the Black Keys, iconic English rocker Robert Plant and his Sensational Space Shifters and the Brittany Howard-led blues-rockers Alabama Shakes.
This year's stacked lineup -- which also includes staples Gov't Mule as well as Grace Potter, moe., Shakey Graves, Benjamin Booker and more -- joins a rich history of Mountain Jam performers, as the festival has consistently curated lineups featuring top indie, rock and jam bands.
"Mountain Jam is known for presenting the most innovative and musically diverse artists in the business," Mountain Jam co-founder Gary Chetkof said upon the announcement of the 2015 lineup, "and with the Black Keys joining us this year, we're expecting to cement our standing as the premiere camping music festival in the Northeast."
As such, the Keys, Shakes and Plant will join 11 years worth of festivals that have featured the likes of the Allman Brothers Band, Widespread Panic, My Morning Jacket, Dispatch, the Lumineers, the Avett Brothers, Ray LaMontagne, Ben Folds, the Roots, Wilco frontman Jeff Tweedy, LCD Soundsytem's James Murphy, Mavis Staples, Drive-by Truckers and many, many more.
With Haynes as a part-founder of the ongoing festival, Gov't Mule is the only band to perform at each of Mountain Jam's 10 installments, and 2015 will be no exception. The Haynes-led outfit will play two times at this year's installment, and one of the two sets will be a late-night performance of their Dark Side of the Mule audio and visual tribute to Pink Floyd, which they haven't done since 2008.
With a storied history of standout performers, Mountain Jam has inspired countless collaborations over the years. Notably, the 2010 festival featured a special performance from the Band's Levon Helm in celebration of his 70th birthday. For the occasion, Helm was joined onstage by Haynes, Steely Dan's Donald Fagen, Sam Bush, Alison Krauss, Jackie Greene, LaMontagne, Drive-By Truckers' Patterson Hood and more, and together they performed a career-spanning set including Band classics "The Weight," "Ophelia," "The Shape I'm In" -- among others. Helm passed from cancer two years later, and at 2012's Mountain Jam, the Levon Helm Band and Haynes took the stage to play a tribute to the late Band frontman.
This year's Mountain Jam will launch Thursday, June 4 with Moe. closing the evening. Robert Plant and the Sensational Space Shifters will headline Friday night, with Gov't Mule taking the stage later for their "Dark Side of the Mule" performance. The Black Keys will play on Friday night, and the Alabama Shakes will close out the 2015 fest on Saturday. Check out the complete lineup here, and you can still grab passes here.
Diffuser's Dream Collaborations for Mountain Jam 2015