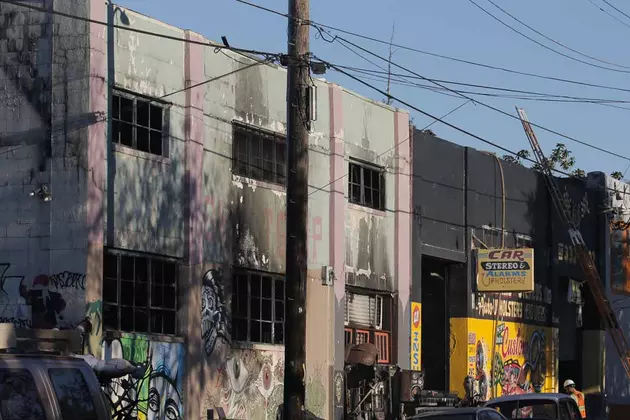 Nine People Killed in Fire in Oakland Electronic Music Show
Elijah Nouvelage, Getty Images
A fire broke out in an Oakland building where Golden Donna, an electronic musician, was hosting an event. As of press time, nine people have died, and officials believe that the number of fatalities could rise to as high as 40. The cause of the fire is unknown.
"We still have to do a more thorough search of the building and we don't know the potential number of other victims," Fire Chief Teresa Deloach-Reed told the East Bay Times. She added that the whereabouts of 25 attendees have yet to be determined.
The fire started at approximately 11:30PM Pacific last night and took four hours to get the fire under control. At some point during the blaze, the roof collapsed. It could possibly be the deadliest single-structure fire in the city's history.
Located in the Fruitvale neighborhood, the two-story, nearly 10,000-square foot building is an artists' collective that is zoned as a warehouse with a capacity of 50. It has frequently hosted parties, and drawn complaints for noise and illegal dumping.
"Last night's fire was an immense tragedy," said Oakland Mayor Libby Schaaf. "I am grateful to our first responders for their efforts to deal with this deadly fire. Our focus right now is on the victims and their families and ensuring that we have a full accounting for everyone who was impacted by this tragedy. We are fully committed to sharing as much information as we can as quickly as possible."
The Facebook page for the event is being used as a place where people can check to see if their loved ones are safe. A list of those who are still missing is pinned to the top.
Musicians We've Lost in 2016