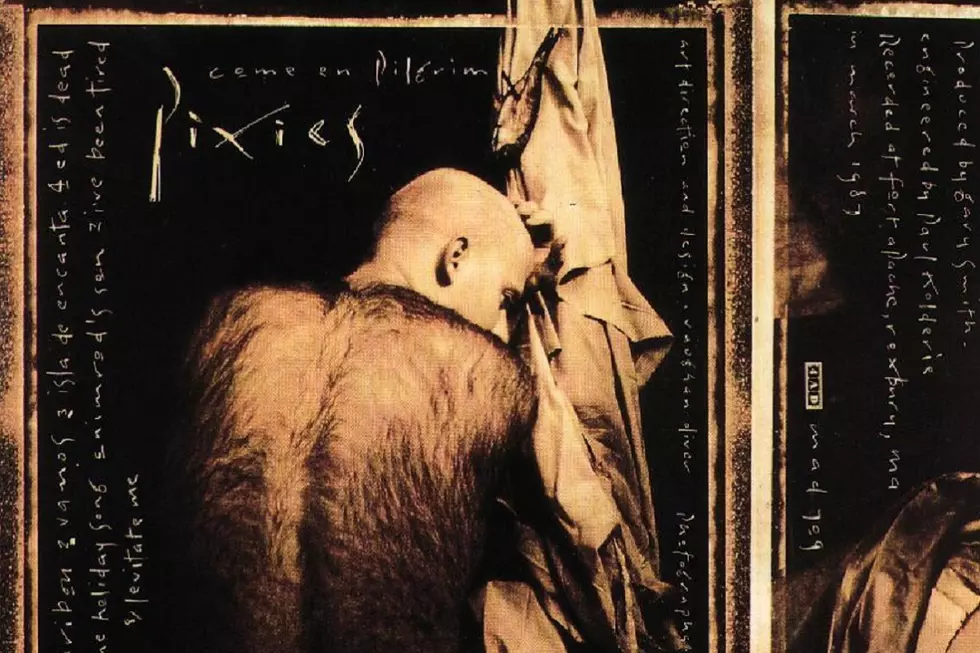 30 Years Ago: Pixies Reveal Themselves on 'Come On Pilgrim'
4AD
The Pixies' first major release wasn't quite an album, but it was longer than an EP. It was something more, but also something less – according to the producer – than a demo tape. And it didn't even land an initial release in the band's home country. In 1987, Come On Pilgrim marked a weird beginning to a weird rock 'n' roll band.
The group out of Massachusetts had formed a few years earlier, starting with a college collaboration between guitar players Charles Thompson IV and Joey Santiago. Kim Deal joined up after famously being the only one to answering Thompson's ad for a bassist with equal affection for Hüsker Dü and Peter, Paul and Mary. David Lovering became the drummer via a friendship with Deal's then-husband John Murphy. Santiago landed on calling the quartet the Pixies upon discovering the word and definition ("mischievous little elves") in a dictionary.
They began gigging at local dives, soon striking up a friendship with, and opening up for, fellow Boston-based band Throwing Muses at rock clubs like the Rathskeller (nicknamed the Rat). The Muses, originally from Rhode Island, had recently become the first American band signed to British indie 4AD, the result of a demo recording made by Gary Smith at the newly opened Fort Apache Studios in Roxbury.
"The Muses played with the Pixies at the Rat, and that's where I saw the Pixies for the first time, in sound check. In one song, I was knocked out," Smith told Spin in 2004. "I remember thinking, 'Holy s---, this is different.' Just the way they approached the songs and the wide dynamic range, the control during the verses and mania during the choruses. By then I was working at Fort Apache, so I knew there was a way to record it. I begged them to work with me. And they eventually said yes."
The Pixies knew that Smith had parlayed a demo session into a record deal and that the producer-musician (he was also in a band called Lifeboat) had the potential to do it again. Thompson's father ponied up $1,000 for the band to spend three days of non-stop recording with Smith at Fort Apache. In that time, the Pixies tracked just short of 20 songs, the vast majority of them written by Thompson.
The result was a 17-track demo, named The Purple Tape because of its cover. When Smith was working on the cassette's artwork, he agreed to requests for pseudonyms for some of the members. Deal was credited as Mrs. John Murphy as a sarcastic feminist joke. Thompson became Black Francis.
"I wanted a stage name. It was a punk-rock thing," Thompson admitted. "I've since learned it has a much longer history, mostly in black blues music. But for me, it was, 'If it's good enough for Iggy Pop, it's good enough for me.'"
The names were cemented, nearly as much as the Pixies' dynamic music – featuring squealing and jagged guitars, stop-start beats and alternately howled and hushed vocals. As a songwriter, Thompson showed he had a weakness for pop melodies, twisted lyrics and singing in Spanish. The Pixies arrived pretty close to being fully formed.
As he had done previously with Throwing Muses, Smith became the band's big cheerleader, making hundreds of copies of The Purple Tape for the band to distribute to record labels, managers, alt rock bands, anyone who might hear the potential in this music. While Deal collected rejection letters from label after label, Smith and members of Throwing Muses worked on the band manager Ken Goes to also begin managing the Pixies. Although he wasn't initially impressed by the demo cassette, he eventually relented to pressure. He then gave The Purple Tape to 4AD's co-founder Ivo Watts-Russell.
"I listened to the tape for the first time on a Walkman, walking through New York," Watts-Russell remembered years later. "It was a bit of a guilty pleasure because I was keen on veering the label away from anything that could be described as rock 'n' roll. My girlfriend at the time, our press person at 4AD, Deborah Edgeley, just said, 'This is great – we gotta do it.'"
Although 4AD specialized in more moody and gothic bands (Bauhaus, Cocteau Twins), Watts-Russell couldn't resist the Pixies' mélange of pretty and ugly music. He signed the band, agreeing to put out a teaser release, then put the band in a full-blown studio situation a few months later.
"We were like, 'Record label? London? Party! Cool! What do we do?' It wasn't because we were desperate; it was because it was action," Thompson said. "All the stuff they were talking about, whether it was a record producer or a particular song, or whether the name of the band was going to be Pixies or the Pixies – they dropped the the because they thought it was cooler to call [us] Pixies – all this stuff was just not important. The important thing was that we were going to go in a studio, we were going to go on tour, we were going to put a record out."
But first came the teaser. Watts-Russell felt that re-recording The Purple Tape might sand off too much of the Pixies' edges, but he also thought that releasing the whole thing but be too overwhelming. Instead, he selected his eight favorite songs (not including the mostly acoustic "Here Comes Your Man" because he thought it was too poppy) to be gently remixed for a professional "mini-LP."
Songs that did make the cut included a couple of blazing tracks featuring wild workouts from Santiago and Spanish wailing inspired by Thompson's time in Puerto Rico ("Vamos" and "Isla de Encanta"), songs about death ("Ed Is Dead"), compositions that mention incest ("Nimrod's Son," "The Holiday Song") and plenty of thrashing instrumentation and twisted melodies.
Religion also appeared to be a focal point, given the allusions in half of the songs – which were likely owed to the Thompson family's time as born-again Christians. Even the mini-LP's title, Come On Pilgrim had a religious tie. Thompson nicked the "Levitate Me" lyrics "Come on, pilgrim / You know He loves you" from Christian musician Larry Norman, who was the Pixies frontman's idol as a teenager. Watts-Russell suggested that the line become the name of the release and the band agreed.
The Pixies were happy and 4AD was pleased with Come On Pilgrim. But the man who had been a conduit for the arrangement, Gary Smith, thought this mini album was a missed opportunity.
"I was pissed," Smith said in Fool the World: The Oral History of a Band Called Pixies. "I thought this collection of 17 songs was special. And that they should all be served up at once because that's how you would get a sense of how colossally important this band was. And then they cut it to bits!"
As it happened, eight songs from The Purple Tape appeared on Come On Pilgrim. Another eight were re-recorded for subsequent Pixies albums with one track, "Rock a My Soul," only showing up on a promotional EP (and, in 2002, a release that compiled all of the demos that were not on Come On Pilgrim). Watts-Russell has maintained that hand-picking some of the songs for the Pixies' debut release was the right move because "those eight songs were a bang in the face and left you wanting more."
4AD released that "bang in the face" on Sept. 28, 1987, but only in the U.K. and Europe because the label didn't secure American distribution for the mini-album. Come On Pilgrim wouldn't become available as a non-import in the U.S. until the summer of '88, when it was combined on CD with the Pixies' first full-length.
But Come On Pilgrim went over big in Europe, especially in Britain where the release topped out at No. 5 on the U.K. charts and became a sensation in the music press, among London musicians and with British rock fans. The excitement would only build. By the end of the year, the Pixies would be recording their first LP with Steve Albini – what would become 1988's Surfer Rosa.
Pixies Albums Ranked in Order of Awesomeness