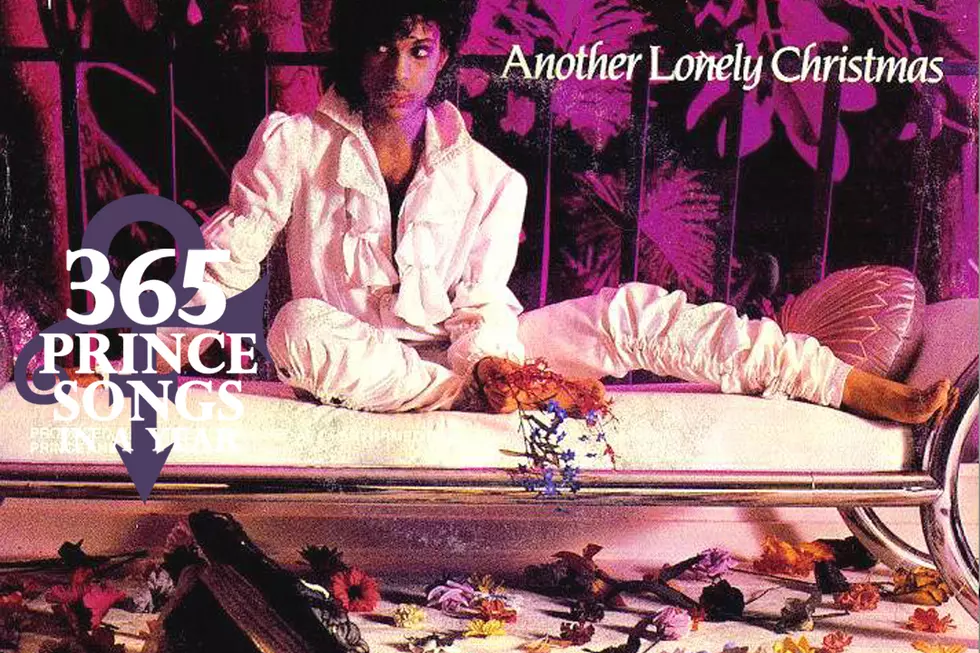 Prince's 'Another Lonely Christmas' Offers a Different Old Lang Syne: 365 Prince Songs in a Year
Warner Brothers
To celebrate the incredibly prolific, influential and diverse body of work left behind by Prince, we will be exploring a different song of his each day for an entire year with the series 365 Prince Songs in a Year.
Around this time of year, radio stations pepper their playlists with holiday music—old standbys like "Blue Christmas," "White Christmas," "Have Yourself a Merry Little Christmas" and Dan Fogelberg's "Same Old Lang Syne." One of these things, of course, is not like the others; Fogelberg's song is not really a Christmas song—it's a kinda maudlin tale of memory, reconnection and lost chances, played out in a grocery store and in a car, and it just happens to take place Christmas Eve. There are other not-quite-Christmas songs that have become radio staples—the Pogues and Kirsty MacColl's "Fairy Tale of New York" comes to mind, as do Billy Joel's "She's Right on Time," and Joni Mitchell's "River."
Add Prince's "Another Lonely Christmas" to the list. Even though it has "Christmas" in its title (which the others do not), "Another Lonely Christmas" is as much about Christmas as Led Zeppelin's "Black Dog" is about dark-coated canines or Nirvana's "Smells Like Teen Spirit" is about deodorant. "Another Lonely Christmas" is about the deep, dark hole of sorrow that accompanies the loss of a lover to the undefeated champion of the blues—death itself.
Released as the b-side of "I Would Die 4 U," the first verse is all about memory and missing someone, a rush of reminiscence that harkens back to a happier time: —skinny-dipping in the pool, playing card games for money, laughter at the folly of it all. The rush comes as a result of seeing his beloved's sister skating that afternoon, and the singer marvels at how she's changed ("Good Heaven how she's grown / She swoons the boy skaters she's so tall"). The details bring him back into the forlorn here and now.
It's a sad scene, and Prince lays down the perfect backing for the lyrics (all by himself—like on so many of his records, he is the sole credited musician). Piano and organ play in tandem; an overdriven guitar is laid down on the tracks like slabs of something hard, and Prince's voice (which is reverbed to within an inch of its life) is mixed just a hair above the instruments. It's all very loud, a little distorted, even; the result is a little disorienting, perhaps mimicking how the song's protagonist is encountering his surroundings in these sad moments.
We find out in the next verse that his lover has died, seven Christmases previous, of some kind of illness, though it is painfully unclear which illness it was ("Your father said it was pneumonia / Your mother said it was strep / But the doctor said u were dead"). What's more, he marks the occasion every year by drowning his sorrows—not with whiskey (as a good bluesman would do); not with beer (as a good country dude would do); not even with cheap wine (bluesman again). No, our protagonist sings, "I drink banana daiquiris 'til I'm blind." One can only imagine the two of them had gone on at least one tropical vacation, where they had enjoyed the daiquiris. Or maybe it was the local Bennigan's. He doesn't say.
What he does do, though, is rip a nasty guitar solo at the end of the song; again, it's lower in the mix than one might want it to be, but it's there, and it cooks. In fact, the guitar work is one thing "Another Lonely Christmas" has that the other not-quite-Christmas songs do not. It's a wonder "Another Lonely Christmas" isn't played with the same frequency as "Same Old Lang Syne"—it certainly has melancholy to spare.
It's probably the daiquiris.