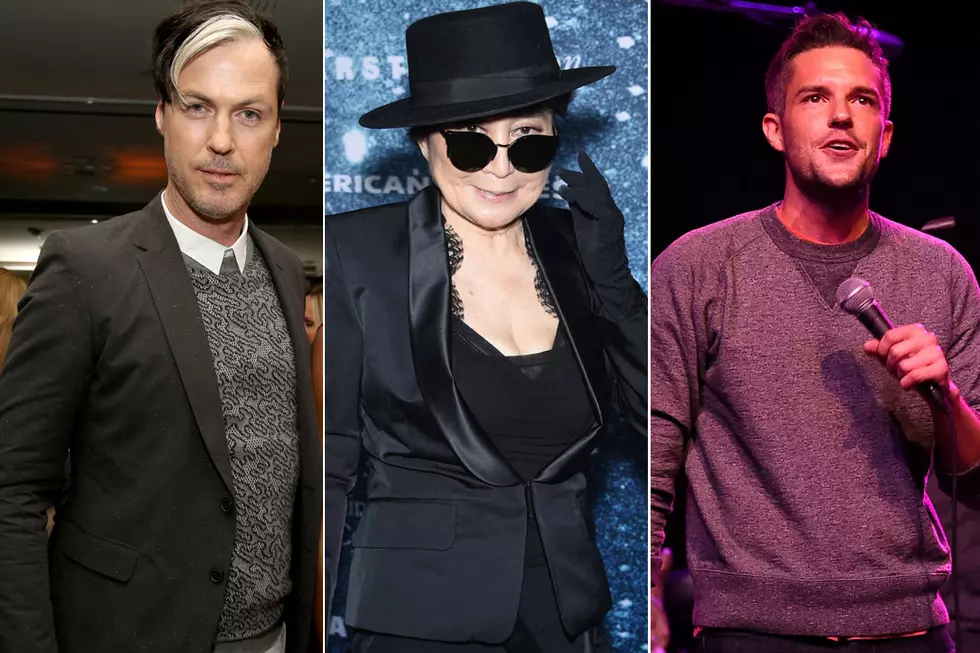 The 12 Alternative Rock Songs of Christmas
Imeh Akpanudosen / Dimitrios Kambouris / Frazer Harrison, Getty Images
Christmas is right around the corner, so what better way to get in the holiday spirit than listening to holiday carols?
Even though the classics will always give us that warm and fuzzy feeling during the holiday season, we get kind of tired of them because, you know, they're everywhere. So we here at Diffuser want to give you something a little different by compiling tracks that some of our favorite indie artists have recorded to share their Christmas cheer. While some of them have put their own touches on traditional tunes, many of the bands on this list actually came up with their own songs.
Whether they tickle your funny bone or melt away the stresses of your day, this is a great list to add to your holiday playlist. Get ready for that big fat guy with our 12 Alternative Rock Songs of Christmas:
12.

"Must Be Christmas"

The Band of Merrymakers

If there's one song this holiday season that can instantly put you in a good mood, it'll be "Must Be Christmas" by the Band of Merrymakers. The Santa-clad supergroup enlists musicians from across the musical spectrum and includes Charles Kelley of Lady Antebellum, Tyler Glenn of Neon Trees, Fitz of Fitz & the Tantrums, 311's Nick Hexum, Kevin Griffin of Better Than Ezra and more as part of this year's band roster. Taking to the streets to film "Must Be Christmas," you'd think that SantaCon had started a bit early. But no, it's just a bunch busking Santas ready to sing your ear off.

11

"Christmas Is Going to the Dogs"

Eels

As part of the 2000 film adaption of Dr. Seuss' How the Grinch Stole Christmas, Eels contributed a light and fun tune, "Christmas Is Going to the Dogs," to the original soundtrack. While it has a peppy rock and roll rhythm, the lyrics definitely come from the mindset of the Grinch. Although it might make you want to say "bah humbug" by the end of it, the melody is too peppy to stay in a foul mood for too long.

10

"Did I Make You Cry on Christmas? (Well, You Deserve It)"

Sufjan Stevens

Sometimes Christmas Day doesn't bringing comfort and joy, but heartbreak instead. Sufjan Stevens tackled the notion in 2006 with his song, "Did I Make You Cry On Christmas? (Well, You Deserve It)." The song recounts a the breakup of a relationship, told from both sides.

9

"Fairytale of New York"

The Pogues (Feat. Kirsty MacColl)

Christmas might bring many good cheer, but sometimes there are tracks out there that aren't as full of glee -- and it's not always Sufjan Stevens bringing the sadness. The Pogues' 1987 tune, "Fairytale of New York," is a great example of this. Featuring Kristy MacColl on the second verse, they sing about whether or not they're okay during the holidays. Played in an Irish folk style, it's one of those tracks that you can listen to as the snow comes down with some stiff rum-filled eggnog.

8

"Joel, the Lump of Coal"

The Killers

The Killers have been putting out original Christmas songs since 2006 to help out the (RED) campaign. In 2014, the band worked with Jimmy Kimmel and penned a track that puts coal into a better light. If you're wondering how Santa's gift for the naughty kids could be a hit song, listen to it below. It will make you laugh -- and it might also tug at your heart strings. In 2016, the Killers compiled all their songs to date into one CD, Don't Waste Your Wishes.

7

New Found Glory are known for their high-energy power-punk performances. However, they slow things down for a new original Christmas tune, "Snow." While some people are frustrated by the aftermath of snow cleanup, this song will bring back the fun times that you hopefully had playing in the snow when you were kids.

6

"Once a Year"

Samantha Harlow (feat. Anderson East)

If you're looking for that Christmas tune that doesn't necessarily sound like one, Samantha Harlow's "Once a Year" might be the perfect track for you. Hailing from East Nashville, she sings about the difficulties of trying to get the family together during the holidays. Whether it's due to work schedules or the death of a loved one, Harlow sheds light on the importance of making that effort to get back home at least this one time during the year. The folk-country melody adds a nice cushion to the heavy lyrics.

5

"Merry Christmas (I Don't Want to Fight Tonight)"

The Ramones

The Ramones bring their signature sound to the holidays with "Merry Christmas (I Don't Want to Fight Tonight)." Once you get past the very '80s look to this video, it quickly points out the petty dramas that can happen during the holiday season. Although it might not be funny when you're in the heat of it, watching the two characters act it out on the screen will bring a chuckle (and some blushing) because you've probably been there. Meaning aside, the track is one that will likely hype you up while wrapping presents for Christmas morning.

4

"Come On Santa"

The Raveonettes

The Raveonettes get a little whimsical on their Christmas tune, "Come On Santa." With the bells to hold the beat and give it a doo-wop feel, Sune Rose Wagner and Sharin Foo's vocals sound eerily hollow and add a haunting ambience to the song. But as light as this song sounds, the electric guitar gives it the punch it needs to make it a signature Raveonettes track.

3

"When the Bells Start Ringing"

My Morning Jacket (feat. The Head and the Heart)

My Morning Jacket are known for their all-American guitar riffs and Jim James' impactful lyrics. But the Louisville, Ky. band gave us an extra surprise in 2009 with a Christmas EP. While it was filled with covers of the old classics, they also included the soft and sweet "When the Bells Start Ringing," which features the vocals of the Head and the Heart. With its country feel, the song is perfect for cozying up with that special someone by the fire.

2

"Ain't No Chimneys in the Projects"

Sharon Jones & the Dap-Kings

Growing up in the projects of New York City, Sharon Jones wondered, as a child, how Santa was able to bring her presents each year when they had no chimney. So in 2009, she turned those memories into an original Christmas song that showed a different experience of the holidays that not many people dive into. With its James Brown-tinged rhythm, this will give you your fill of soul for the season.

1

"Happy Xmas (War Is Over)"

Yoko Ono and the Flaming Lips

Yoko Ono revives the 1971 holiday tune that she wrote with her husband, John Lennon, and enlists some help from the Flaming Lips. As much as it touched people back then, the new rendition has the same grandeur and sonic layers that hit you in the heart and make you hope for a better world. This version of "Happy Xmas (War Is Over)" is the Christmas compilation, All Is Bright, which is available for free to Amazon Prime costumers.