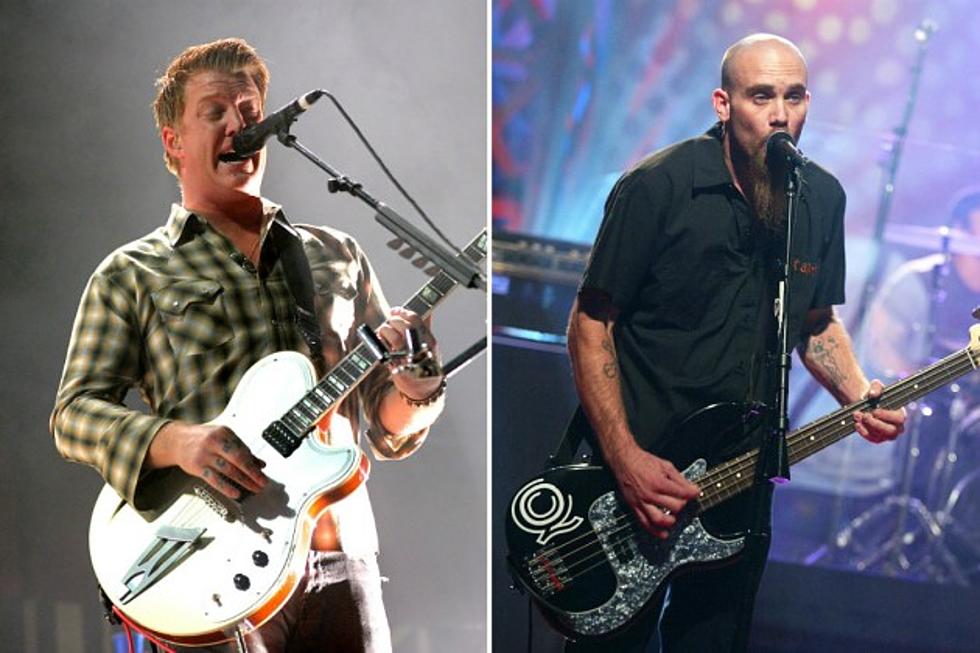 Queens of the Stone Age to Possibly Reunite With Bassist Nick Oliveri for Halloween Show
Kevin Winter, Getty Images
If it's not a trick, it'll definitely be a treat.
Former Queens of the Stone Age bassist Nick Oliveri recently revealed to NME that he's been invited to perform with the band during their upcoming Halloween show in Los Angeles. Oliveri said he'll be one of the opening acts at the show at the Forum and that QOTSA frontman Josh Homme asked him to play a few songs with the band during an encore.
"[Homme] asked me to come up and do six songs with Queens, like an encore set," Oliveri said. "A reunion, but not a reunion. I'm going to get up and play some bass and sing some songs at the end of the show. It should be an interesting night."
Oliveri was a core member of QOTSA from 1998-2004, contributing to two of the band's biggest albums -- 2000's 'Rated R' and 2002's 'Songs for the Deaf' -- but was fired reportedly due to his temper and aggressive personality.
But Homme and Oliveri seem to be on better terms as of late with Homme contributing to a song for Oliveri's Mondo Generator and Oliveri appearing on the latest QOTSA album, '...Like Clockwork.' The bassist also joined the band onstage at a concert in April.
As for whether or not the Halloween gig will lead to a more permanent arrangement, Oliveri said:
That's pretty much up to Josh. It's his band, and when he pulls the trigger on something, it's up to him. I put myself out there a few different times in the past 10 years at Queens shows. I'd go and see them play and say, 'Hey man, I'm here! Do you want me to sing a song?' I stopped asking him after a while, and then he asked me! It's pretty much just when he wants to do something, these days. It's not up to me, is what I'm saying.

I always put myself out there, and so finally he came up with this Halloween date. First he asked for my band to open up, and I said yeah. Then he got back to me and said: 'At the end, do you want to do some of the old songs?' I was like, 'Sure man! Let's do it!' It should be a very fun and interesting night.
Queens of the Stone Age With Nick Oliveri In April '14: