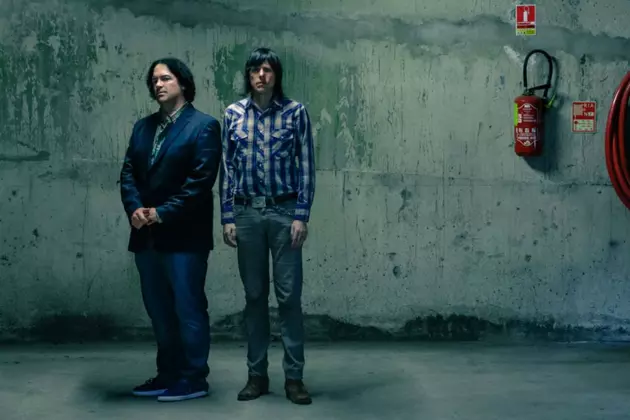 The Posies Announce First New Album in Five Years 'Solid States'
My Music Empire
Power-pop veterans the Posies have announced they will return with their first new album in five years, Solid States, later this spring.
The album is due out May 20. Today (April 6), Jon Auer and Ken Stringfellow have shared the single, "Unlikely Places." It's the Posies' signature earwormy, big pop with a breezy hook. You can stream the song over at Brooklyn Vegan along with the previously released album track "Squirrels and Snakes."
"I think it's our most adventurous record to date," Auer and Stringfellow said in a press release. "There was the conscious idea to strive for something different from the Posies of past, to use different colors and flavors. That was the plan, but then life had its way with our concepts and schedules, and threw many profound, out-of-the-park curveballs in our direction. By this point, we'd already painted ourselves into a musical corner, which ultimately left us no other option but to figure our way out, bit by bit, wave form by wave form."
The band will embark on the Solid States Secret Shows tour later this month. All of the dates and cities have been announced, but the band will only reveal the venues (which will all be nontraditional) to those who purchased tickets the day before the shows. Check out the schedule, plus Solid States' track list and cover art, at the bottom of the page.
Since releasing their last album, Bloody/Candy, in 2010, Auer and Stringfellow have endured several great losses. A few months before the album's arrival, Alex Chilton passed away after collaborating with the Posies guitarists as the second incarnation of Big Star for nearly 20 years. Then, last year, Posies drummer Darius Minwalla died, and one-time bassist Joe Skyward passed away after a battle with cancer just last month.
Solid States Track List
1. "We R Power"
2. "Unlikely Places"
3. "Scattered"
4. "Titanic"
5. "Squirrel Vs Snake"
6. "March Climes"
7. "M Doll"
8. "The Definition"
9. "The Plague"
10. "Rollercoaster Zen"
11. "The Sound Of Clouds"
12. "Radiance"
The Posies Tour
April 28: VAN NUYS, CA
April 30: LOS ANGELES, CA
May 1: PHOENIX, AZ
May 4: AUSTIN, TX
May 5: DENTON, TX
May 6: MEMPHIS, TN
May 7: LAWRENCEVILLE, GA
May 8: RALEIGH, NC
May 10: WASHINGTON, DC
May 11: PHILADELPHIA, PA / SOUTH JERSEY
May 12: NEW YORK, NY
May 13: BOSTON / SOMERVILLE, MA
May 14: NEW CANAAN, CT
May 15: PITTSBURGH, PA
May 17: CHARLESTON, WV
May 18: NASHVILLE, TN
May 19: CHICAGO, IL
May 20: INDIANAPOLIS, IN
May 21: MINNEAPOLIS, MN
May 22: RAPID CITY, SD
May 24: BOISE, ID
May 25: WALLA WALLA, WA
May 26: SEATTLE, WA
May 27: BELLINGHAM, WA
May 28: PORTLAND, OR
May 29: OAKLAND, CA