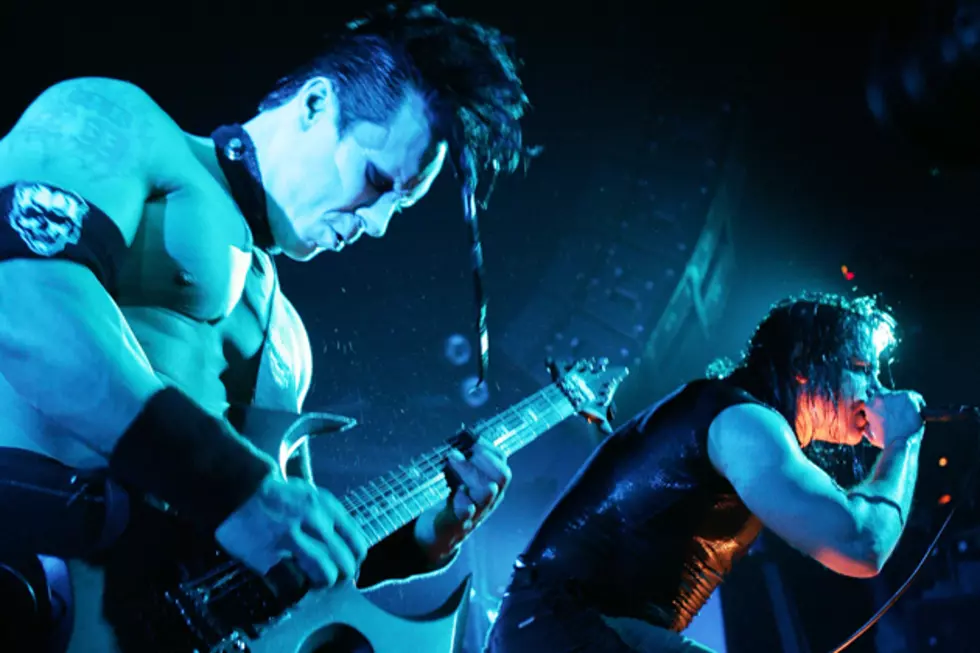 10 Things You Didn't Know About the Misfits
Scott Gries, Getty Images
We see loads of people in New York City wearing Misfits t-shirts, jackets and patches; affixing the band's stickers to their skateboards; and professing their love for the band on Twitter, Facebook and Instagram. New Jersey's most famous punk band has a little cottage industry going -- a biosystem of fans that celebrates Halloween every day of the week. But we'd suggest that a lot of those people don't really know the band all that well. Ask them some of the toughest Misfits trivia questions, and they'll strike out. Well, that's where we come in. We've got that angle covered. Never fail a Misfits test ever again. Get your No. 2 pencils ready and see how you fare with this list of 10 Things You Didn't Know About the Misfits.
Baron, Getty Images (Hulton Archive)

Baron, Getty Images (Hulton Archive)

The Misfits got their band name from an infamous movie

This might be the easiest trivia question on this list, but it's one you have to know if you're going to roll with the big dogs. The Misfits got their name from the final film Marilyn Monroe made before her death in 1962. They later wrote a tribute to her, 'Who Killed Marilyn?' which has some choice theories about the starlet's untimely death.

Frazer Harrison, Getty Images

Frazer Harrison, Getty Images

Every member of the 'classic' lineup goes by a stage name

Every guy in the "classic" Misfits lineup, which for us includes Glenn Danzig (lead vox, random violence), Jerry Only (bass, "1-2-3-4" count-offs), Doyle (lead guitar) and Robo (drums), was going by an assumed name. Proof is in the details: Glenn Danzig's real name is Glenn Allen Anzalone, the name his MOTHER gave him. Jerry Only and Doyle are actually blood brothers and share the same last name: Caiafa. Doyle is also a stage name; his real first name is the much-less-interesting Paul. We're glad Robo went with a stage name. The Colombian-American drummer's real name is a mouthful: Julio Roberto Valverde Valencia.

The song 'London Dungeon' is a true story

According to Misfits Central, after getting into a fight in London outside of a Jam show, lead singer Glenn Danzig and early guitarist Bobby Steele were thrown in jail. During his stay there, Danzig wrote 'London Dungeon,' one of the spookiest production jobs on a song ever, in our humble opinion.

Robert Duvall | Brad Barket, Getty Images

Robert Duvall | Brad Barket, Getty Images

Classic live-show closer 'We Are 138' is not complete gibberish

Although it's been rumored to be about George Lucas' pre-'Star Wars' sci-fi flick, 'THX 1138' -- which stars Robert Duvall (pictured) and Donald Pleasance of 'Halloween' fame -- Glenn Danzig was quoted on website TWEC.com in 2000 as saying, "[The other Misfits] didn't write it, and they don't know what the f--- it's about. It's about violence." We'll take his word for it.

The song 'Mephisto Waltz' on Collection II is actually not a Misfits song

Much has been said and written about the addition of this song on the '90s Caroline Records follow-up to the popular first collection of Misfits songs that came out in the '80s. This song was actually never recorded by the band and was only a rehearsal number. Hence, this version is believed to include Danzig on vocals, newly anointed bassist Eerie Von (who would play in post-Misfits bands Samhain and Danzig) doing the "woahs!" and an uncredited drummer.

Kevin Winter, Getty Images

Kevin Winter, Getty Images

Metallica and Guns N' Roses have both covered Misfits songs

Longtime Misfits worshippers Metallica covered the band's 'Die, Die My Darling' on their 1998 covers album 'Garage, Inc.' (Recently, Danzig fronted Metallica for a few choice Misfits cuts at the 2013 Revolver Golden Gods Awards.) Guns N' Roses also covered the Misfits' 'Attitude' on 1993's horrifically sub-par covers album 'The Spaghetti Incident?' We'd suggest listening to this on low in the background, whilst making spaghetti. It's not worth cranking up in the least.

Edward Gooch, Hulton Archive

Edward Gooch, Hulton Archive

Misfits shows were nothing short of uncontrollable melees

Picture the last live show you went to. All in all, it was a pretty tame affair. We'd imagine that even some of the toughest bands these days -- Metallica, Slipknot, Slayer -- probably keep their crazy fans more than several feet away, even in the front row. So when you see some of the grainy footage of the Misfits '80s shows, it shows you how nuts they used to be: guys jumping on stage, slam-dancing in the audience, Danzig going absolutely nuts. Note: If you listen to the 'Evilive' version of 'Horror Business,' you can hear Danzig threatening a fan … in the middle of the song. "One more f---ing time you a---hole, and you die!" he warns. One of our favorite moments in recorded music history.

Misfits records are major collectors items -- which command huge price tags at auction

Something that the Misfits understood from the get-go was how to treat their fans -- and how to grow their fan base. One of the things they did was start a fan club, aptly called the "Fiend Club," which sent out stickers, buttons and occasionally music. These records -- along with the band's "official" releases -- are incredibly valuable. Just go on eBay and do a search. You'll be astounded. (We're talking hundreds, if not thousands, of dollars for these things.)

The 'Legacy of Brutality' album is a sore point for the band

The reason for the bad blood is basically that Glenn Danzig went back and re-dubbed a lot of Jerry Only's bass parts, as well as quite a bit of the guitars. But if you've listened to the album a billion times like we have, you really can't hear any noticeable differences. It captures the greatness that is the Misfits and should be honored as such.

ChinaFotoPress, Getty Images

ChinaFotoPress, Getty Images

The band has never fully reunited since it broke up in 1983

It's not as though the band hasn't tried. Glenn Danzig has been performing anniversary shows for the past few years with Doyle. Jerry Only and Doyle put together a 'new' Misfits lineup in the mid-'90s, which eventually dissolved. But the 'classic' lineup has yet to let bygones be bygones (they were in court for many years fighting about a host of issues), strap on the leather, paint on the eyeshadow and kill it once again.