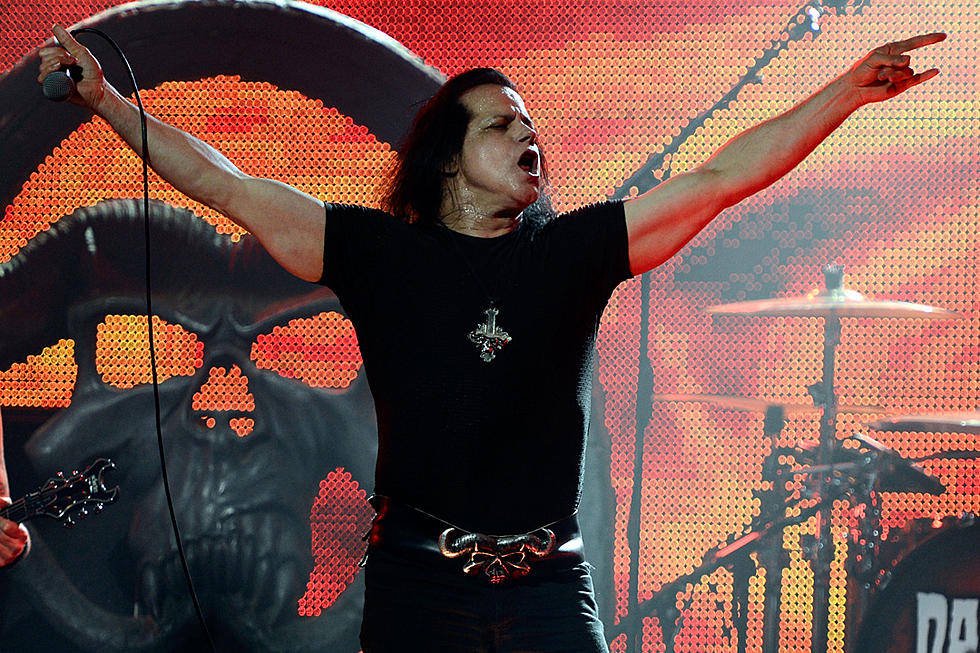 Watch the Original Misfits Give Their First Concert in 33 Years: Setlist + Video
Frazer Harrison, Getty Images
For the first time since 1983, three original members of the Misfits, singer Glenn Danzig, bassist Jerry Only and guitarist Doyle Wolfgang von Frankenstein took the stage together last night (Sept. 4). The occasion was the first installment of this year's Riot Fest tour, which was held at the National Western Complex Stadium Arena in Denver.
The video above was compiled from three separate Facebook live streaming feeds and contains the exntire concert except for "Astro Zombies." As you can see from the setlist below, eight of the 26 songs came from 1982's Walk Among Us, five were on 1983's Earth A.D./Wolfs Blood (1983) and seven first appeared on Static Age, which they recorded in 1978 but unreleased until 1997. Three others were on various compilations, while "London Dungeon" and "Horror Business" were on the 3 Hits From Hell and Beware EPs, respectively.
Filling in on drums -- the Misfits could never hold onto a drummer -- was Dave Lombardo of Slayer. "The Misfits created the horror punk attitude and had a massive influence on modern rock, punk and metal," Lombardo said last week. "It was an easy decision for me to join them for these monumental shows. I was honored to be asked, and am very excited to be playing with the band."
This reunion, where they're billing themselves as the Original Misfits, comes after years of feuding between Danzig and Only, which included a few rounds of litigation. The most recent was in 2014, when Danzig sued Only for a portion of the profits of Misfits mecrchandise -- Only had the rights to their logo as a result of a 1994 agreement. The case was thrown out of court a few months later.
The group will play again on Sept. 18 when Riot Fest takes over Douglas Park in Chicago.
The Misfits, Riot Fest Denver, Sept. 4, 2016 Setlist
1. "Death Comes Ripping"
2. "20 Eyes"
3. "I Turned Into a Martian"
4. "Where Eagles Dare"
5. "Mommy, Can I Go Out and Kill Tonight?"
6. "Vampira"
7. "All Hell Breaks Loose"
8. "Hybrid Moments"
9. "Teenagers From Mars"
10. "London Dungeon"
11. "Earth A.D."
12. "Green Hell"
13. "Devilock"
14. "Horror Business"
15. "We Are 138"
16. "Hollywood Babylon"
17. "Who Killed Marilyn"
18. "Halloween"
19. "Die, Die My Darling"
20. "Astro Zombies"
21. "Skulls"
22. "Last Caress"
23. "Bullet"
24. "Night of the Living Dead"
25. "She"
26. "Attitude"
25 Acts Who Should Be in the Rock and Roll Hall of Fame