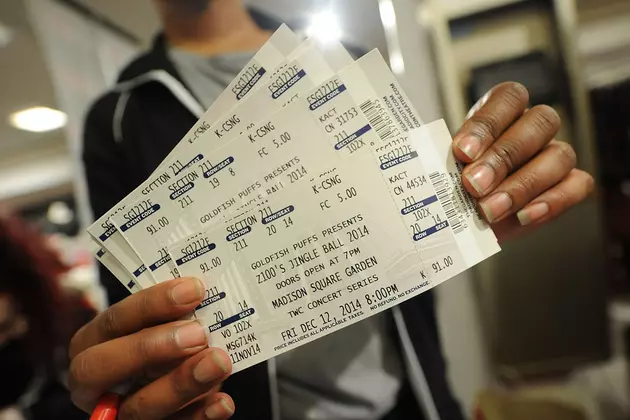 UPDATED With 450 Eligible Shows: Ticketmaster Issues Vouchers to Free Concerts in Lawsuit Settlement
Brad Barket, Getty Images
Three years after a class action lawsuit against Ticketmaster was settled, the corporate giants are finally paying up. Yesterday (June 18), they began issuing online vouchers for discounts and free shows to customers who bought tickets online between Oct. 21, 1999 and Feb. 27, 2013.
If you're a Ticketmaster customer, go to your online account page and click "Active Vouchers." That will allow you to see the full extent of your reward. Because the settlement was for $400 million and more than 50 million people signed on to the suit, the vouchers are worth only $2.25 each. As for the free tickets, naturally, there's a catch. As their website explains, "[t]hese 'free tickets' are available on a first-come, first-served basis and may not be available for redemption if others have claimed them before you." In addition, they are "redeemable for two tickets for General Admission seating at designated concert events at Live Nation owned or operated venues, subject to availability and limitations."
In other words, they'll tell you which shows you can see for free, and you may still get shut out if you're not quick enough. Also, since the venues are controlled by the same company that is giving away the tickets, there's still money to be made in the form of beverage sales. As of now, Ticketmaster hasn't finished the list of which shows the vouchers will be good for, which we hope will be ready before the three-year expiration date.
According to the website for the lawsuit, Schlesinger v. Ticketmaster alleged that "Ticketmaster's description of its fees is deceptive and suggests that the fee for UPS delivery of tickets is a pass-through of the amount that UPS charged Ticketmaster for that delivery. Plaintiffs also claim that Ticketmaster's description of its fees caused customers to believe its Order Processing Fee ("OPF") was based on or related to Ticketmaster's costs in processing orders, but was not based on those costs and was actually a profit generator which Ticketmaster required customers to pay."
The suit was filed in October 2003 with a settlement agreement reached 10 years later. As is often the case with such settlements, Ticketmaster did not "in any way acknowledge, admit to or concede any of the allegations made in the Complaints, and expressly disclaims and denies any fault or liability, or any charges of wrongdoing that have been or could have been asserted in the Action."
2016 Summer Music Festival Guide