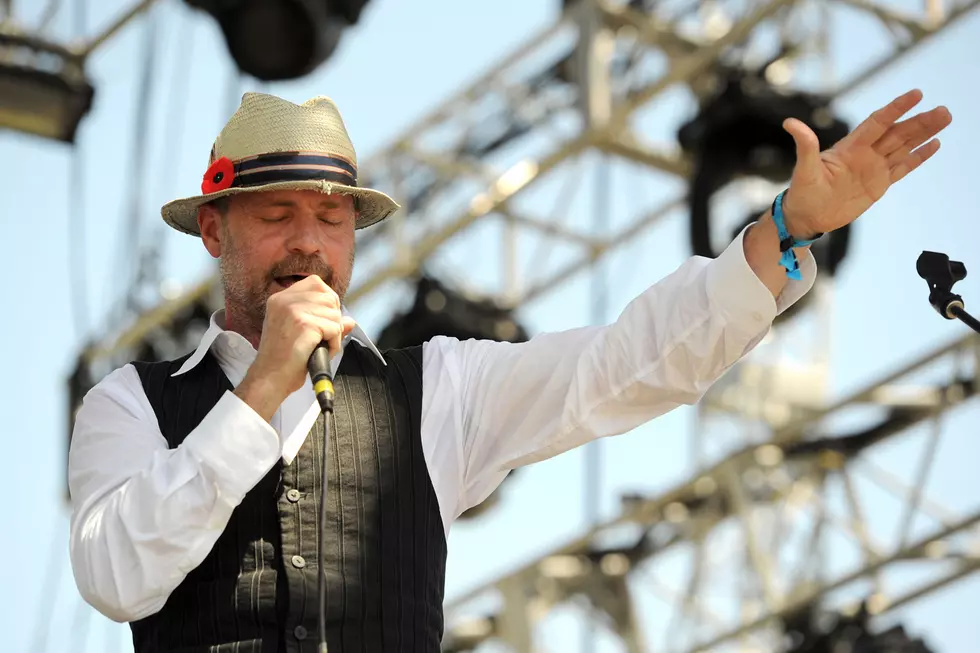 The Tragically Hip's Gord Downie Dies at 53
Frazer Harrison, Getty Images
Downie, frontman for one of Canada's most popular bands, was diagnosed with terminal brain cancer last year. That didn't stop him from continuing to tour with the band, or releasing his Polaris Prize-winning album Secret Path. Just last month, Downie had announced a new solo double album, Introduce Yerself, set for release later this month.
"Last night Gord quietly passed away with his beloved children and family close by," his family said in a statement this morning, which you can read in full below.
In May 2016, the band announced Downie's diagnosis of glioblastoma, which he discovered following a seizure in late 2015. The brain tumor had responded well to chemotherapy and radiation, but it was not curable, they said. "Gord knew this day was coming – his response was to spend this precious time as he always had – making music, making memories and expressing deep gratitude to his family and friends for a life well lived, often sealing it with a kiss… on the lips," his family said in their statement.
Downie continued to tour with the band behind Man Machine Poem, their 14th studio album, until Aug. 20, when they performed their final show at the Rogers K-Rock Centre in Kingston, an emotional scene that was broadcast live by the CBC. Hundreds of public screenings were held, with an estimated that 11.7 million people tuning in. The album reached No. 1 on the Billboard Canadian charts.
At the show, they were also honored by longtime fan, Canadian Prime Minister Justin Trudeau. "There will never be another like you, Gord. Rest in peace my friend," Trudeau tweeted this morning. "Canada's identity & culture are richer for Gord Downie's work."
"Gord said he had lived many lives. As a musician, he lived 'the life' for over 30 years, lucky to do most of it with his high school buddies. At home, he worked just as tirelessly at being a good father, son, brother, husband and friend. No one worked harder on every part of their life than Gord. No one," his family said.
He also spent the last part of his life raising money for cancer research and advocating for the rights of Canada's indigenous people.
Downie, who as the primary lyricist for the band, was dubbed the country's unofficial poet laureate by the CBC, was a founding member of the Tragically Hip. The band formed in Kingston, Ontario in 1984, where Downie met Rob Baker, Johnny Fay, Davis Manning and Gord Sinclair at the Kingston Collegiate and Vocational Institute. In 1986, Manning left and Paul Langlois joined.
They took their name from the Michael Nesmith movie Elephant Parts. In 1987, the band released their self-titled debut, which started the career of a group that ultimately sold more than eight million records and won 16 June Awards.
Downie released his first of five solo albums, Coke Album Glow, in 2001, along with a book of poetry of the same name.
You can read his family's full statement below:
Last night Gord quietly passed away with his beloved children and family close by.

Gord knew this day was coming – his response was to spend this precious time as he always had – making music, making memories and expressing deep gratitude to his family and friends for a life well lived, often sealing it with a kiss… on the lips.

Gord said he had lived many lives. As a musician, he lived "the life" for over 30 years, lucky to do most of it with his high school buddies. At home, he worked just as tirelessly at being a good father, son, brother, husband and friend. No one worked harder on every part of their life than Gord. No one.

We would like to thank all the kind folks at KGH and Sunnybrook, Gord's bandmates, management team, friends and fans. Thank you for all the help and support over the past two years.

Thank you everyone for all the respect, admiration and love you have given Gord throughout the years – those tender offerings touched his heart and he takes them with him now as he walks among the stars.

Love you forever Gord.

The Downie Family
Rocker Deaths: Artists We've Lost in 2017