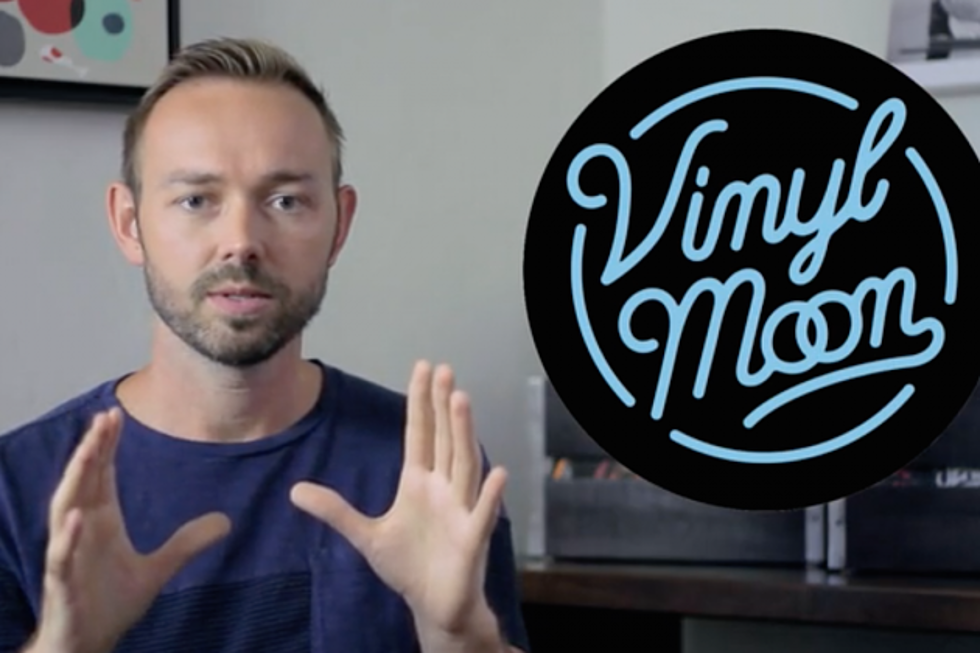 Vinyl Moon: The New Subscription Service That Presses Mixtapes to Vinyl
Kickstarter
Music subscription services are nothing new, of course, but with the vinyl revival tweaking consumer interest, the slow rebirth of subscription services has followed, albeit on the same niche level. For the populists, listeners can use VNYL to choose their own "vibe" before receiving three LPs that suit it; for the epicureans, Vinyl Me, Please offers a record a month for $23 to $27, and pairs it with an art print and a cocktail recipe.
Vinyl Moon takes that artisan attitude one step further by actually curating a mix of songs and then pressing that mix on colored vinyl, packaging it with intricate, exclusive art by hot illustrators and designers, and sending out these mix-LPs to subscribers every month.
Each edition features around 10 tracks by new artists and subscription costs $25 a month. The first, already sold out, is limited to 500 copies -- the second, also sold out, to 600; the third, also sold out, to 700; and so forth. (Volume four, which is still in the planning stages, is not sold out.) "It's like a surprise birthday party except that it happens every month and the people that show up are your future best friends," Vinyl Moon writes on their Kickstarter page.
Vinyl Moon hasn't officially launched yet -- volume one is in the final pressing stages -- but they have raised over $18,000 on Kickstarter. That's $8,000 over their original goal, and they say it will allow them to operate at a reliable level for the foreseeable future.
Clearly, the success of the venture hinges on how much subscribers trust the curatorial instincts behind each monthly mix. For the past six years, founder Brandon Bogajewicz has run the music blog The Burning Ear, and he says listeners who follow the blog will have a pretty good idea of what to expect with the Vinyl Moon mixes (generally, "indie rock, alt-pop, dance, and chillwave," with a little hip hop and folk sprinkled in).
But Bogjewicz is less experienced in working with visual artists, and it's clear he considers the visual presentation of each volume to be key to the project's success. "The artwork is a completely new world for me," he says. "With a compilation, you have sort of a blank slate for what the artwork can be, so I thought I'd go and find some great visual artists, the same way I go look for bands, and give them the opportunity to create something really cool.
"But it's a very different task. With music, the song is already created, and I'm saying, 'Hey, do you want to use this already finished project for Vinyl Moon?' But for artists, it's collaborating to create something from scratch.
"I have really high standards for what I want these art experiences to be -- really tactile experiences [like] embossing, die-cuts, scratch and sniff, different inks and papers, so when you hold it in your hand, you say, 'This isn't just an enlarged print-out of a 2D design.' It's been much more engaging and challenging than I thought, but also rewarding. I hope people see that this is cool -- that's it's fun to hold it."
The project is also an opportunity for Bogjewicz, who enjoys his role as a curator, to work with a format that's more conducive to actually getting people to listen. "In the digital world, it's easy to dismiss things," he says. "With vinyl, you're sort of forcing yourself to have a bit more of an open mind."
Bogjewicz started thinking about Vinyl Moon last summer, and in November, quit his job at Roll Call Records to dedicate himself full time to building it up. For him, it's a more of personal gamble than running a blog, but one with potentially greater rewards.
"I'm coming from a place with the Burning Ear of just putting music out there and having small stakes -- if people like it, that's great, if they don't like it, they can move on," he says.
"Once you start selling a product and people are giving their hard-earned money for it, you enter into a world of customer service and customer interactions that can be totally different. That's new for me. I'm studying a lot of my peers. And I want to make it a real priority of making sure that people are happy with what they get."