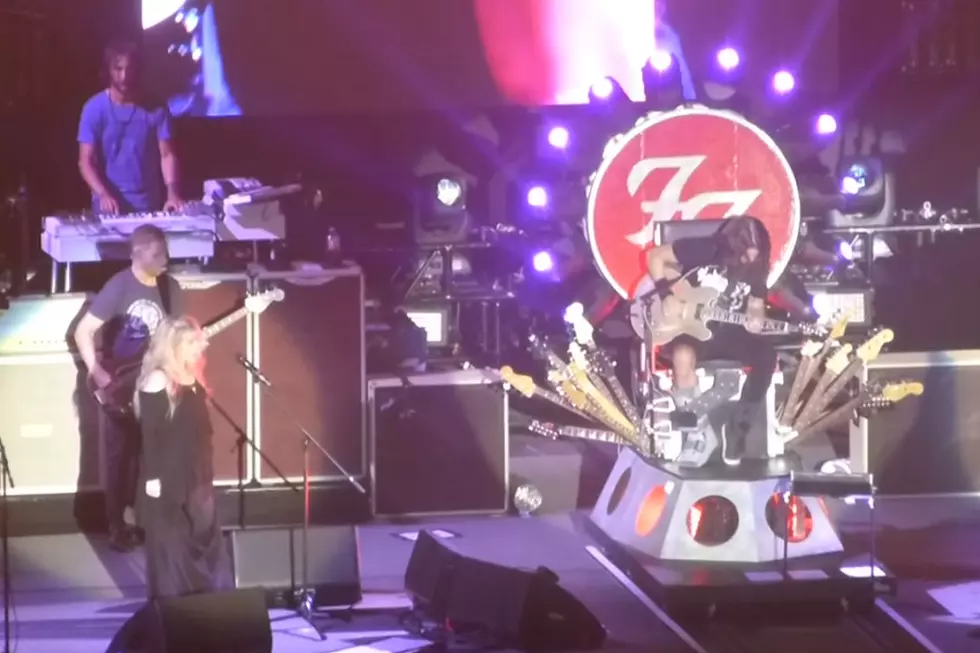 Watch Foo Fighters Team Up With Stevie Nicks + Haim to Cover Tom Petty + Fleetwood Mac
YouTube
Last night (Sept. 21), Foo Fighters kicked off the first of their two-night run at the Forum in L.A., and they did so in memorable fashion when they brought out Stevie Nicks and Haim.
Together, they treated concertgoers to a cover of Nicks and Tom Petty's 1981 collaboration, "Stop Draggin' My Heart Around" (see above). For their second song, Dave Grohl addressed the crowd, "Ladies and gentlemen, look, I don't want to leave until we at least do this." Then, the Foos, Nicks and the Haim sisters launched into Fleetwood Mac's "Gold Dust Woman," which you can watch in the fan-made clip below:
Haim tweeted about the experience, writing that they "died on stage." Likewise, they revealed Nicks lent them a "magical scarf," which Alana Haim sported on stage.
This isn't the first, in Grohl's words, "super-duper-group" the Foo Fighters have formed while on their Sonic Highways tour. In England, Grohl and company were joined by Queen's Roger Taylor and Led Zeppelin's John Paul Jones.
Foo Fighters will play the Forum again tonight. Then, they have more U.S. dates scheduled through next month, culminating with an appearance at 2015 Love Ride in Castaic, Calif., on Oct. 18. Check out all of their stops in-between at the band's website.