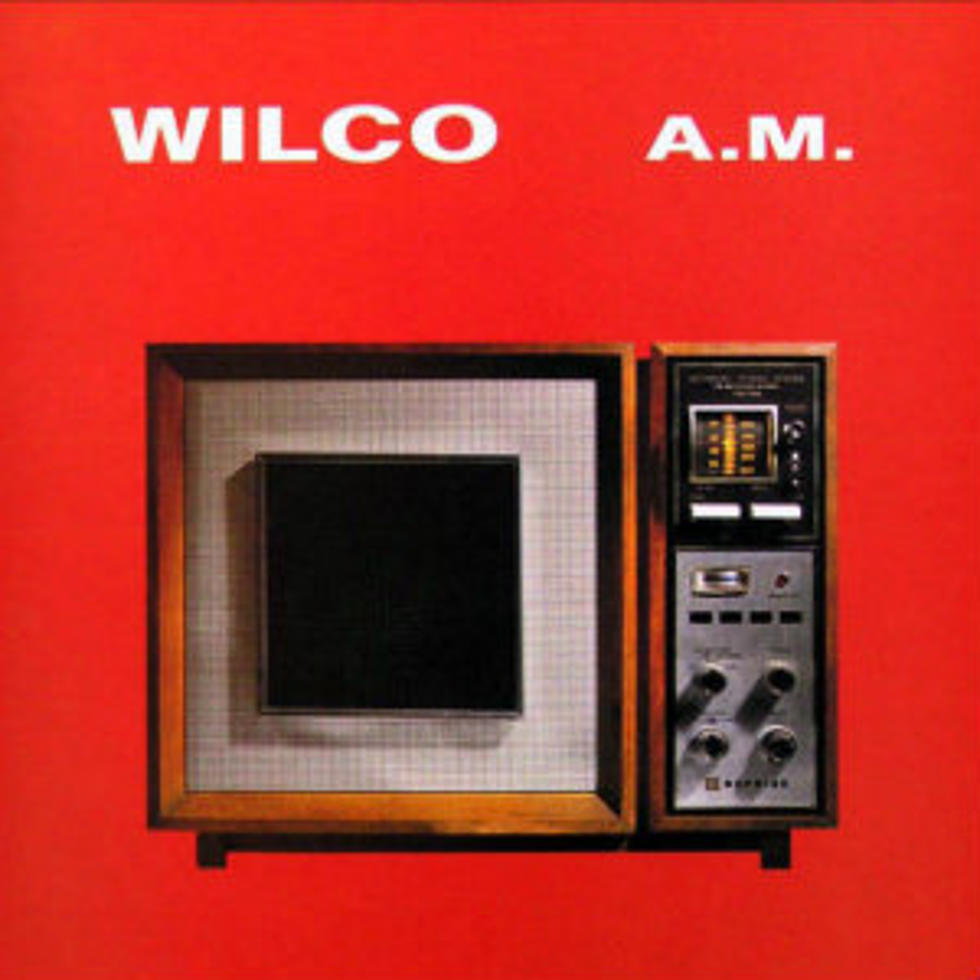 21 Years Ago: Wilco Debut With 'A.M.' and Begin Two Decades Of Blowing Minds
Sire
When heartland Americana legends Uncle Tupelo melted down in 1994 due to tensions between co-leaders Jeff Tweedy and Jay Farrar, it was the soul-stomping, bitter divorce that shook the No Depression nation. Who was going to carry the flag for masses of college rockers whose record collections had as much Hank Williams and Carter Family in them as Minutemen and Black Flag? Who would pen the ragged lunch bucket ballads that fueled all those beer-soaked nights at sticky-floored Midwestern rock clubs?
Most importantly, which high and lonesome singer would you go with? Would it be Farrar, whose growly, echoing rumble gave the whole back-to-the-basics early 1990s movement its reluctant leading light? Or would it be his former collaborator Tweedy, Uncle Tupelo's yearning co-vocalist and guitarist whose innocence balanced out the world-weariness in Farrar's haunted vocals?
Tweedy made the choice somewhat easier for fans when he snagged most of Uncle Tupelo's late-period line-up (plus Bottlerockets member Brian Henneman), hopping into the studio just two months after UT's breakup to start work on the debut from his new band, Wilco. While Tweedy was building his sound, Farrar hooked up with Jim and Dave Boquist and former UT drummer Mike Heidorn to form his own side project, Son Volt, and began recording their debut in late 1994.
The race was on, with both artists eager to stretch out on their own and pursue their visions without distraction. Working with former Uncle Tupelo bandmates bassist John Stirratt,multi-instrumentalist Max Johnston and drummer Ken Coomer, Tweedy cooked up a demo tape that landed Wilco a deal with Warner Bros. subsidiary Reprise Records. After kicking off a movement that would influence everyone from Whiskeytown to Drive-By Truckers and, much later, Band of Horses, if Tweedy felt pressure to live up the legend of Uncle Tupelo, he didn't show it.
While Farrar had taken the lead on some of UT's best-known songs ("No Depression," "Whiskey Bottle," "Effigy," "Chickamauga"), Tweedy was more than up to the task on Wilco's debut, A.M., released March 28, 1995 – a good six months after Wilco had hit the road to work the songs out live. And if fans were looking for a continuation of the pedal steel and dorbro-fied "y'alternative" sound pioneered by UT, they got it in spades on A.M., too. But they also got a slight glimpse of the magical mystery ride that Tweedy and co. would take them on for the next two decades.
From the first strum and twang of "I Must Be High" to the more fiddle-rocking "Casino Queen," the album was of a piece with the Uncle Tupelo catalog, with just a hint of the more accessible pop swing that would soon become a hallmark of Wilco's persona. Gone was the perennially dark cloud that hung over much of UT's music, and in were bashing drums and cowbells, exuberant multi-part harmonies and, on "Box Full of Letters," a power pop swing that brings to mind Big Star as much as Jason and the Scorchers.
With the fuzzed-out Neil Young-edge guitars on "Should Be Ashamed" and the deceptively twisty lyric of the acoustic ballad "Pick Up the Change," Tweedy subtly sent notice that he had a lot more on his mind than drinking and wandering. "Change," with its tale of a complicated love that crosses over from infatuation to a kind of symbiosis that's either perfect or a bit too much is a hint of the dark lyrical mastery that Tweedy would start to unveil on 1996's two-disc masterpiece Being There and then fully explore on 1999's classic Summerteeth.
On the cryptically enticing "I Thought I Held You," Tweedy sings, "You're like a moon that's full / Across a sea of foam / I'm the sky you've been burning," wondering if love was even real over sighing pedal steel and plucked banjo. The naturalistic lyrics and love-as-musical-metaphor simplicity of the spare ballad pointed to another strength that would cement Wilco's place as one of the greatest American rock bands of the past 20 years.
Just as they would on the two Mermaid Avenue album collaborations with British folk singer Billy Bragg (on which the unlikely combo revived and reimagined previously unrecorded lyrics by American folk icon Woody Guthrie), on "Held You," Tweedy proved adept at painting vivid word pictures with spare, evocative lyrics that intrigued, but didn't give the whole story away.
Sure, elsewhere on the album there are some comfort food bluegrass rambles about cheatin' hearts ("That's Not The Issue"), a sad-eyed country weeper ("It's Just That Simple") with a rare lead vocal from someone other than Tweedy (Stirratt), and a spare, moody acoustic tone poem ("Dash 7"). But Tweedy also hints that the future is wide open on one of the album's best and brightest moments, "Passenger Side."
A seemingly by-the-numbers road song, the slowly building tale of a guy who hates riding shotgun because the driver is falling asleep and can't be trusted turns out to be about much, much more than drowsy late-night swerving. Half-way through, with the lines "Should've been the driver, could've been the one/I should've been your lover, but I hadn't seen," Tweedy subtly flips the script and makes you realize it's not just about who's sober enough to take the wheel.  He sounds like he's wondering about the one he wants riding shotgun with him forever (or for now, anyway) and teasing out the power dynamics of taking the lead in love as opposed to being led.
It's in that seemingly throwaway couplet that you get a peek at the future slack poet laureate of American rock that Tweedy would become on such masterpieces as 2001's Yankee Hotel Foxtrot and 2004's A Ghost is Born. He roped you in with a touch of the familiar, but even amid the banjos and slick slide guitar solos, Tweedy clearly had his eye on a much weirder, knottier poetic prize – one that he's still not done reaching for.
Worst to First: Every Wilco Album Ranked