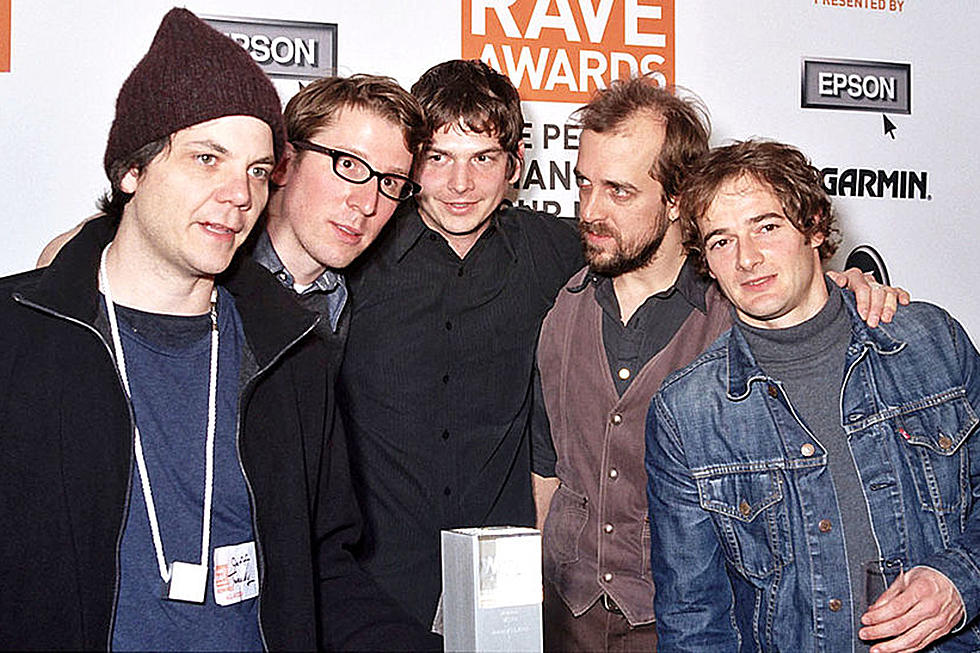 15 Years Ago: Wilco Buy Their Freedom From Reprise Records
Thomas J. Gibbons, Stringer
While Wilco's Yankee Hotel Foxtrot is generally seen as one of the group's most thrilling and daring albums, its eventual release in April 2002 capped off a tumultuous period for the band that actually dated back to the making of 1999's Summerteeth.
At that time, Wilco's label, Reprise, was betting big on the band. The group had made some impressive in-roads with their double-album opus Being There in the two years prior, and the label was eager to see that momentum continue.
Wilco were adrift on their own artistic sea, however. While the group was overjoyed at the lack of record company intervention during the recording process of the sonically adventurous Summerteeth, not everyone at Reprise was thrilled with the end result.
The label was under pressure to deliver a hit, the result of $16 billion in debt that the highly-publicized 1989 merger between Time Inc. and Warner Bros, Reprise's parent company, had introduced. Shareholders in Time Warner didn't necessarily care about artistic merit and accolades. They wanted a million-seller.
As noted in Greg Kot's 2004 Wilco biography Learning How to Die, the head of Reprise's radio promotion, after hearing Summerteeth, implored the group to cut a radio-friendly single, telling a product manager at the label they saw Wilco as being the next Wallflowers.
Wilco eventually acquiesced to the label's request, cutting the song "Can't Stand It," as a late addition to the record. It was all for naught, however, as the label didn't promote the song at radio as they had promised. Not only was Summerteeth not the platinum-seller Reprise wanted, it sold fewer copies than Being There.
Fast-forward to the turn of the century. If Wilco thought the odds were stacked against them with Summerteeth, their intuitions were confirmed with Yankee Hotel Foxtrot, an ambitious, experimental album that took the group to a new creative plain.
In a 2010 interview with Rolling Stone, Wilco's Jeff Tweedy said that during the mixing phase of Yankee Hotel Foxtrot, the band began hearing through the grapevine that Reprise executives were not impressed with what they were hearing from the group.
"We mixed six songs, kind of quietly, working with [producer] Jim [O'Rourke] in this little studio in Chicago. The response we got was they didn't like it. And the only specific direction I heard through the grapevine - I never had a direct dialogue with anybody - was they said the vocals were 'masked.' I could not figure out what that meant."
The label's ambiguity about the record that Wilco delivered them didn't end there. "[T]he implication [from the label was] that it needed work," Tweedy said. "And nobody was saying what that [work] might be. And before they had a chance to, we said, 'It's really done. This is what we are contracted to do, to deliver a record. And here it is. This is our record.'"
After it became clear that Wilco were standing their ground, and were unwilling to compromise the artistic vision featured on the album, Tweedy admits that what happened next stunned even him.
"[O]ut of the blue, it was like, 'Well, if you guys aren't willing to make some changes, then we should talk about you leaving.' Leaving? We can do that? That was my response to Tony [Margherita, Wilco's manager]. 'Leaving? Okay!' And they were deadly serious about it."
In the midst of negotiating their exit from the label, Wilco's lawyer suggested a relatively inexpensive buyout for the band. For the sum of $50,000, Wilco would exit Reprise.
"After they accepted the $50,000 deal, we were happy," Wilco manager Tony Margherita says in Learning How to Die. "Right in the final stages of that, they called us up and said, 'How about we give it [Yankee Hotel Foxtrot] to you for free?' The whole thing was like this insane dream."
The severing of ties was reported by Kot, at the Chicago Tribune on Aug. 15, 2001. As soon as word got out, they were weighing offers from reportedly more than 30 labels, all of whom were eager to give the record a home, including indie and boutique companies through major labels.
"I like the idea of owning our records," Tweedy told Kot at the time. "It's embarrassing to see how many offers we've gotten in the last few weeks. It's exciting, and it makes me feel we can do something unprecedented without compromising our music. The world is a lot different place now than when we first signed our deal with Reprise. Back then, it didn't seem possible to do something like this. But now I believe our efforts to be self-sufficient are completely realizable."
As low-quality MP3s of the still-unreleased album began to appear on file-sharing services, Wilco took the step of streaming Yankee Hotel Foxtrot on their website, a virtually unheard of measure in a time of dial-up internet connections.
In December 2001, Wilco confirmed they had signed with Nonesuch, which would be releasing Yankee Hotel Foxtrot in 2002. While securing a release for the Reprise-rejected album was a sweet victory, there was also a healthy dose of karma involved for Warner.
Nonesuch was a famously artist-friendly label, which, somewhat serendipitously, happened to be owned by Warner Brothers. In effect, the label had paid for Yankee Hotel Foxtrot twice. Tweedy summed up the situation best in Learning How to Die:
"It's a bit of a rock and roll swindle."
Not surprisingly, the label kerfuffle and publicity afforded to the group leading up to the April 2002 release of Yankee Hotel Foxtrot helped the album become Wilco's best-selling effort.
Every Wilco Album Ranked in Order of Awesomeness