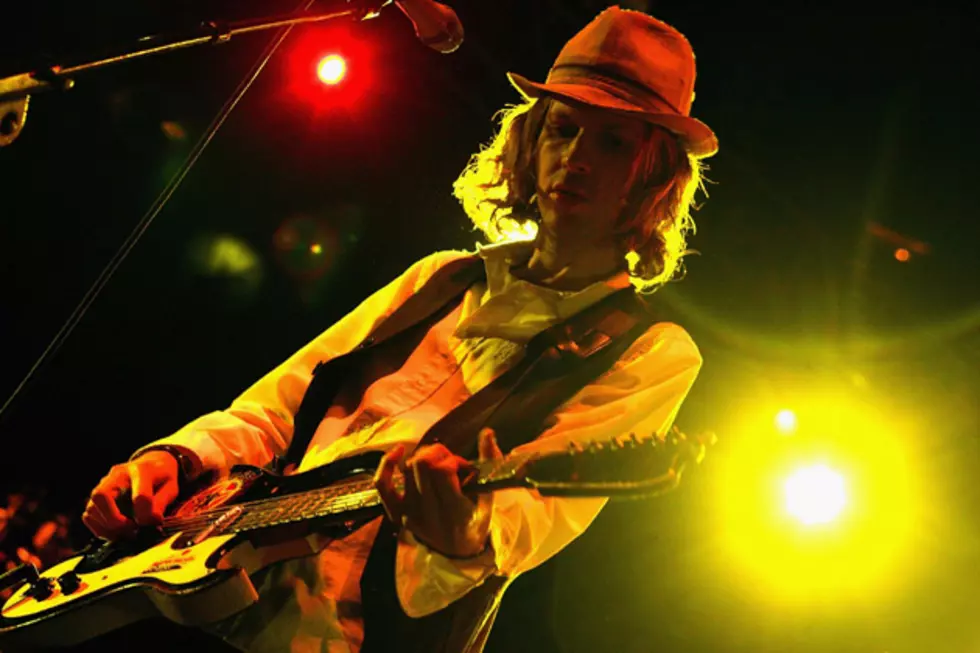 10 Things You Didn't Know About Beck
Karl Walter, Getty Images
You probably know Beck is the mastermind behind the 1994 smash 'Loser.' But do you know what he's got to do with Kool Keith, Tom Petty and a bunch of Portland cellists? This dude's life and career have long been filled with intrigue, and even if you're a fan, there's plenty you may have missed. Catch up on some trivia with this list of 10 Things You Didn't Know About Beck.
Leo Vals/Hulton Archive/Getty Images

Leo Vals/Hulton Archive/Getty Images

He breakdanced his way toward acceptance

While Beck is known as a singer-songwriter with an experimental alt-folk sound, he was a big fan of Grandmaster Flash in the early '80s. And because he was the only white kid in school and looking for an outlet to fit in, he picked up breakdancing. To this day, he's been known to bust moves at his live shows.

George Marks/Hulton Archive/Getty Images

George Marks/Hulton Archive/Getty Images

His first gigs were on buses

Feeling out of place in school, Beck dropped out in the ninth grade to focus on music. Being so young, he couldn't book club dates, so he'd hop on mass transit and serenade fellow passengers. "I'd get on the bus and start playing Mississippi John Hurt with totally improvised lyrics," he told Rolling Stone. "Some drunk would start yelling at me, calling me Axl Rose. So I'd start singing about Axl Rose and the levee and bus passes and strychnine, mixing the whole thing up."

When Beck released 'Song Reader,' the 20-song collection of sheet music was quickly picked up and performed by musicians all over the globe. The Portland Cello Project, known for covering non-classical artists ranging from Kanye West to Pantera, not only performed the music at three shows at the Aladdin Theatre in Portland, Ore. but they also recorded it for their own album.

Bryan Bedder, Getty Images

Bryan Bedder, Getty Images

He and Kool Keith almost blew our minds

For his sixth album, 'Midnite Vultures,' Beck invited a number of artists into the studio to help out, including Johnny Marr, Beth Orton and the Dust Brothers. A collaboration with Kool Keith called 'California Rodeo' was meant to be on the record, but unfortunately, it didn't make it. Instead, fans got 'Hollywood Freaks,' which features Beck imitating Keith's voice.

The dudes behind 'Ghetto Malfunction' got screwed

Given how eccentric Beck is, it wasn't too surprising he wanted to work with a local Los Angeles band to remix tracks for his 'Hell Yes EP.' He approached 8-bit, who dress like robots and do their own version of rap music, to remix 'Hell Yes,' and after series of emails with Interscope, the band worked on the track without realizing Beck would actually use it. Not only did he use it, but the song, renamed 'Ghetto Malfunction,' blew up on indie radio. Unfortunately, 8-Bit never signed a contract to collect royalties or even get the credit. The label reportedly paid them $2,000.

Jason Merritt, Getty Images

Jason Merritt, Getty Images

When Tom Petty and the Heartbreakers recorded and released the soundtrack for the 1996 film 'She's the One,' starring Jennifer Aniston and Cameron Diaz, Petty included a cover of Beck's 'Asshole.'

Alberto E. Rodriguez, Getty Images

Alberto E. Rodriguez, Getty Images

He still gets 'Silk'-y on the mic

The last time we heard Beck really rap was on 1994's 'Mellow Gold.' However, the 43-year-old artist showed off his skills on the mic when he worked with Childish Gambino, better known as Donald Glover, who plays Troy on 'Community.' 'Silk Pillow' opens with Beck spitting rhymes with the same conviction he did in the '90s. "Centrifugal force pulling me off-course, in a horse race / Changing horses midstream, fourteenth place / I'll videotape surveillance playback / Sigh you lose face, disgraced, God forbid you," he raps.

Frank Micelotta, Getty Images

Frank Micelotta, Getty Images

He almost kicked it indie

Well aware of how his eccentricities might strike corporate types, Beck was initially hesitant to sign a major-label deal. He's said in interviews that 'Loser' was just a fun song he worked on in 1991, and that he had his mind set on steering clear of the big leagues and working solely on projects that interested him. Eventually, he had no choice. By the time he wanted to release 'Mellow Gold,' 'Loser' had become a hit, and all the indie labels thought he was too big for them.

Jonathan Wood, Getty Images

Jonathan Wood, Getty Images

We should thank him for Phoenix

After winning their first Grammy for Best Alternative Album for 'Wolfgang Amadeus Phoenix' in 2010, Phoenix singer Thomas Mars claimed that seeing Beck perform 'Where It's At' on the awards show in 1997 had a profound effect on him musically. "I remember seeing Beck on there when I was growing up and thinking how he was just a totally fresh thing. He was both a great songwriter and he would bring that element of spectacle to the Grammys," he told Pitchfork.

'Sea Change' is autobiographical

In 1999, when Beck learned that Leigh Limon, his girlfriend of nine years, had been cheating on him with a member of Whiskey Biscuit, the news threw him into a period of sadness and isolation. He wrote the 12 songs that would become 'Sea Change' in a week, but then he shelved them, not wanting to get too personal with his music. Ultimately, he came to view the entire unhappy episode as an experience others might relate to, and he finally released the tunes in 2002.