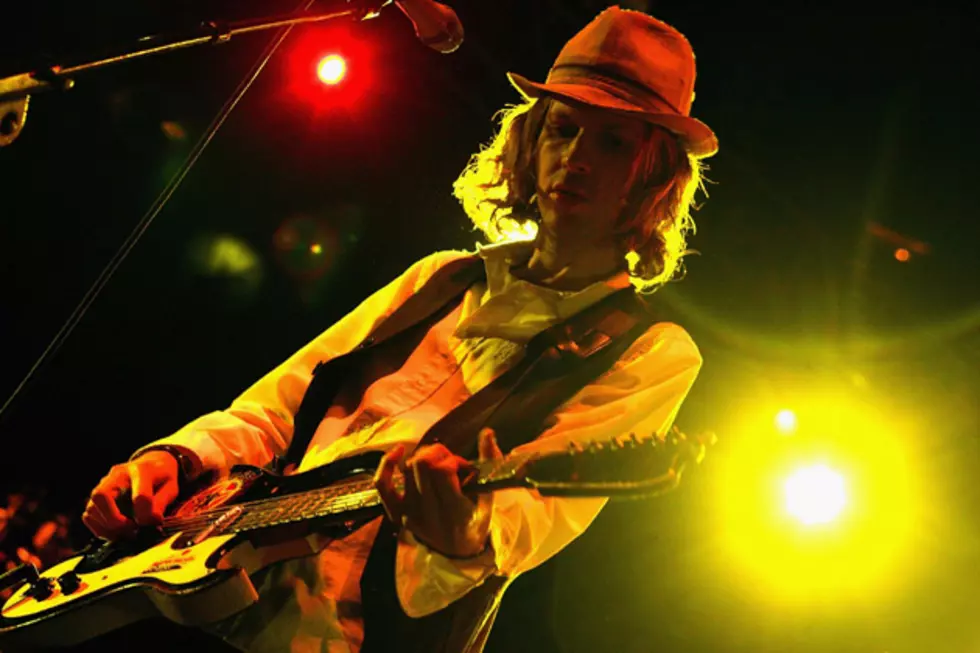 Tracing 20 Years of Beck's Musical Adventures
Karl Walter, Getty Images
Now that you've had some time to take in Beck's latest album, 'Morning Phase,' it becomes obvious, once again, that the singer and songwriter is one of the most restless artists on the planet.
Over the course of his 20-plus-year career, Beck has dabbled in hip-hop, folk, alternative, rock, country, psychedelia, soul, funk and many other styles of music. He's continually pushed the boundaries of his work to blend, fuse and experiment with each style and compose a catalog of records that stands among the most distinguished of the past two decades.
Still, when you listen to his stretch of albums from beginning to end, there's no continual flow from one to another. Instead, Beck takes us to different phases and stages with each release. From 'Mellow Gold' and 'Odelay' to 'Sea Change' and 'Morning Phase,' he's expanded his audience while expanding his own definition of genre limits.
Before the release of his major-label debut in 1994, 'Mellow Gold,' Beck put out two albums independently: 1993's 'Golden Feelings' and the following year's 'Stereopathetic Soulmanure.' Both records were homemade cassettes that Beck passed around to anyone who would listen, but they're the crucial first pieces of his timeless catalog. From the start, he clearly liked to experiment with different styles of music. 'Golden Feelings' is loaded with straightforward acoustic songs and mashed-up lo-fi noise samplings. On the other hand, 'Stereopathetic Soulmanure' combines old-style country, greasy funk and a bit of anti-folk. They both serve as perfect intros to what was brewing in Beck's busy head.

'Loser' Makes Beck a Winner

For most fans, 'Loser' was an introduction to Beck. But despite its tossed-together sound, the song was actually part of a long, drawn-out process. Beck wasn't even a fan of 'Loser' at first, but his producer talked him into it, and the song's underground success led to a major-label record deal. And it gave indie-rock fans a taste of hip-hop style they could rally behind. The song's stream-of-conscious lyrics and laid-back groove resonated with listeners, securing Beck's place in music history.

'Odelay' Proves He's No One-Hit Wonder

After the success of 'Loser,' many fans thought Beck would never be heard from again. But he teamed up with the Dust Brothers production team and followed up with an even greater album, 1996's 'Odelay.' The producers built their rep on the Beastie Boys' landmark 'Paul's Boutique' album, and they applied a similar sampledelic extravaganza on 'Odelay.' Alongside hip-hop-leaning tracks like 'Where It's At,' more quirky fare like 'The New Pollution' and 'Deadweight' kept the party moving.

Trying on the Tropicalia Hat for 'Mutations'

'Mutations,' which was released in 1998, moved away from the bells and whistles of 'Odelay' and headed straight for singer-songwriter territory . . . with a twist. Working with Radiohead producer Nigel Godrich, Beck infused tracks like 'Tropicalia' and 'Cold Brains' with Brazilian rhythms and softer tones. And songs like 'Nobody's Fault but My Own' revealed a more somber side to the artist, giving the world its first glimpse of a maturing, serious and still restless singer-songwriter.

'Sea Change' Reveals Beck's Vulnerability

Even though Beck returned to psychedelic-shaded dance pop on 1999's 'Midnite Vultures,' he dipped back into the singer-songwriter phase for 2002's 'Sea Change.' Widely known as the Beck breakup album, the record is a beautifully crafted song cycle (with help from producer Nigel Goodrich again) featuring such great cuts as 'Lost Cause,' 'Round the Bend' and 'Already Dead.' Each one gives you a sense of the pain that Beck was going through at the end of a nine-year relationship.

Dust Brothers Reunion on 'Guero'

Three years after 'Sea Change,' Beck reunited with the Dust Brothers to make 'Guero.' Featuring a sampling of hip-hop, rock and a whole lot more, 'Guero' was a refreshingly breezy break from the heaviness of recent records (see radio-friendly songs like 'Girl' and 'Hell Yes'). Beck seemed to have so much fun with this album that he released a set of remixes (called 'Guerlito') soon after it came out.

In 2006, Beck released the digital-psychedelic album 'The Information,' but two years later he returned to his alternative folk side with 'Modern Guilt.' Teaming up with producer Danger Mouse, Beck focused on hip-hop-laced beats, electric riffs and some acoustic guitar for texture. While the record was well-received, it wasn't the experimental leap that some fans were hoping for. But songs like 'Gamma Ray' and 'Orphan,' which features Cat Power on vocals, are among his best from the era.

A Little Bit of Classical Glass

In 2012, Beck took part in 'Rework -- Philip Glass Remixed,' a project honoring the modern classical composer's 75th birthday. In addition to being a curator for the project, Beck flexed his production skills and pieced together about 20 of Glass' compositions for '73 - 78 (Beck Remix),' a 21-minute track that showed just how far Beck can flip the script on an otherwise traditional genre.

Beck is best known for his work in front of a mic, but he's also lent his hand in the production and writing department over the years. In addition to remixing Philip Glass (see above), Beck has produced indie-rock heroes and peers like Sonic Youth's Thurston Moore, Stephen Malkmus and the Jicks and Jamie Lidell. He also worked with Charlotte Gainsbourg on her 2009 album 'IRM,' not only producing but also composing the music and co-writing lyrics. He's even featured on the single 'Heaven Can Wait.'

'Morning Phase' Shows Growth With a Look Back

While 'Morning Phase' is cut from the same pensive singer-songwriter cloth as 'Sea Change,' there's more of an ethereal factor to the songs this time around. On 'Sea Change,' he sounded like a man who just crawled out from the wreckage of a particularly hard breakup; on 'Morning Phase,' he's hopeful. The sonic layers and orchestral parts that run throughout the record give 'Morning Phase' a calming, uplifting vibe that recalls 1970s Laurel Canyon singer-songwriters in the best ways possible.