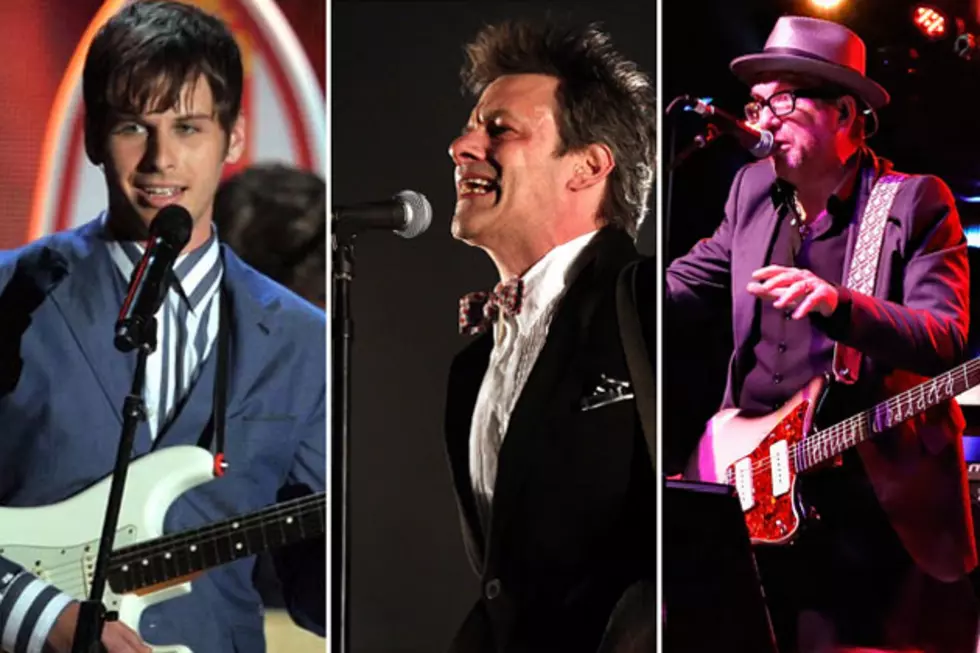 Bumbershoot 2014 Lineup Revealed
Kevin Winter / Katie Stratton / Cindy Ord, Getty Images
Seattle's annual Bumbershoot music festival has just announced its 2014 lineup, and it's stacked with killer names. With so many festivals these days, the list of topnotch artists performing is usually the make-or-break thing that helps fans decide if ticket and trip costs are worth the time and money.
Here's a breakdown of the day-by-day schedule of the three-day event, which takes place at the Seattle Center over Labor Day weekend:
SATURDAY, AUG. 30
Wu-Tang Clan, Elvis Costello and the Imposters, Panic! At the Disco, the Afghan Whigs, the Both, Walk the Moon, G-Easy, Bobby Womack, Danny Brown, Polica, Mac DeMarco, Big Freedia, SZA, Yuna, the Lonely Forest, Gregory Porter, Sam Lachow, Shelby Earl, Youngblood Hawke, RA Scion, Donnie & Joe Emerson, Fly Moon Royalty, Grayskul, Tomo Nakayama, Iska Dhaaf, McTuff, Naomi Wachira, Evan Flory Barnes + Infinity Upright!, Cataldo, Cumulus, Dude York, Modern Kin, Otieno Terry.
SUNDAY, AUG. 31
The Replacements, the Head and the Heart, Schoolboy Q, Los Lobos, Bootsy Collins, the Dismemberment Plan, Luscious Jackson, Pickwick, Kishi Bashi, Red Fang, Big Star's Third, Iamsu!, Gregory Alan Isakov, Charlie Musselwhite, Mission of Burma, Architecture in Helsinki, the Dream Syndicate, Schoolyard Heroes, San Fermin, Negativland, Kins, Polyrhythmics, ILLFIGHTYOU, Jarv Dee, Sandrider, the 44's with Kirk "Eli" Fletcher, Hobosexual, Falls, Highlands, Hermigervill, Manatee Commune, Golden Gardens, Hot Wired Rhythm Band.
MONDAY, SEPT. 1
Foster the People, J. Cole, Capital Cities, Neon Trees, Real Estate, Nada Surf, the Reverend Horton Heat, Aer, Twin Shadow, Jonathan Richman, Valerie June, Bomba Estéreo, Hurray for the Riff Raff, Rose Windows, Mexican Institute of Sound, DahkaBrakha, Campfire Ok, Bad Things, Julianna Barwick, Jessica Hernandez & the Deltas, Jacco Gardner, La Luz, Current Swell, Tangerine, Hoba Hoba Spirit, Kore Ionz, Jessica Pratt, Massy Ferguson, Old Man Luedecke, Western Haunts, Smokey Brights.]
Three-day passes, as well as VIP passes, are already available through the festival's website. You can find other ticket options there too.
And for a taste of what the reunited Replacements are capable of, watch them play their classic 'Color Me Impressed' at a reunion show during Riot Fest Toronto last year: